Top 5 Autumn weekend breaks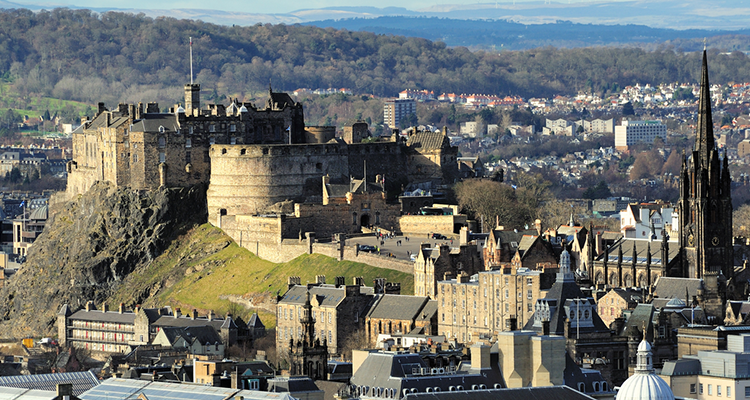 As you bid farewell to the last days of Summer, you're probably starting to wrap up in woollens and boots again and worry about what the next season has in store.
But don't let the Autumn blues get you down because there's something incredibly romantic about this time of year.
Just think kicking up leaves, riverside walks and hot chocolate and marshmallows and you're sure to feel a little fuzzy inside.
That's why we've decided to pull together our top five autumn weekend breaks – for which, you'll be pleased to hear, chunky scarves, oversized knits and Ugg boots are perfect for.
Here they are, numbered but in no particular order:
1) London
London is a great city to visit for a weekend break at any time of year but it's particularly great for an Autumn getaway as not only is it slightly warmer than many other UK destinations, but there are lots of things to do – and outdoors at that. There's no such thing as 'out of season' in the big capital. Celebrate Apple Day at the National Trust's Red House in Bexleyheath on 14 October or, if you prefer vegetables, get along to the Pumpkin Festival at Osterley Park on the 28th. There are lots of nature inspired walks to be had too – like Kew Gardens' Tree Identification Tours or Autumn Tree Walks at Syon Park. In fact, there are more outdoor autumn activities here than you can probably shake a stick at. For more on great things to do this autumn in London, check out Laura's London – a great photoblog about London's parks and gardens through the seasons.
2) Paris
Paris is another destination which is fab all year round but if you're looking for a romantic Autumn break, it can be exceptionally special. Autumnal things to experience in the city of light include The Autumn Festival, or Festival de l'Automne, which promises a programme of contemporary visual art, music, cinema, theatre and more. You might also want to check out Musical Waters at the Chateau de Versailles which combines light, water and classical music in the world-famous chateau gardens.
3) Edinburgh
Although the summer festivals are well and truly over, Edinburgh is still a hive of activity in Autumn – with the city kicking off the season with the Great Bupa Run on 3 October when thousands of runners, professionals and amateurs alike, take to the streets to give them a darn good pounding in the name of charity. The Scottish International Storytelling Festival also takes place here between 19 and 28 October.
4) Center Parcs
As the leaves start to turn yellow and brown, there's never been a better time to be in the forest and see nature's changes in all their glory – and that's where Center Parcs comes in. You can choose from a number of great destinations in which to enjoy tranquil walks in the woodland and enjoy indoor and outdoor activities, like bike riding and pony trekking. There really is something for everyone and these breaks are a great way to embrace Autumn by getting right in amongst it.
5) Isle of Arran
To get up and close with wildlife this Autumn, head to Arran – or more specifically, Lochranza, where the stags start to rut in October. Stay at Lochranza Campsite alongside red deer and sheep, which are literally on your doorstep. In fact, we challenge you to sleep for their mating calls. The site is surrounded by majestic rolling hills and greenery on which the sight of two stags going head to head is one to behold. Nearby you'll find Arran Distillery and Lochranza Castle plus plenty of fresh air-fuelled walks to invigorate the soul.