Top 10 winter sun destinations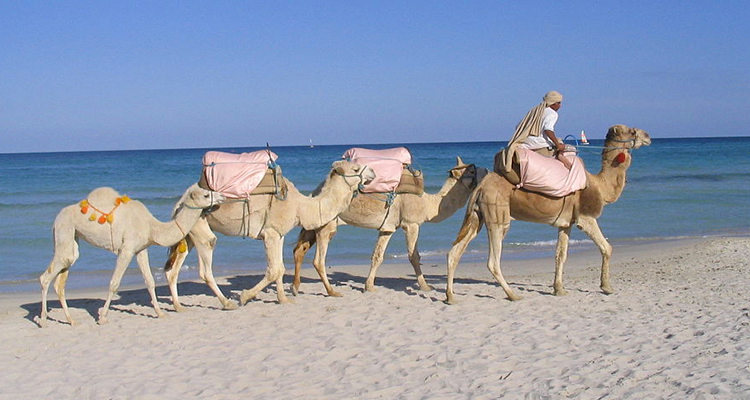 If, like us, you're sick of the British weather, then you'll be looking forward to escaping the downpours, bitter chill and howling gales by jetting off to the sun for a vitamin D boost and some well-deserved heat.
To whet your appetite for warmer climes, we've compiled a list of our top 10 favourite winter sun destinations to get you in the mood and remind you that it's not all doom and gloom so, until you're lying on that sun lounger, why not make a hot chocolate, pull up a seat and enjoy?!
1) The Canary Islands
The Canaries will always come number one in our book – for three simple reasons:
1) It's cheap as chips
2) It's a short flight
3) Rain is rare and you're guaranteed year-round sun
Need we say more? Probably not, but we will anyway. Tenerife is a really good bet as it's the largest of the islands and there are hoards of activities and facilities all-year-round. However, if you're looking for the best beaches, head to Gran Canaria for sure.
2) Tunisia
For the past couple of years now, Tunisia has been hailed as an up-and-coming destination but savvy travellers will never have forgotten it from their super cool hippy days when Tunisia was the place to be. Budget airline Jet2 started operating flights here from most major UK airports, including Glasgow, in the last couple of years so it's pretty amenable these days – without having to board the rickety, old campervan filled with pot-smoking-students. It's not overly expensive but has an indulgent feel about it, with its Arabic culture and sandy Mediterranean coastline scented with jasmine.
3) Cyprus
Cyprus seemed to have its heyday in the 80s but this destination is making a notable come-back as Brits seek cheaper and safer places to travel than the likes of Spain and France. In fact, every second person we come across is off to Cyprus at some point this winter so expect the beaches to be bustling if you're headed that way too. The fresh fruit and gorgeous lamb dishes are worth going for alone.
4) Goa
Goa is a great way to sample India without being overly adventurous. It's notoriously tourist friendly and, of course, enjoys the warmth all year round. And the great thing about travelling there in the winter months is that you'll have missed monsoon season, which typically spans June to September. We think it's a great place to escape the rain.
5) Marrakech
Pretty similar to Tunisia, Marrakech is a great place to visit at any time of year and has never really gone out of fashion. Great markets, a great buzz and great food are just a few of the reasons to check it out if you haven't done so far. It's not super hot at this time of year but warm enough for some comfortable respite from the UK weather.
6) Dubai
If you fancy a spot of dune bashing, some serious shopping or just chilling by the pool this winter then Dubai's a great draw. Don't expect much else however beyond the large hotel complexes. Yes, there's plenty of sand, plenty of camels but don't expect too much culture in this business capital. There's no doubt it's a great place to kick back though.
7) Florida
Florida is another destination that's great at any time of year – particularly Orlando. Not only that, but if you're heading to Disneyworld then Halloween, Christmas and New Year are magical times to go. If you are heading to Florida, however, make sure you pencil in enough time as it will fly so quickly. There are so many things to see and do here that you need a couple of weeks at least.
8) Cuba
Cuba's a great choice for a seriously exotic break and we'd especially recommend it for couples. Forget anywhere you've ever travelled before because Cuba is a real eye-opener. Prepare yourself to be shocked, stunned and seriously rested – in the weirdest of ways. Cuba will make you think again – about almost everything. For what it lacks in economical richness, it makes up for in culture. It's a stellar place to visit but must be experienced to be believed. Expect hot, sticky nights in the city (if that's where you're headed) and lots of sexy salsa.
9) The Maldives
The Maldives are just a dream – a complete paradise worlds away from the grey skies and sporadic showers of Britain. Whether you want to discover a new-found love of water sports or simply chill with a cocktail and an Indian head massage, you couldn't be better placed for reinvigoration, revitalisation and relaxation. The only problem is, you're unlikely to want to come home.
10) Egypt
Egypt is another destination that's being rediscovered by the masses. Former terrorist strikes took their toll on Egypt's tourism industry in the past but now the country is resurfacing as a popular holiday hotspot once more. The funny thing is, this time it's not all about the pyramids. People are discovering there's so much more to Egypt – not least, as we already know, being the perfect clime and setting for deep sea diving.
Wherever you're off to this winter, don't forget to order your currency before you travel and save money. For example, MyTravelMoney.co.uk could save you 10 per cent!