Airline Hygiene: 5 Disgusting Facts – And How To Overcome Them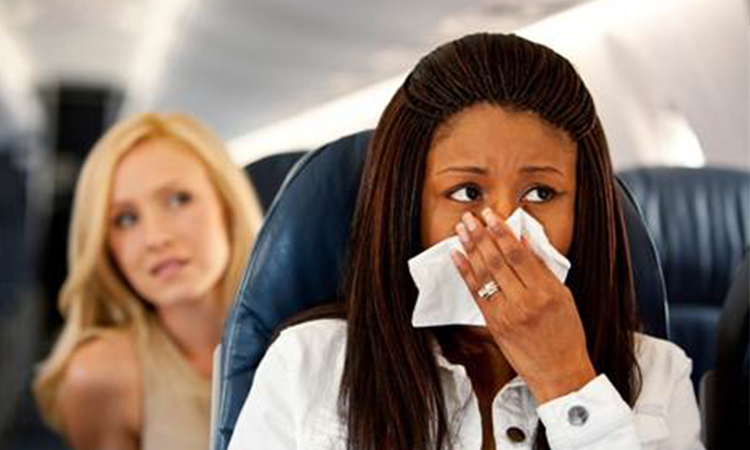 Think airlines are hygienic? Think again. Here are five facts which might shock you:
1) All water on board the aircraft comes from the holding tank, which is not regularly cleaned.
2) Water from the holding tank of aircrafts has been under review for the past six years after E Coli was discovered. This bacteria, which comes from faeces, is now being monitored.
3) Water in the bathroom of the aircraft comes from the holding tank and therefore is not particularly clean or safe to drink.
4) Aircraft is only usually cleaned at the end of any one day in the air. This means that your seat, surroundings and table on-board have not been cleaned all day.
5) Pillows and blankets are regularly recycled.
So, if you weren't worried about airline hygiene, you probably are now. Here are our top tips to stay healthy on-board – wherever you're travelling to.
1) Don't accept tea, coffee or water-based drinks (including ice cubes), unless they come from a visible bottle. You don't want to start your trip with a stomach bug.
2) If you wash your hands in the airline washroom, make sure you back it up by using hand santiser – which is available under 100mls and which you can reasonably carry on the aircraft in your hand luggage.
3) Be particularly careful with children – carry your own wipes and sanitisers and use them regularly if your flight extends a couple of hours.
4) Don't put food stuff which you plan to eat directly on the aircraft's plastic tables. Try to keep it in the tray and eat it immediately.
5) Try not to use the airline's pillows and blankets, which have probably been used by the masses before they get to you. But, it's not a massive deal breaker and, if you're uncomfortable or cold, please do use them!