What are the benefits of booking an Airport Hotel?
There are a number of benefits that come with staying at an Airport Hotel. Aside from rolling out of bed in to the check-in hall, you would be surprised to learn that they can actually save you money too. In this video we outline some of the top benefits, what you should consider when booking and how to get some of the best deals giving you that bit more spending money for your holiday.

Hi there and welcome to another episode of MyTravelMoneyTV.
In today's video, I am going to outline some of the top benefits when booking airport hotels with a few tips on how to book it cheaply so you can maximise your money saving giving you that bit more spending money on your holiday. Not only will you be able to enjoy a leisurely journey the day before your flight, and then relax in the evening before a peaceful night's sleep. But you'll also be able to wake up knowing you're only minutes from the terminal, then take your time to enjoy a hearty breakfast before you make your way to the airport.
As with most things, apart from package holidays, as mentioned in our previous video, booking in advance will usually get you the best deal on services. Sometimes you can even save up to a third on airport hotels but should it be a last minute decision, even booking on the day of the flight can be cheaper than turning up and booking a room on arrival at the hotel.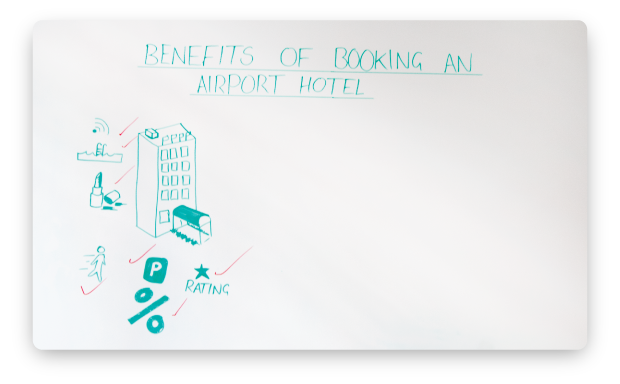 So what are the benefits?
Aside from enhanced comfort and proximity to the airport, airport hotels also offer versatile onsite facilities. The majority of the time, you will only need to stay for one night, prior or post holiday. However, sometimes it may be the case that you will need to stay for longer in which case you will want your stay to be as enjoyable as possible. Reputable hotels will offer options such as Jacuzzis, spas, beauty salons and Gyms. Hotel stays for people on business are especially convenient with meeting rooms and Wi-Fi access at your disposal.
Airport Hotel Parking
It's hard to believe, but booking an airport hotel with parking can work out cheaper than paying for official parking at the airport on its own. It's one of the best money saving features of airport hotels, so keep your eyes peeled for bargains out there. Sometimes you have no option but to stay in an Airport Hotel, particularly if you have a super early flight or if you live a long way from the airport. This doesn't necessarily need to be a problem as many airport hotels offer packages that include parking for the duration of your trip or holiday. Packages sometimes only cost a little more than parking alone so if you need a room for the night, jump on an Airport Hotel Package.
What should you consider?
There are a couple of things you should consider when booking Airport Hotels.
Distance from airport – Choose from an airport hotel that is practically inside the terminal so you can literally roll out of bed in to check-in without the need for shuttles or transfers.
Star Rating/Price Range – Airport hotels range from two star budget facilities with few amenities, going all the way through to luxury, five star accommodation. Consider what you'll be using the hotel for and how long you'll be staying for to decide what rating you would settle for.
Save 60% by pre-booking online.
When using MyTravelMoney Extras, you can compare and save up to 60% when you book your airport hotels in advance. You can compare and save across all UK airports and better still, you will receive a full refund if you find the same product cheaper elsewhere. Not only can you make great savings but you can compare prices all from the comfort of your home so there's no pressure to buy and if you do book, you can relax and look forward to your holiday knowing you're hotel stay is sorted.
So hopefully these tips have given you an insight in to how to get the cheapest airport hotels so that you can save more to spend more on your holiday! Be sure to follow us on Twitter @MyTravelMoneyUK for all the latest travel news, hints and tips.
Thank you for watching and goodbye,
Written by Sofia Kluge on Google+