How to save money on car hire & driving abroad | MyTravelMoneyTV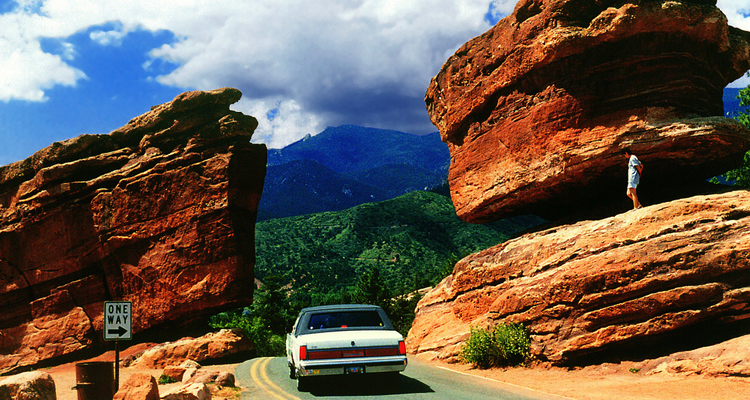 With car hire and rental becoming increasingly popular, particularly when travelling on the continent, we have compiled some tips to help you manage your spending and save a little money. From travelling toll-free to choosing one fuel over another, and throwing in some handy money-savings apps, this smart guide on car hire will hopefully see you save, so you have more spending money on your holiday.


Hi there and welcome to another episode of MyTravelMoneyTV. With holidaymakers being more travel savvy and frugal than ever, it is becoming increasingly popular for couples and families to drive abroad particularly when travelling on the continent. We have compiled some of these top 10 tips to save money, so that you can travel knowing that you've got a little money to spare in your back pocket.
Don't forget, it is essential to bring your passport, insurance documents and your driver's license and green counterpart.
In most EU countries, it is a legal requirement to pack a fluorescent jacket and hazard triangle, should you break down.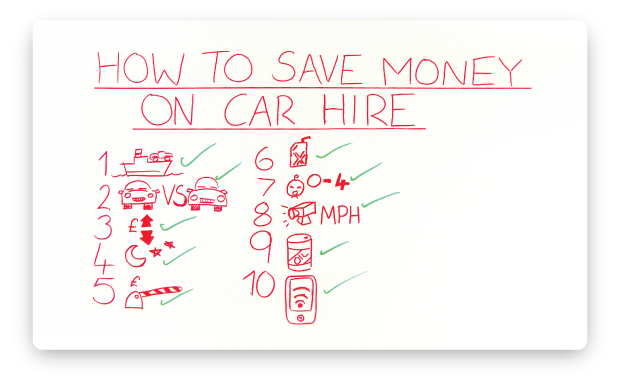 1. Be flexible with ferries
Ferries might not seem the most appealing method of crossing the English Channel but it sure is the cheapest way. If you are travelling to Europe, give the Dover-Calais crossing a go, with prices as low as £70 return this does work out a lot cheaper than the Eurotunnel and Eurostar. You can usually find the cheapest deals by comparing online in advance on sites such as ferrysaver.com and as usual, off-peak fares tend to be the least expensive.
2. Compare car hire as soon as you know dates
Comparison websites such as carrentals.co.uk provide up to date and speedy offers on over 50 car rental companies which eliminate the process of doing the research yourself. The sites will usually present you with a voucher which you then use to claim your discount or offer on arrival.
3. Haggle for cheaper car hire
In some countries such as Morocco and Brazil, it is common to haggle for cheaper care hire when collecting your car. Companies will usually be keen to negotiate in order to come to an agreement. If you speak the native language of the country you are visiting, there's no harm in trying to lower the price as long as you remain polite and courteous should they not be willing to make any special arrangements.
4. Avoid overnight crossings
Say you have a lot of time to spare but are strapped to cash, it still works out more expensive for an overnight cabin on a long ferry crossing. You will tend to find it a lot cheaper crossing day-time and staying in a budget hotel en route.
5. Travel toll-free
Toll prices are becoming significantly more expensive when travelling via autoroute on the continent. Particularly in France you can find yourself paying around £200 return from Calais to Nice. To avoid toll-free zones, make use of websites such as mappy.com which will calculate both the tolls and cost of fuel on your planned journey and help you find the cheapest alternative to driving on the motorway.
6. Check fuel policies
Beware of car hire fuel policies which may find you spending more on fuel than necessary. Some policies will have you pay upfront for a full tank of fuel which may be unnecessary if you don't plan on driving much. Try to make an estimated guess of how much you will be driving to avoid paying for unused fuel. The best companies offer 'full to full' or 'part-full and return as you found it' policies, meaning you'll only pay for the fuel you use. This is because you either get it full and return it full, or return it with the same amount of fuel as when you picked it up. Try using websites such as auto-europe.co.uk which allow you to compare and filter car rental by fuel policies.
7. Bring your own child seat
If you're going on holiday with kids in tow, hiring child seats can start at around £5 a day which can work out a costly investment. Instead, you will find it much more cost effective to check in a child seat as luggage on the airplane to place in the hold.
8. Be aware of speed cameras
If you are already overwhelmed by the prevalent use of speed cameras in Britain, you will find the increasing use of them on the continent just as much of a nuisance. In some cases you may even find traffic police to levy on-the-spot fines when over the speed limit. Unfortunately speed cameras are not sign-posted as well abroad as they are in Britain, so be sure to watch your speed limit especially in small villages in towns.
9. Rent a Diesel
It has been proven that renting a Diesel car is the cheaper option on the continent with the only extreme exception being the USA where petrol is substantially cheaper than Diesel. Of course, fuel prices are forever changing so always check and compare fuel type prices before booking.
10. Use a FREE SatNav
Yes, free. With SatNav hire averaging at £50, downloading the super savvy app, NavFree on to your smartphone can save you this money. And of course, it does not use data roaming as maps are pre-loaded offline and instead used GPS to locate you. With over 30 countries, voice prompts and route planning on the free version, it's a great app that will save you heaps of money when driving abroad.
We hope you have enjoyed this episode of MyTravelMoneyTV and hope that you can save a bit of cash on your next holiday. Be sure to follow us on Twitter @MyTravelMoneyUK or reach out to me via e-mail at [email protected]
Written by Sofia Kluge on Google+