Top 5 Budget Hotels in Thailand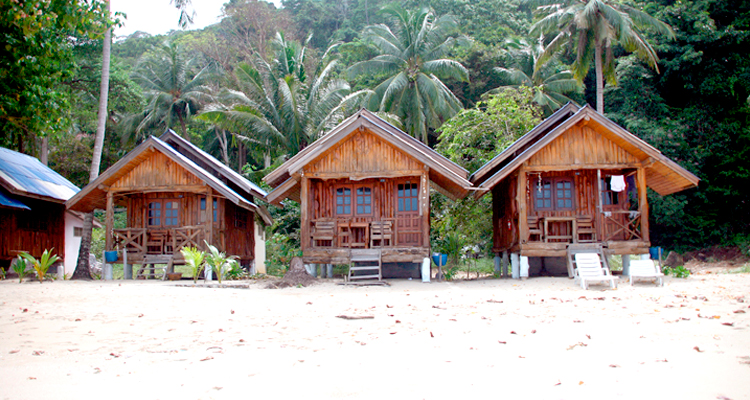 With Thailand rated one of the top places in 2014 to get the most for you currency, we're certain tourists and travellers will be flocking to the likes of Koh Samui and Bangkok in no time. Of course no trip is complete without accommodation, which of course can often come at a hefty price. But who knew Thailand offered luxury hotels with budget prices right on the seafront of some of the most beautiful beaches in the world? Not convinced? Check out these top 5 budget hotels in Thailand.



Hi there and welcome to another episode of MyTravelMoneyTV. Today we are going to talk about one of the top 5 places to go in 2014 with regards to getting the most for your Thai Bahts. That's right, not only is Thailand the ultimate holiday destination but it's also the top place for getting more bang for your buck. But just because you're getting your money's worth, doesn't mean you should splash out on accommodation. That's why we've put together the top 5 budget hotels in Thailand.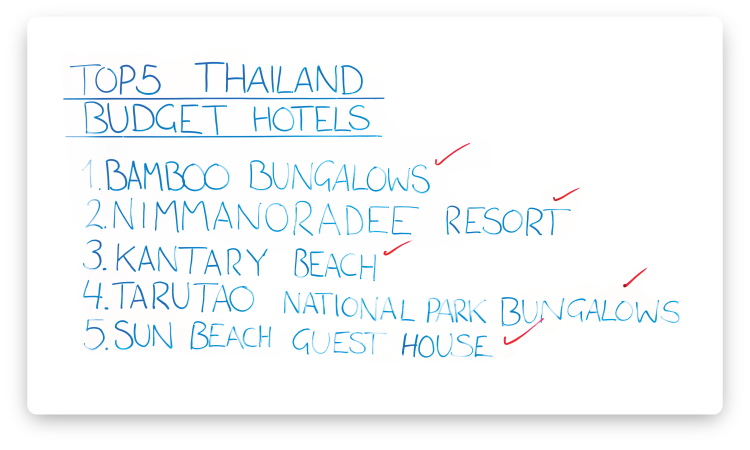 Bamboo Bungalows, Koh Phayam
Only a two hour boat ride from the northern end of Thailand's Andaman Sea coast, the island of Phayam is home to some of the most wonderful beaches in Thailand, not to mention the infamous full moon beach parties. Bamboo Bungalows lies on the western coast of Phayam along a 3km stretch of white sand. The bungalows range from basic shell-huts to exquisite villas with luxurious furnishings. Not only is this establishment home to the best restaurant on the island but it also supplies kayaks and other water activity equipment at your disposal. Still not wowed out? You can  rent an entire house for just over £200 a month!
bamboo-bungalows.com, rooms from £4.50 to £32
Nimmanoradee Resort, Koh Samet
Off Thailand's eastern coast lies the island of Samet. Only a four hour drive from Bangkok it is the absolute party location. Aside from offering fabulous food, cocktails and music, the beaches go on for miles and are snow white with beautiful stretches of shallow waters. The Nimmanoradee Resort lies at the southern tip, the more quiet end. Think cute little huts scattered among swaying exotic trees. Of course this resort also supplies deckchairs, kayaks and pools, not to mention bath tubs and flatscreen TVs.
nimmanoradee.com, cottages sleep two from £58 a night
Kantary Beach, Khao Lak
Move an hour north of Phuket back to the Andaman coast and you'll reach the Khao Lak national park. It is the ultimate place to just relax and enjoy the sun with minimal urban buildings. Kantary Beach is one of the best amongst the mid-range and luxury resorts, and one of the top choices for families. With massive contemporary rooms, living areas, kitchenettes and balconies, this resort is surprisingly affordable. Serving excellent Thai grub, seafood and offering a huge pool and kid's play area, not to mention the standard kayaks and other water boats, from just £40 this resort is amazing value for your money.
kantarycollection.com, rooms from £40 low season to £80 high season
Tarutao National Park Bungalows
Located at the southern end of Thailand's Andaman Coast, Tarutao used to be the home of pirates but is now one of Thailand's best protected national parks. Full of jungle snakes and monkeys, these beaches are just extraordinary. With just about adequate accommodation, these national park bungalows have minimal electricity and cold water. If you can bare these conditions you will be rewarded with the stunning nature that surrounds you. Of course, prices are according with bungalows for two at just £11.
kotarutaothailand.com, two-person bungalows from £11
Sun Beach Guesthouse, Prachuap Khiri Khan
Moving 6 hours south of Bangkok lies the fishing town of Prachuap Khiri Khan. With a promenade style seafront this little hideaway has never been an overly popular tourist destination meaning it still retains that wonderful Thai charm. The nearby beach of Ao Manao is a must-visit and lies just 2km from the town. Don't worry, you can grab a tuk-tuk from just £1! Think lapping water against swaying palm trees. Manao is home to a small colony of cute dusky langur monkeys and dozens of cheap and excellent seafood stalls. There's nowhere to stay at Ao Manao, but the friendly Sun Beach Guesthouse on the Prachuap seafront comes with pool, sea-facing balconies and wonderful sunrises.
sunbeach-guesthouse.com, rooms from £15
So we hope you have enjoyed our top 5 budget hotels in Thailand episode and wish you a wonderful trip! Why not follow us on Twitter @MyTravelMoneyUK
Written by Sofia Kluge on Google+