Most stylish hotel rooms in the world: Our top five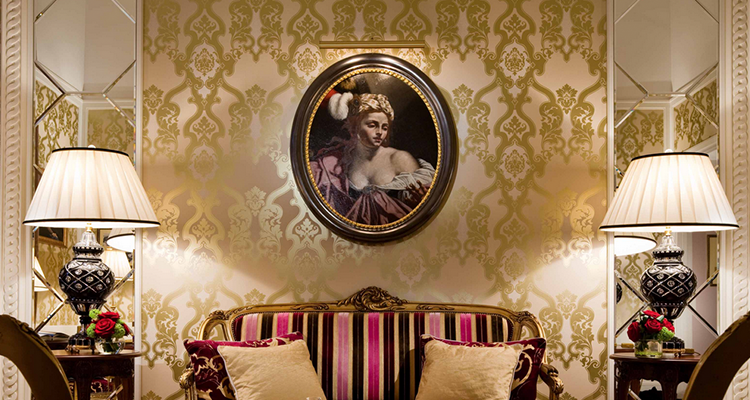 These rooms really need no introduction so we'll let their 'biogs' do the talking…
1) The Co-Co Chanel Suite, The Ritz – Paris
This suite sums up the late Co-Co Chanel very well – feminine, romantic and very, very chic so it's no wonder she made it her home throughout the roaring 20s. "The Ritz is my home," she famously said, and we can see why. The room, which is adorned with Coromandel laquerware, large mirrors, rock crystals and ornate gold finishes, not only reflects Ms Chanel's unique tastes but has a spectacular view of Place Vendome. In the same hotel, you'll also find the Elton John Suite – a tribute to one of The Ritz's most loyal celebrity guests. Although tranquil with similar views of the Place Vendome, it's not a patch on the iconic designer's suite, which boasts two bedrooms, a living room and two bathrooms, one of which has a Jacuzzi and steam room. It's so prestige, the suite even has its own specific bed linen, comforters and pillows with in-room spa services available on request. Rumour has it that such a room at The Ritz will set you back anywhere between 2200 and 130000 euro (EUR).
Not only is this hotel beautiful and entirely decked out with bold Missoni prints, it benefits from unrivalled views across The Gulf which, of course, are even more breathtaking than the rooms. It's a seaside paradise and indeed a statement hotel –with each detail of every room throughout its 18 floors chosen by Rosita Missoni herself. Some rooms are carefully designed with gold, turquoise and mosaic while others are an eclectic mix of wide stripes and colourful floral patterns. If anyone tried this at home, the colours would clash and look gawdy at best but that's the designer touch for you – everything looks fab! We're talking 35sq metres of contemporary, colourful design which only Missoni can achieve – and an experience which will only cost you from a mere 63 Kuwait Dinar (KWD) a night.
3) The Vera Wang Suite, Halekulani Hotel – Waikiki, Hawaii

The Halekulani Suite was, of course, designed by fashion icon Vera Wang. Island-inspired, it's the ultimate luxury retreat. Popular with honeymooners, it's understated hint at romance is second to none. Aside from its immaculate design, the suite offers ultimate privacy against a gorgeous Hawaiian backdrop featuring sun, sea and sand. Views of Waikiki Beach and Diamond Head are a given, while specialist services include an on-call butler, complimentary champagne and a custom 'For You, Everything' fine arts programme for the culture conscious. Its style is classic yet contemporary and a true sanctuary for those looking to retreat from the world.
4) The Ty Warner Penthouse, Four Seasons Hotel – New York
Not only is the Ty Warner Penthouse one of the most stylish suites in the world, it's one of the most expensive. At $34,000 (USD) a night, it doesn't come cheap. It is, however, a work of art. Designed by legendary architect I.M. Pei, Peter Marino and hotel owner Ty Warner, this nine-room suite is the epitome of luxury. Its walls are inlaid with none other than mother of pearl, gold and platinum-woven fabrics. Its dizzying height – on the 52nd floor of New York's tallest hotel – combined with floor-to-ceiling bay windows, means a fantastic panoramic view of the city for those lucky enough to stay there. It soars a staggering 800ft above street level and has been dubbed a 'castle among the clouds'. Each individual touch, from the decor and soft furnishings to the furniture and distinctive artwork has been specially commissioned to create a unique and sensory experience to transport you from the hustle and bustle of the Big Apple to your own serene retreat – complete with Zen waterfall kitted out with semi-precious stones and a grand piano in the library. As if that wasn't enough of a treat, a nightly stay includes spa treatments, a personal trainer and a round-the-clock butler.
5) Armani Hotel, Dubai
Minimalists who haven't already stayed there will love the Armani Hotel, which screams luxury, timeless sophistication. 'Understated elegance' is the buzz phrase here in a hotel which promises a home-from-home experience. Its rooms, which span just 45sq metres, have been designed by Giorgio Armani himself and, although compact, deluxe rooms feature oversized king-size beds and comfortable bathtubs for a luxurious stay. Armani Classic rooms are a little larger and, for complete indulgence, guests are invited to choose one of its Armani Premiere Suites, which boast 95sq metres of living and working space. Again, such rooms have been personally designed by Giorgio Armani – known for his neutral colour schemes and contemporary design. If you really want to break the bank, however, there are always the Armani Fountain Suites with spectacular views of the Dubai Fountain. But that's not all. You can also choose from the Armani Executive, Ambassador, Signature and Dubai suites if you have a few bob to spare.