The six sexiest Valentine's Day boltholes in Europe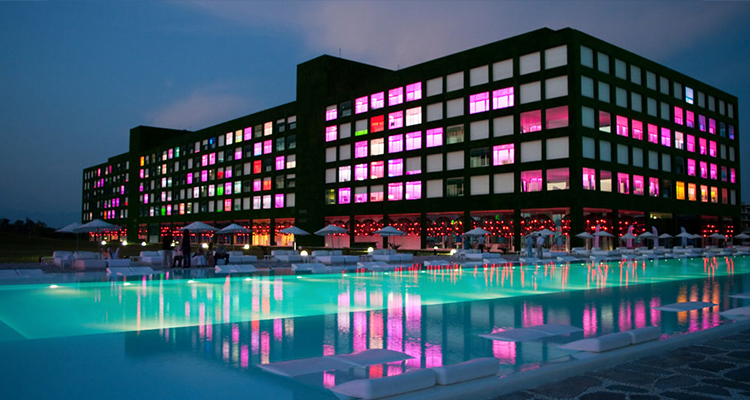 From 50 Shades of Gray-esque S&M dungeons in Paris to Rom Com reminiscent boudoirs in Venice, we have a super sexy round-up of some of the best boltholes in Europe if you want to get right down and dirty this Valentine's Day…
This hotel – found on Rue St Dennis – is so naughty it rents themed rooms by the hour. It's a one-stop-shop where lusty couples can escape into a fantasy world of Bollywood, Ventian gondolas, a Maharajas' palace, or a real S&M dungeon with its own fantasy swing – depending on which room they fancy. Each uniquely designed space is equipped with sexy toys and other love-making accessories for a shameless night – or just an hour – of fun. Apparently there are 7,200 official 'Love Hotels' in Tokyo but this is the only branded counterpart in Paris.
2) Adam and Eve Hotel, Turkey Antalya Coast
Its primitive style name kind of says it all because the Adam and Eve Hotel has been specifically designed with couples in mind. Its sexy, minimalist style is complemented by quirky and seductive touches, such as aphrodisiac incense and carefully put together 'fantasy boxes' which can be chosen for the room. Whatever you do – Valentine's Day or not – make sure you leave the kids at home because this is indeed an unashamed fantasy hotel.
3) Vice Versa Hotel, Paris
Vice Versa has been designed with 'The Seven Deadly Sins' in mind with each of its six floors representing a cardinal sin – what could be more wickedly sexy? Its floor to ceiling themes are stunning and its piece de resistance errs on the side of gluttony. Bank notes are abundant on the walls and ceilings as part of its 'Averice' theme, while 'Passion' and 'Anger' are reflected in its red, black and gun-themed decor. There are even bathrooms tiled in gold and marble while more lusty rooms consist of carefully planned boudoirs laced with black and pink.
4) The Witchery, Edinburgh
It's been described by Dannii Minogue as the 'perfect lust den' – which comes as no surprise to us as The Witchery in Edinburgh screams medieval charm and sexiness. Its Guardroom suite gives an air of aristocracy with its romantic four-poster bed and decadent brocade and velvet bedroom furnishings and even has an antique double bath with giant mirror. Found on the Royal Mile, it's a wickedly lust-worthy bolthole in a city which has been dubbed one of the 'hottest destinations for 2013' by online travel community Gogobot.
Although a budget hotel, this bolthole is far from cheap when it comes to its contemporary, futuristic design and romantic touches. It's the perfect venue in which to realise your sci-fi and futuristic fantasies in its cubed and very sophisticated 'living' space. Our favourite elements, however, are the different light settings – comprising Mellow Yellow, Red Romance and Deep Purple Love – which change the mood from soft and romantic to wildly passionate and indulgent.
6) Alla Vite Dorata, Venice
It doesn't get more romantic than Venice – with the exception of Paris, of course – and this small inn is the epitome of exactly that. It's softly sexy with its Venetian canal views and four-poster beds adorned with long drapes. It's an intimate venue in which to be seduced by the one you love in one of its uniquely decorated rooms – one of which is decked in gold fabric and, we think, is the stuff of dreams. Add to that a romantic breakfast on the terrace overlooking the city and what more could you want?
Heading to Europe for Valentines day and want the best euro exchange rates? Compare  & save on your travel money!
Follow our co-founder:
Daniel Abrahams on Google +