"TripTapp.com is the new way to share travel experiences"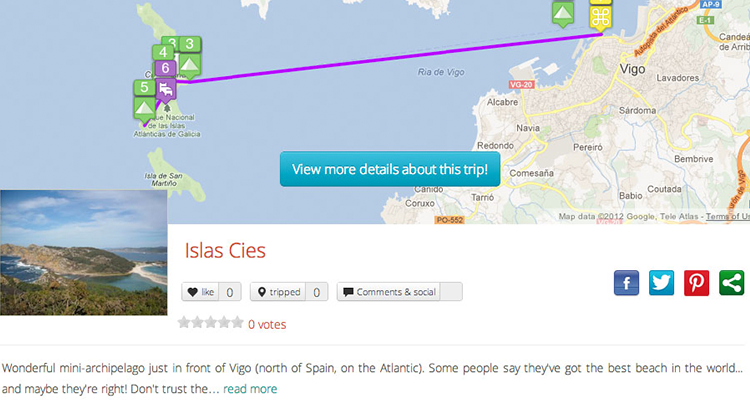 TripTapp is a social network for travellers. Ambitious goal one might say in a heavily crowded market! However, there's something I love about the idea of users being able to share and discover travel itineraries throughout the world. Having met the team at #tbe12, we took the opportunity to learn more about the product via our interview below.
Hey guys, describe TripTapp in one sentence?
TripTapp is the new way to share travel experiences: starting from a map anyone can follow your steps around the world.
What problem are you trying to solve in the travel tech space?
Travel itineraries and attractions are shared online almost entirely by using blogs. However, even if you add extensive descriptions and photos, users cannot visualize your journey: they won't be inspired as much as you'd like. With TripTapp, you can now share your emotions, memories and photos on a map right in the place where you lived them and your travel experiences are turned into valuable travel guides in no time. The map makes your users able to follow your trips and learn from you: they'll be inspired in an authentic way. We are looking forward to build a common place where the community of travellers can meet: we believe that it is the only way to (re)discover new places in a completely different way.
What stage are you at and what traction have you seen to date?
We've just started, triptapp.com has been online for only two months but we have reviews from media and a number of users that grows every day. We're talking with them to fit their needs at every level, constantly releasing improvements and new features.
Talk to me about the team, how did you get together with your co-founder?
The team at TripTapp is made up of two person: Riccardo (@CoppolaRiccardo) and Andrea (@tassi_andrea). First of all, we're friend and… engineers. We have started working together since last year of University in Florence. We know and complete each other and face problems together with different approaches, this make us a strong team. We are both passionate about photography, so we have several opportunities to meet and share our passion.
Who do you see as your major competitors?
There are attempts in the industry to make something like TripTapp, but they usually focus on single places: we focus on the journey as a whole. Services like Foursquare are a target more than a competitor to us.
What are the growth plans and KPI's you want to hit over the next 12 months?
We'll focus on building a community that shares experiences, so our KPI's will be: 'shared trips', 'new and returning users' and, 'unique visitors'. We are looking forward to host, over the next 12 months, at least 2000 trips (spread all over the World) and become a showcase of a different way to travel.
Best and worst travel destination you have been to?
Riccardo: Dublin is my best: it's an amazing city, people are great and Ireland is very beautiful. Unfortunately, I cannot say the same for Berlin, it was so cold there!
Andrea: When I visited Kyoto, I fell in love with Japan. That is a living stunning piece of art! I didn't enjoyed Corsica, differently than Riccardo I have some problems with high temperatures.
How did you enjoy #tbe12 and what did you get out of it? (#tbe12 was an Italian travel bloggers conference both MyTravelMoney and TripTapp attended)
#tbe12 was just great. We had a really good time there, the audience was great and the workshops were very helpful. We were interested in building a better online brand and the information we got were very, very useful.
How did the bloggers take to the product?
We had the opportunity to talk with many bloggers and showing them a "live of TripTapp" from a notebook: results were simply awesome. They loved the idea and, most important, everyone suggested an improvement or a new feature. This is what we were after: ideas and suggestions from our target users. They were so great!
How do you buy your travel money?
A by-product to be Italian citizens it that we have the Euro. Hence, we can visit the most part of the Europe and use the same currency. If it is not possible, we tend use ATM all the times… but now we have found that there's a better way: MyTravelMoney.com 😉
Thanks chaps. You couldn't wish to meet two nicer co-founders and we wish the guys all the success in the world!
About to start a trip around Europe? Compare the best euro exchange rates and save up to 10%