Meet The Crazy Sexy Slovak Who Made Traveling Her Life Mission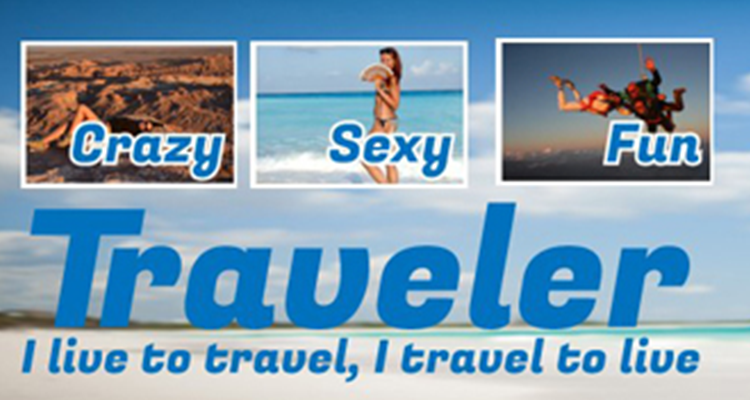 Alexandra Kovacova's blog is indexed in the search engines as a "travel blog full of crazy travel, fun adventures, sexy photos and travel tips around the world."  Yes please! So before #tbe12 when we were checking out the attendee list, it didn't take long to make a bee line straight for the homepage to find out more about the Crazy Sexy Fun Traveler.
Our Verdict: A brilliant example of how to build a personal brand around a deep rooted passion for travel. This travel blog has it all, style & substance! Well done Alex

Who is the Crazy Sexy Fun Traveler in one sentence?
A crazy Slovak girl who made traveling the reason of her life.
What motivated you to be a travel blogger?
I am an insomniac so one night (at 4am) I was thinking what I can do without wasting my time doing nothing at nights. As I cannot live without travel, I googled "travel blog" and made my own the same night.
Is travel blogging your full time job? What did you do before?
Yes, travel blogging is my full time job. I used to work as a stewardess on a plane when I started blogging in 2010 and quit that job to dedicate myself fully to what I love the most.
You make a big play out of personal brand. Why is this so important?
In my opinion it is extremely important to enter a blog and remember who the blogger is. At least me personally, I do not read blogs whose owners I cannot identify easily. Everything personal works better. Life is all about people and feelings. People want to feel with you, not with a cold website.
Do travel bloggers write too much for other travel bloggers rather than the typical non-blogging traveler / holidaymaker?
Hm, in the beginning we do write for other bloggers, I guess. Or let's say we have to let other bloggers know about our blogs, and comment on other blogs to gain audience as quickly as possible. And it is always nice to hear from a professional well-known blogger that you are doing a great job. But after a certain time, the blog is for travelers, not for other bloggers.
Top 3 people that inspire you in the travel blogging world?
My first idol was Nomadic Matt when I started, he was just an example I needed to prove me that you can make living out of travel blogging. He never helped me with anything. I just knew that if he could make it, then I could too. Kash of Budget Traveller inspires me nowadays and always helpful Melvin of Travel dudes too.
Best place in the world you have ever visited?
I cannot get enough of Mexico, its beaches, friendly people, Mexican Spanish, archaeological sites, nachos with guacamole …
Worst place in the world you would never go back to, even if it was all expenses paid?
Surprisingly, there is not such a place in the world. I always find something I really like about every place I visit.
What's next for Miss CrazySexyFunTraveler?
I am just planning a huge Adventure and Spa project for 2013 when I will show people some cool places in a few countries where they can do both extreme adventure and then relax themselves in a spa. I will be working with a lot of different sponsors from around the world on this project to make it as interesting as possible.
How do you buy your travel money?
What I've been doing is to get some cash in Euro (when in European countries using Euros) and then exchange it once I get to the destination. It also depends on the country and how long I am not going to go back to Europe, sometimes I just use bankomat when there.