Where is the best place to buy Euros? – MyTravelMoney TV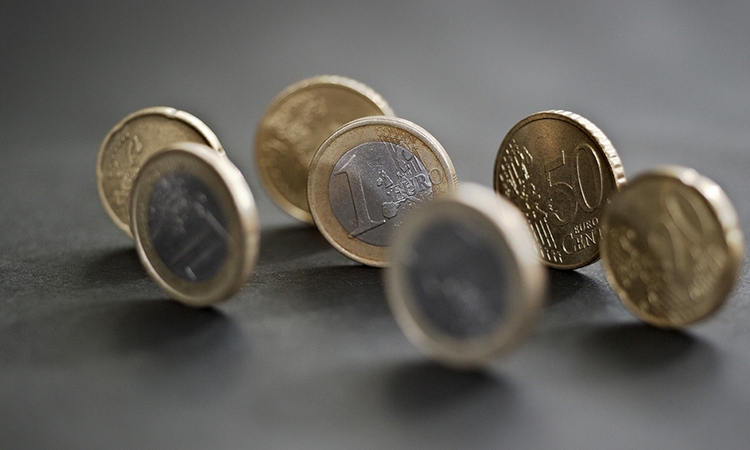 Video Transcription
Hi there everyone and welcome to the first ever edition of MyTravelMoneyTV. We're super excited to provide you with tips, hints and strategies to get the best travel money deals and as we go along, we'll be looking further afield at how we can maximise your spending abroad. In today's episode, we're going to talk about 'Where is the best place to buy Euros'. Obviously we've sieved through a lot of data from our site and we know that Euros are the most popular currency that's bought on MyTravelMoney.co.uk. It's a question a lot of visitors have asked us, so we want to get to the bottom of where is the place to get the best exchange rates on your Euros.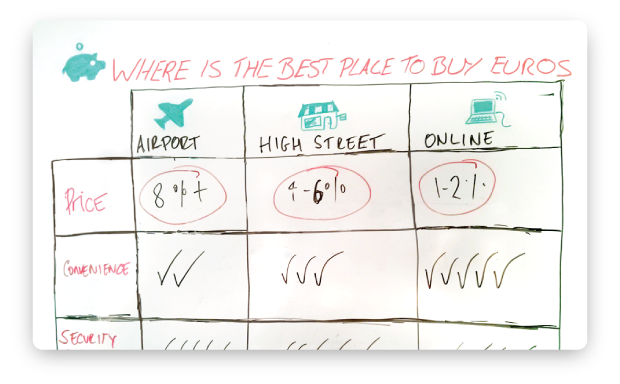 So what are the options for visitors to Europe in terms of buying holiday money. So clearly, there is buying at the airport, which is a big no no and we'll explain why that is, later in the video. There's obviously the high street and buying online. Typically you've probably done one of the three in the past, and we'll get to the bottom of who offers the most competitive rates, the convenience factors as well as security of funds.
So let's start with buying currency at the airport, we've looked at a lot of data, and we've found that it is actually the world's most expensive place to buy currency. Typically airport bureaus, which comprise of one of the most expensive rents in the world in terms of retail locations. To set up a shop in an airport is very expensive and what the airport suppliers typically have to do, is build that in to the exchange rates that they offer customers. So you'll typically find margins applied to the real exchange rates, anywhere from 8% upwards. That's what we've found from our desk research and in real money terms you could be looking at giving away to the bureaus around £50 on every £500 worth of travel money you buy, so airports are very expensive.
If you buy currency at the high street, again, it's expensive but a lot better than buying at the airports, and there you'd be looking at margins of anywhere between 4-6% on Euros from the likes of Marks & Spencer or the Post Office. So airports are super expensive, High Streets anywhere between 4-6%. Online, it's not secret, buying currency online is the best way to get the most amount for your Euros and get the best Euro exchange rate. Sofia, our content manager and web editor has found that the markups applied by online travel money suppliers are typically between 1-2% which is a fantastic rate of exchange and definitely gives you the most bang for your buck when going abroad. So from price perspective to reiterate again, airports are very expensive, why, because rents at the airport are expensive so that cost is built in to the exchange rates offered to customers. High Streets, a little bit better than the airports. Best rates are typically found online. We're not just saying it because we compare online travel money suppliers. We've done our desk research, any visitor that wants to look at some of the data we've put together, we'll happily share that with you.
From a convenience perspective, if we're comparing airports, high streets and online, one could argue that the airport is pretty convenient. You're there, you see the Bureau, you exchange your money, job done. It doesn't always work like that, which is why we give it two ticks. Why do we give it two ticks? You know you're in a rush, you might want to go to the airport lounge to get some duty-free, it's always a bit of a last minute panic and rush, so buying currency at the airport isn't overly convenient. Once again at the high street, whether it's the Post Office with those horrendous queues that we've all seen. Or maybe you're at Marks & Spencer doing a bit of shopping you can buy your currency at the same time.
So we kind of put it in the position of medium convenience factor but in our opinion, you could say it's biased or whatever you think it may be, but we truly believe that the most convenient way to buy your Euros is online because now with the world of high-tech and digital innovation, travel money companies now let you purchase your Euros online and the money will be delivered to your front door the next day via Royal Mail Special Delivery. So questions you might ask is, what happens if I'm not at home, that's not a problem at all. The postman will put a slip through your door saying we've tried to deliver your holiday money, there's no one at home so we've left it at the local depot. If you are at home then obviously its specially insured, you sign for it, book online, the process typically taking around 5 minutes with your currency being delivered the very next day. Bear in mind there are certain cut-off times for next-day delivery but just check it out with your local supplier and you'll be well on your way to getting a fantastic deal on your travel money.
Security of funds. Now obviously if you're buying currency at the airport or via the high street, it's a very vanilla transaction. You go there, they quote you a price, whether you like the rate or not, you go there and get your money there and then. So with regards to security of funds, there's not too much to say yes it is a very secure way of buying your money, obviously it comes at a price as we've discussed, it is very expensive. Questions we're asked a lot of the time, as with any type of internet purchase really, how secure is it to buy your holiday money online. There's a lot at stake, our average order is around £800 worth of currency. We've never seen any money lost so that's obviously a good start. In terms of security of funds, first thing I would say is that buying travel money online is that it is not covered by the Financial Services Compensation Scheme, so if the travel money company goes bust, we all know about the Crown Currency Exchange, then you will have a bit of a problem.
However, if you're dealing with a reputable online travel money supplier that's been in business for a long period of time. That's what we always recommend to our customers, to check the regulatory credentials of the supplier in question, it's more than likely that you'll be absolutely fine. Again, the delivery of the funds is specially insured by Royal Mail. All companies that are listed on MyTravelMoney.co.uk, we vet regularly to make sure that they are registered with the FCA, the Financial Conduct Authority and that they operate segregated client accounts which are separate from the day to day running of the business. So again we put one less tick in terms of security of funds if you're comparing airport, high street and online but to conclude, if price is essential and it is the most important factor for you, the way to get the best Euros and exchange rates is unquestionably online. The margins that are applied to what we call the 'real' exchange rate such as seen on xe.com, online is the way to go.
We hope that you have enjoyed this video and I hope that answers the question of where is the best place to buy travel money!
Written by Dan Abrahams on Google+