Working at 35,000ft – what it's really like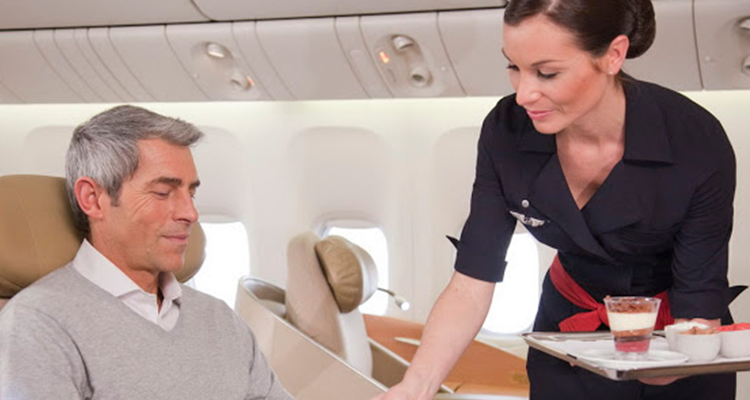 We love featuring interviews and guest posts from frequent travellers but, this time, we really wanted to find out more about what goes on behind the scenes of the travel industry.
That's why we set out to discover what working life is like on board an aircraft at 35,000 feet. Lucky for us, former Flybe flight attendant Lynda Millar took time out of her new role as a business centre manager to tell us. And, as we suspected, it isn't all plain sailing… or should we say flying?
We probed Lynda, who worked her way up in the airlines to become a Number 1 in sole charge of the passenger, paperwork, catering and safety for more than seven years with Flybe, with the following questions:
1) Can you describe for us, in no more than five words, what life is really like in the air?
Yes – stressful, demanding, fast-paced, changeable and enjoyable.
2) What first made you apply for the position of cabin crew?
I was living and working with the Armed Forces in Germany when I went to visit my sister, Daphne, who lives in Jersey. I was only supposed to be there for a holiday but ended up staying indefinitely and, of course, had to find a job. Daphne worked for BMI at the ticket desk at Jersey Airport and, thanks to her, I landed a job there selling duty free perfume. I realised I enjoyed working at the airport and when the cabin crew position came up, I decided to go for it. I grew up in Northern Ireland and had only gone to Germany to see more of the world so thought this was another great opportunity to do exactly that.
3) You started off as a Number 4 and worked your way up to being responsible for a team of cabin crew but what does it actually mean to be a Number 1?
Being a Number 1 in-flight means the overall running of the cabin and responsibility for the passengers is down to you. It's a lot of responsibility to shoulder.
4) No pressure then. What was your official job title?
Senior Cabin Crew Number 1
5) It sounds very official. What kinds of training did you have to go through?
I had to complete an initial intensive four-week training course, in which I had to sit certain exams, learn First Aid, become familiar with the inside and outside of the aircraft, and become an expert in emergency procedures, such as CPR, how to administer oxygen and life saving – both underwater and in a smoke-filled environment. I stayed in a hotel with other trainees in Birmingham for the duration and had to take part in various simulations, such as getting out and rescuing a dummy from an upturned helicopter underwater and donning a smoke-hood to save someone from a mock burning aircraft in the pitch dark. Luckily, I never had to use any of the emergency techniques I learned during my training. I don't think I could've anticipated how hard the training would be. It was really intense and adapting to a class room situation much of the time wasn't easy.
6) Were there any parts of the training you didn't like?
I didn't like wearing the smoke hood but, other than that, I quite enjoyed it. It was quite nerve-wracking trying to remember everything, though, such as how many compressions to do during resuscitation.
7) Were there any prerequisites when it came to your appearance?
Yes, my weight had to be in proportion to my height and was monitored regularly. I also had to be incredibly well groomed, wear my hair up and use a certain nail polish. Chipped nails and snagged tights were a big no-no.
8) Can you remember your first flight? Were you nervous?
I was incredibly nervous – to the point that I found it difficult even opening a can of Ginger Ale for a passenger. I didn't have a clue! I was shaking as I did my first passenger safety demonstration. But there's nowhere to hide on an aircraft and everyone has to do their bit. It's all about team work.
9) On which routes did you fly?
I worked mainly on European and domestic flights, flying between Jersey, Birmingham and Edinburgh to the likes of Charles de Gaulle, Stansted and Southampton.
10) What was your scariest moment?
Luckily, I didn't really experience any serious emergencies apart from the time when one of my passengers took ill mid-air. The gentleman had developed breathing difficulties and it was up to me to ascertain what was wrong and the best course of action. His travelling companion was incredibly upset – hysterical, in fact – so, again, it was very intense. I had to cancel normal food and drinks service, which the other passengers weren't happy about, and concentrate on trying to help the passenger in distress. Luckily, there was a doctor on board who suspected the man was having a heart attack and urged us to land the plane. Needless to say, we made an impromptu landing at the closest airport where an ambulance was waiting to take the passenger straight to hospital. Thankfully, he made a full recovery but I had countless passenger complaints about the disruption – to which I just had to smile sweetly and explain that a passenger nearly died on the aircraft that evening and thank them for their understanding. Something I quickly noticed is that people can lose sight of all logic on an aircraft and often behave in a way they wouldn't normally. It's as if the altitude goes to their heads!
11) What was particularly challenging about the role?
Well, in those days, flying was still a relative luxury and Flybe certainly wasn't a budget airline. I had business passengers to serve with a three-course meal, including orange juice and champagne – all often within a 35-minute domestic flight. It was crazy! I would have up to six flights a day, by the end of which I'd be shattered. Talking to people all day drains you too. A typical day regularly meant flying from Edinburgh to Birmingham to Jersey then Guernsey and back again in reverse order. Delays could also be a bit of a nightmare. Sometimes I'd have to sit and wait in the aircraft for five to six hours before the pilot got clearance to fly after a technical glitch. Meanwhile, passengers would be irate at having to get off the plane but safety really is paramount on an aircraft. I think people forget that and just see it as another mode of transport. The thing is, if something goes wrong, it goes deadly wrong so there's no room for error. But, as I said before, people can tend to lose their heads when it comes to aircraft. One of the most common reasons for delayed flights, however, was the weather – especially in the Channel Islands where it's always foggy. And then we'd have snow at the other end in Scotland!
12) What did you love most about it?
I loved the variation of the job and working with different people. I'd like to think I'm a people person so I enjoyed the aspects which involved helping people.
13) What other responsibilities did you have?
I dealt with the catering, the bar and the paperwork. The aircraft was a bit like an office in the sky. I'd also have to check for any suspicious packages or items left on-board. Mobile phones were the most common belongings left behind.
14) Do you think people underestimate cabin crew?
Definitely. It's a very high pressured job.
15) Do you think things have changed significantly since you were a Number 1?
Yes, flying used to be perceived as glamorous and was more expensive, warranting more involved service. These days there are more flights and they're more amenable. Everything is low cost and therefore low on service. I don't think the airlines are as strict when it comes to weight etc. Things are probably a bit more PC.
16) Were there any perks?
We quite often had night stops in Paris or Jersey, which was great because I got to spend time with Daphne and my newborn niece, Maisie, when she was just a few days old. We also received significantly discounted flights but, of course, would be kept on stand-by in case the seats were needed by paying passengers.
17) How do you feel as a passenger rather than a member of the cabin crew?
I'd rather be working on the aircraft than travelling as a passenger!
18) Why did you swap life in the air and opt to keep your feet firmly on the ground?
I worked incredibly unsociable hours and rarely had weekends off. I wanted to settle down and conform to a more 'normal' way of life with regular working hours because I couldn't really plan anything. It's worked out perfectly because I'm now getting married.
19) How does you new office compare to your workspace in the sky?
There are a lot of similarities between being a Number 1 and being the centre manager of a busy business centre. The customer service aspect, for example, is exactly the same. Both roles are incredibly fast-paced and I'm still responsible for safety, catering and the majority of admin.
20) Do you ever miss the airlines?
Absolutely. I had the time of my life and have the happiest memories of my time as a Number 1. I miss the social aspect but made some lifelong friends, whom I still see regularly even though they still work crazy hours. I loved (almost) every moment of my time with Flybe and consider those days to be the best of my life.
Lynda Millar is now Centre Manager at 23 Melville Street, Edinburgh's only boutique business centre, which specialises in luxury meeting rooms and executive serviced office space.
Pictured above is Lynda Millar, former Flybe Number 1, reading a flight plan on board a European flight.