Family friendly breaks for half term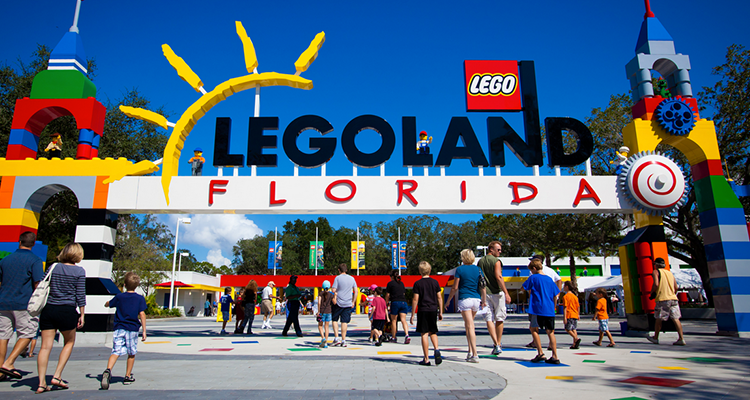 If you're looking for an autumn break that's a little different this half-term, check out what we have in store. We've rounded up some of the most exciting late October breaks – all with last minute availability*
for families travelling from the UK. Here they are, in no particular order…
1) LEGOLAND® Florida
LEGOLAND® Florida is the USA's newest interactive family theme park – having just launched this month (October 2012). Of course, the 15-acre park is one of only five LEGOLAND parks in the world and is dedicated to families with children between the ages of two and 12. There are more than 50 rides, shows and attractions for family fun – which you can find out more about here.
2) Paphos, Cyprus
The lively town of Paphos is always a family favourite, especially since there are so many things to do here like diving, golf, Jeep tours, rock climbing, wine tasting and vineyard tours, and even kite surfing. There are two hotels in particular which tailor their activities specifically to kids: The Almyra and Annabelle Thanos Hotels – located next door to each other. They lay on all manner of parent friendly services, including a Baby-Go-Lightly pre-order service, crèche, twilight babysitting services, and kids' and teens' clubs.
3) Kruger National Park, Africa
What kid wouldn't get a kick out of camping in the Kruger? From spotting one of the Big Five by 4X4 to listening to the sounds of the wild round the campfire, the 4-day Call Of The Kruger is a must do for families hankering after a real adventure. The small group safari also includes the option of a thrilling night's game drive, younger safari goers having the chance to whet their volunteering appetite at a cheetah rehabilitation centre within the national park. Find out more at Acacia Africa.
4) Arizona, USA
Children as young as six can saddle up with their own guide on a ranch break in Arizona where everything from the pool to the accommodation is "disability accessible" including the riding, and family horseback trips ensure quality time is spent with everyone from tots to teens. Country music, campfires and game nights make for great evening entertainment, and parents can be assured of some R&R while their older brood are out loping down a sand wash or exploring the beautiful desert landscape astride their trusty steed. Check out Ranch Rider for more.
5) Cape Town, South Africa
Book a four-day break in Cape Town and you could find the family embracing all manner of wildlife, such as whales and penguins, and beautiful scenery like Table Mountain. And, of course, no South African trip would be complete without a safari. Try the Big Five Safari in the malaria-free Madikwe Game Reserve spotting lions and elephants with Bush Baby Travel.
6) Montego Bay, Jamaica
Check out Round Hill Resort and Villas in Jamaica, which is well known for providing luxury, child friendly holidays with their complimentary Pineapple Kids' Club and 7-Up Club. Day to day activities couldn't be brighter, including reggae lessons, water sports and nature walks. The resort is even laying on some special discounts and free meals for kids under 12 this half-term and there's even a nanny service. But don't just take our word for it. Go to The Essential Holiday Collection for details.
7) Jolly Beach, Antigua
If you're looking to catch some serious sun with the kids this autumn half term, then join the in the family friendly island of Antigua's celebration of Independence Day which promises an unrivalled week of cultural fun. Try the Jolly Beach Resort & Spa for some great October deals with families in mind. The resort overlooks some of the most beautiful beaches on the island and has a Kidz Club while laying on family friendly activities, including a Pirate Night, beach picnic and treasure hunt.
8) Puerto Pollensa, Majorca
Although the whole island is beautiful, a great base for families is Puerto Pollensa on Majorca's north-west coast, which is a chic, low-rise resort with an array of stylish restaurants and accommodation. One of the highlights is the decorative Pine Walk, a tree-lined promenade that snakes alongside the beach through the length of the town. The sheltered town beaches benefit also have calm and shallow waters perfect for younger children. Direct Line Holidays do some great deals at this time of year.
9) Olympos, Turkey
This part of Turkey's Mediterranean coast is a great place to take the kids for a memorable half-term holiday. Ever better, if you book with Hostels Club, you can all sleep in a tree house – probably every child's dream! With Kadir's Tree Houses, for example, there's also a seafood restaurant and snack bar and plenty of activities for kids, including volley ball, table tennis and scooter and bike hire. If you don't fancy the thought of sleeping in the trees, though, there are more comfortable bungalows and plenty to do nearby in a land that's steeped in Lycian history and has some of the most picturesque, unspoilt scenery imaginable.
10) Makadi Bay, Egypt
Why not enjoy a luxury five-star escape to Makadi Bay with its private, sloping beach and own shopping mall? It's a great place to relax, unwind and enjoy some truly tranquil surroundings. The Makadi Palace Hotel, in particular, is famed for its beautiful, extensive gardens and offers a fab all-inclusive package with return flights from Manchester. Find out more from Red Sea Holidays.
For cheaper last minute online currency, check out live rates at MyTravelMoney.co.uk which can often arrange airport pick-up.
*Availability is subject to change.