Halloween activities abroad: Top 5 holiday haunts to die for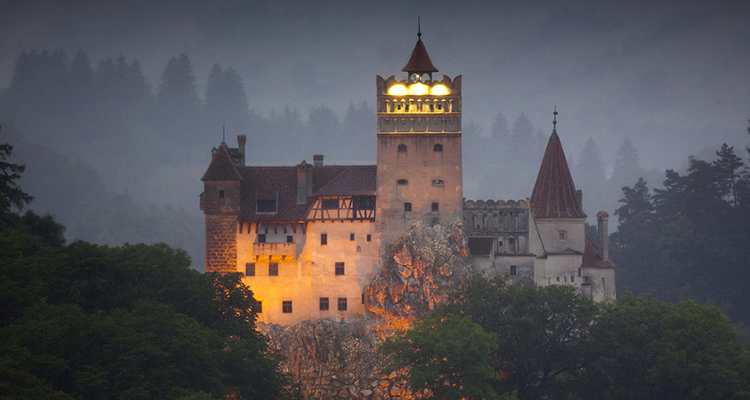 Wherever you're escaping to this half-term, you can still get into the spirit of things this Halloween by embarking on one of the top five Halloween trips we've rounded up below:
1) Get spooked at Dracula's Castle in Transylvania
What could be creepier than visiting Dracula's lair in Transylvania – deep in a remote corner of the Carpathian Mountains in the heart of the Romanian countryside? Bran Castle (pictured above), otherwise known as Dracula's Castle and the real life setting for Bram Stoker's blood curdling book, sits upon a precipice among the razor-sharp peaks of the surrounding mountains – a venue which you're invited to explore at your own peril.
The medieval town of Brasov is also a great place to learn local tales, hear ghost stories and warm your chilled blood with a much-needed hot chocolate. It really is the stuff of nightmares.
Those intrepid enough to dare to go there should book via Untravelled Paths.
2) Go Batty at Kasanka National Park, Zambia
Each evening at sunset, between October and December, the skies blacken in a little-known National Park in Zambia as millions of hungry fruit bats descend on the fruiting trees. It's said to be one of the largest migrations of mammals in the world and is possibly one of the best Halloween sights you could ever see – that's if you don't mind the flapping and squeaking en-mass. Hide out in a tent at Kasanka National Park and tell ghost stories and try not to get spooked by the call of the wild which, undeniably, comes to life at night.
For a wildlife safari like no other, book via Trip Travel Africa.
3) Brick or Treat?
For a tamer, more family friendly way to get your spook on this Halloween, make for the brand new LEGOLAND Florida and make history as you become one of the first visitors ever to celebrate Halloween at the park. Each Saturday and Sunday in October continues to come alive with the un-dead as ghouls and goblins descend on the 150-acre park until the 28th. The Miniland attraction is also home to the largest Jack-O-Lantern in the world and, needless to say, there's trick or treating, costume contests and prizes galore. What's more, the park is exorcising (see what we did there?) later opening times for the whole of October.
4) Walking with the dead in New Orleans
Once dubbed 'the most haunted city in America', New Orleans has a whole host of spooky treats in store for families looking for a break from the norm. Many of its homes and taverns have already been checked out by real paranormal investigators – in whose footsteps you can follow as you discover why these buildings featured on the likes of the History and Discovery channels. Visit the reportedly haunted Bourboun Orleans Hotel, a former ballroom, theatre, orphanage and convent, which has been known to host some uninvited guests, and see if you can spot any spectres in the hallways. And while ghosts can't be guaranteed, we challenge you not to feel a chill down your spine as you pass through the French Quarter in which, when it rains, a beautiful voice is said to penetrate the mist.
Check out the Ghosts & Spirits Nighttime Walking Tour from Go, See, Do.
5) Halloween in The Caves on the Cote d'Azur
At first sight, the French Cote d'Azur might not seem like the scariest place on earth but come the end of October, Belambra Club The Caves will become a ghoulish go-to because it's laying on what will be the most spooktacular Halloween party on the continent. Geared towards families with children aged three months to 17 years, face painting, trick or treating, costume parades and live music will be the order of the day and night. Even better, the kids can celebrate the witching hour as part of the free kids club while mums and dads relax in the heated pool or lounge bar.
For more information, or to book, visit Belambra Clubs.
Don't forget to grab your currency before you travel and take the mystery out of trick or treat. Check checking MyTravelMoney.co.uk for live rates.