A guide to walking holidays in the Cotswolds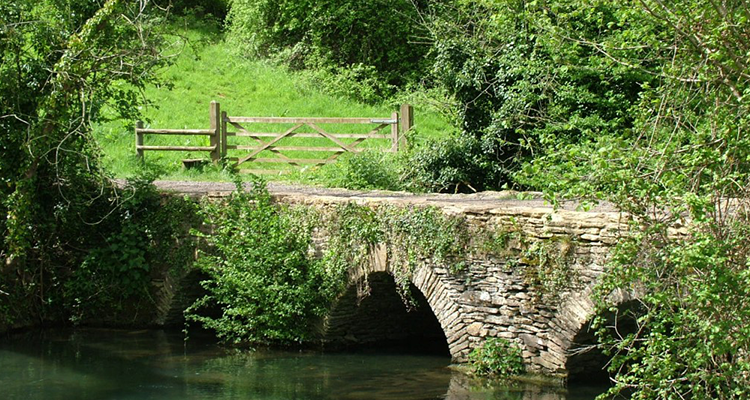 If you thought British walking holidays meant knee-length socks and navigating with a compass, think again.
It's 2012 and experiencing rural England on foot needn't be hard work – or just for the intrepid back-packer.
Rambling through countryside decorated with apple trees, quaint cottages and wildlife-filled ponds should be a wondrous thing and, lucky for us, there's a little place in the Cotswolds that makes it so – the village of Cowley.
Where to stay
The Green Dragon Inn in Cockleford is perfect for exploring Cowley and its gorgeous – and very green – surroundings, while ensuring your creature comforts.
The Inn dates back to the 18th century and was a former blacksmiths. Low ceilings, plentiful beams and one-of-a-kind carved furniture give this little pub its personality – as does the warm welcome and many an affectionate tale of regulars falling asleep at the bar!
In fact, once you've pulled up a pew, you might not want to leave either.
The building forms a split-level restaurant and two bars, one of which is the popular Mouse Bar – so called because of the little carved mice that adorn the bar and wooden stools.
The restaurant is out of this world and, understandably, it's advisable to book for dinner most nights as the Inn's gastronomic reputation is second to none.
Not your typical pub grub, the food is locally sourced – apart from the fish, of course – and lovingly prepared by resident chef Iain Dick, who really knows his stuff.
What to do
A local company, called Foot Trails, gives both guided and independent walking tours – tailor-made for each individual visitor.
How far you'd like to walk, whether you're bringing the dog and whether you'd like to stay at more than one Inn are all things Foot Trails takes into consideration. The team will also provide you with all the maps you need – and even step-by-step directions.
Add to that a bespoke walking pack, with your own personal itinerary, multiple nature guides and more local information than you can shake a stick at and you'll be an expert on Cowley and Cockleford in no time.
There's also Cowley Manor, a gorgeous nearby hotel which is home to some seriously retro rooms and where you might decide to stop for lunch, which is highly recommended.
What's more, guests of the Green Dragon are usually welcome to try out one of the Manor's two heated swimming pools or book a treatment in the architecturally decadent spa.
Just steps from the spa are the pretty church and adjoining graveyard and there's even a ghost walk that will take you on an eight-hour adventure from the cemetery around various other Cotswold haunts to come full circle – just in time for a drink at the Green Dragon!
And if wildlife's your thing, the nearby woods and fields are full of red deer, llamas and wildflowers. To get up close and personal with the llamas, take a stroll to the nearby village of Stroud where you'll find llama walking tours – or llama trekking as it's otherwise known.
A half-hour drive from Cockleford will also take you to Slimbridge Wetland Centre, where you can hop on a bird safari and might even be lucky enough to spot a Kingfisher.
Slimbridge is also a good place to enjoy lunch overlooking the lochs or even try your hand at canal boating if you're more nautically minded.