Scotland's top 5 year-round campsites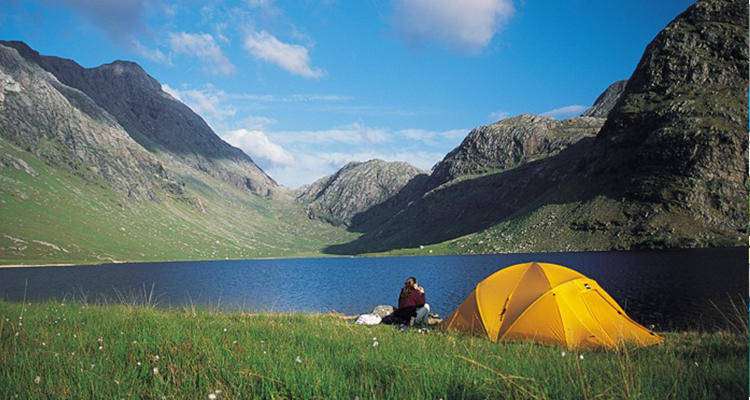 There are so many ways to see and experience Scotland. But to see the country at its rustic best, you need to head off the beaten track and roll out the sleeping bags.
Hit the trail and, if you can stand the midges, sheep ticks and the likelihood of rain, then you'll be in for a stoating summer holiday under the cosy cover of canvas.
Here are our top five recommended year-round campsites in Scotland:
1) Riverside Holiday Park, Hawick – The Scottish Borders
Riverside Holiday Park is a fly fisherman's dream. The River Teviot, which runs right though the park, is usually well stocked with brown trout and you can cast off from a stone's throw of your tent without a permit. You might have your work cut out for you catching any, however, because the river is so rich in natural forage that the fish can't usually be bothered with fake flies. But it's a great experience nonetheless.
Not only is the site peaceful enough for fishing, it's clean, safe and has a fantastic, friendly atmosphere. It won't take you long to walk from one end to the other but there's a children's play park and lots of sporting activities available nearby. The facilities are fairly limited since there's no restaurant or shop but what it lacks in supplies, it makes up for in wildlife. It's common to see herons without the need for binoculars because they're regular guests along the river's banks, which you can access over the fence.
Both hardstanding and grass pitches are set aside for tents, motor homes and tourers but it's best to book to guarantee your space which, if you're lucky, will be right beside the river.
2) Lochranza Camping & Caravan Site, Lochranza – Isle of Arran
Lochranza is unrivalled when it comes to getting up close and personal with some of Scotland's most spectacular wildlife. Red deer live on and around the site all year round – the stags calling out towards the end of summer and rutting in early autumn. In fact, the campsite is pretty sparse apart from the deer and the occasional sheep, but to see these majestic creatures running, rutting and mating alongside your makeshift home is just amazing. The scenery on all sides of the campsite, which is really no more than a field, is amazing too. Rolling hills and breathtaking blue skies tower over this large plot, which has its own golf course, tea room and shop.
A five-minute walk takes you to the Isle of Arran Distillery where, if you don't sample the whisky, be sure to taste the award winning ice cream. Lochranza Castle sits around half a mile in the other direction, surrounded by hills, yachts and whitewashed houses. It's a fantastic photo opportunity and there's plenty of wildlife to spot on its shores. You could take the ferry from Lochranza Port, which is at the very tip of Arran, across to the Mull of Kintyre in summer or to Tarbert, which is as far as it goes in winter. Brodick Castle is a short drive away and, for the more intrepid, there's plenty of wakeboarding to be done off the coast. You'll spot lots of amazing seabirds, including herons, which come surprisingly close to the main Calmac ferry terminal.
3) Culzean Castle Camping & Caravan Site, Maybole – Ayrshire
Even if you aren't visiting Arran, you can still admire the view across to Brodick by staying at the Culzean Castle Camping & Caravan Site in Maybole. It's not small like the others but it is friendly and the setting is certainly picturesque. The site sits in the grounds of Culzean Castle, which is one of the best loved strongholds in Scotland and where the sunsets have to be seen to be believed.
Now owned and run by The National Trust for Scotland, most areas of the 600-acre estate are open to the public between March 30 and October 31, while the restaurant and visitor centre shops open at weekends all year round. The campsite welcomes motor homes, touring caravans and tents between March 25 and November 1 and has all mod cons, including on-site laundry and excellent toilet facilities and showers. There's even a children's play park and plenty of space to walk the dog.
4) Drumshademuir Caravan & Camping Park, by Kirriemuir – Angus
Drumshademuir is a small and friendly campsite that's perfect for exploring Angus – and what's more, it's open all year round. It has such a warm and welcoming atmosphere that many touring caravans are pitched here permanently, their owners driving up to spend Hogmanay on the site.
It has its own pub, licensed restaurant and shop which stocks the daily papers, even throughout the winter. There's a children's play park and woodland walk where you're normally guaranteed to spot red deer, rabbits and a few frogs and toads at least. Glamis Castle is just up the road and there are lots of unique little shops to discover in Kirriemuir, which is a ten-minute drive from the site and has its own aviation museum.
5) Ashaig Camping and Caravan Site, Breakish – Isle of Skye
For a peaceful spot on the Isle of Skye, Ashaig Camping and Caravan Site is just the ticket. Situated just four miles from the Skye Bridge, it's really convenient for exploring Broadford – and indeed the rest of the island – as well as Kyle of Lochalsh on the mainland.
There are so many things to do in this neck of the woods that you might find yourself staying on for longer – and Ashaig is the perfect place to do it. It doesn't promise the hanging gardens of Babylon but what it does promise is a peaceful night's sleep, every night. It's friendly and relaxed and is a stone's throw from Eilean Donan, which is dubbed the most romantic castle in Scotland. There are sandy beaches nearby and separate dog walking areas.