Best of British Seaside Resorts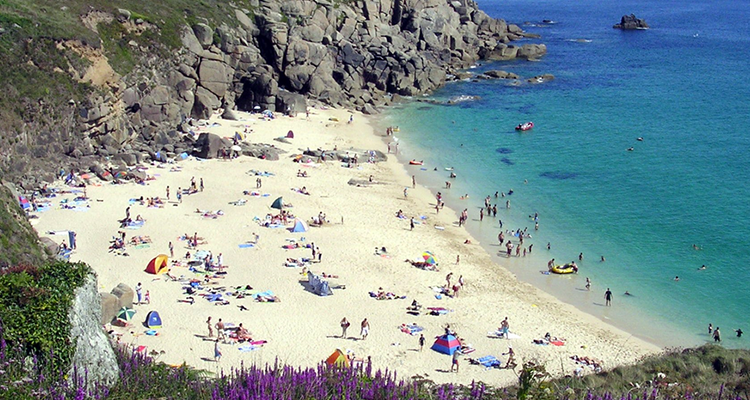 There's still nothing better than the traditional British seaside holiday that takes us back to our childhoods. We might have come a long way from Donkey Rides and striped deckchairs, but these UK destinations are still a firm favourite among families on a tight budget.
Cornwall
Cornwall is one of the prettiest beach destinations in the UK and could well be mistaken for being the Med. Gorgeous golden sands and brilliant blue waters keep it a favourite among surfers, courting teenagers and families alike. What makes it so great is that it shares a regional border only with Devon – meaning that it's almost entirely surrounded by sea. Its majestic coastline spans almost 300 miles and there's never a shortage of things to do. The town is famed for its Cornish pasties and delicious ice cream and, of course, there's countless activities to be had along the shoreline. Whether you want to chill out on the beach, try your hand at fishing or go in for some of the more extreme water sports, this seaside resort is an escapist's dream. To find out about everything there is to see and do, visit the official tourist board online visitor guide.
Blackpool
Yes, it might be a bit tacky but we all love it really. It's unlikely we're going to hang out on Blackpool Beach in this day and age but there are so many other things to do that it makes for a great holiday on a shoestring. From visiting Blackpool Tower to picking up cheesy souvenirs and checking out Louis Tussauds, it's all about fun, fun, fun. Of course, one of the highlights is the Blackpool Pleasure Beach which even has a new Spongebob Squarepants ride to titillate the youngsters but the best time to go is probably October when the illuminations start. Take a tram ride through the town and see Blackpool at its best – all lit up and magical. But whatever you do, you'll never be short of entertainment here. There are cabaret acts on almost every night at the many hotels along the main promenade and, if you're a Corrie fan, you can even pay a trip to the Rovers Return.
St Andrews
St Andrews in Fife, Scotland, might be the home of golf but there are so many other things to do besides. Thanks to the sheer number of students, which once included Prince William and Kate Middleton, St Andrews has a distinct, relaxed cafe culture with more cosmopolitan bars and brasseries than you can shake a stick at. There are scores of Irish pubs, a Japanese restaurant and Janetta's award winning sit-down ice cream shop. In fact, Janetta's is worth the visit alone. Expect some surprising Scottish ice cream flavours like Tablet and Irn Bru, as well as some more well-known tastes like Pistachio and Peaches and Cream. There's also the Abbey to visit, St Andrews Aquarium and the beach at the West Sands which normally sees windsurfers, kite enthusiasts and more all turn out in force.
Ayr
If you're not from Scotland, you might not have heard of Ayr but this West Coast seaside resort is a traditional family favourite – whether they're staying at Haven or in a rented coastal cottage. It's within easy reach of Louden Castle theme park and has a great shopping centre for the fashion conscious. Edinburgh and Glasgow are within driving distance and there are loads of great, traditional fish and chip shops from which you can pick up a picnic to sit by the beach and watch the sunset. The only thing you can't be assured of is the weather!
Brighton
Brighton has a fantastic, although cobbled, beach. It always makes the top 20 list in UK seaside holiday carnivals and, if you've ever been, it's easy to see why. It's bursting with aquatic related things to see and do, from water sports and events to Victorian aquariums boasting some of the most unusual marine life around. There's also the stunning heritage of the Royal Pavilion to take in, plenty of awesome architecture and, of course the Brighton Wheel. The city also lays on a smorgasbord of entertainment for its visitors, from dance, drama and music to comedy – particularly at the Komedia theatre.