Bunking up with monks: One night at Kongobuji Temple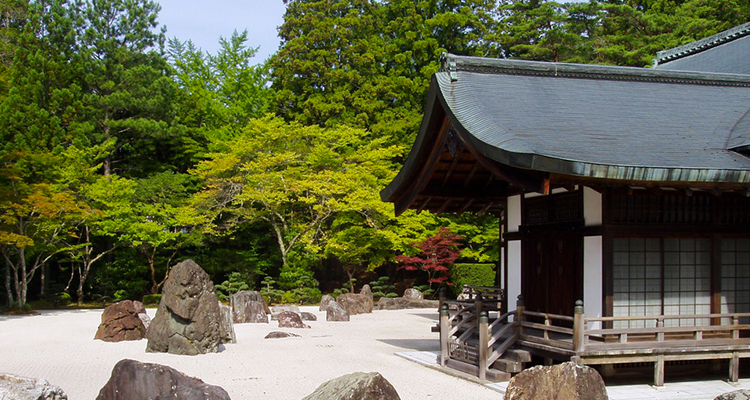 The phrase 'Only in Japan' has become synonymous with inventions like solar powered bras, egg vending machines, Nintendo tattoos and pet friendly cafes – anything wild and wacky, in fact – and it's true that there are things you will only find in this remarkable country, but they don't all belong in Ripley's Believe It Or Not sideshow.
There are many brilliant things you will find only in Japan – not least the clean streets, beautiful landscapes, jaw-dropping pagodas, temples and shrines and more cherry blossom than you can imagine.
Another attraction you will only find in Japan is Kongobuji Temple – tucked away in the idyll precinct of Koyasan in the Wakayama prefecture. It has remained traditionally Japanese, even to this day and is one of the few religious precincts where you can really get to grips with what it's like to lead a holy life – but perhaps the best thing about it is that none of it is out of bounds.
Here, MyTravelMoney.co.uk chief travel editor Lynda Hamilton tells us what it's like to live with monks, how you can do it too and why she'll never complain about the Scottish weather again…
"I've been sightseeing on a sacred mountain for seven hours and despite heat pads on my back, six layers of clothes, two chunky pairs of socks and snow boots, I have never been so cold in my life.
"I'm glad to arrive at my digs at Kongobuji Temple in Koyasan – only to discover that although my room is warm and comfortable, everywhere else in the building is freezing, partly because all the doors are open and the ground outside is covered in at least six inches of snow.
"It's minus five degrees here on Mount Koya in south east Japan but it doesn't seem to bother the half-a-dozen Buddhist monks who live here – including 38-year-old Hudiji Douran.
"Hudiji sits in simple robes with a presence so intense that I hold my breath in awe and – probably all too obviously – hang on his every word. He soon gives me a familiarisation tour – of the basic rooms, the temple itself and of the communal baths. Then, before he serves my group our strictly vegetarian meal of tofu and seaweed, Hudiji takes the time to answer some of my questions about his life here at the head temple of the Koyasan precinct.
"I'm surprised to learn that not only does he eat meat, take the occasional sup of beer and have girlfriends, but that his second big passion is Manga. His day is long and hard, though. He wakes at 5.30am – sometimes earlier – to start his cleaning duties and doesn't rest until it's approaching midnight and all his chores are done.
"It's hard to believe that this humble man was once a student – born in Osaka – and although he was ordained nearly 18 years ago, has only ever completed 100 days training. It's also hard to believe that he's 38. His skin and teeth are immaculate; he's slim, good looking and unintentionally charming.
"But, like most Japanese men, he's shy. He actually blushes when I ask his name, age and whether he's allowed to date.
'I can marry and have a family whenever I choose,' he says with a grin. 'And I have friends from all over the world because of the number of foreign visitors we get here.'
"But Hudiji is quick to point out that he's single and that these are all choices for him to make. He tells me that the monks are encouraged to choose their own paths and that there are many families living at the temple.
"He explains that only the head abbot is forbidden from taking a wife as he is closest to Buddha. I then learn that Hudiji's motivation for studying esoteric Buddhism came after his father died.
'I felt like my father was calling me,' he explains.
"He chose to be ordained at 21 but, before he settled at Kongobuji 18 months ago, Hudiji tried out a number of manufacturing and consultancy jobs in the city before he finally realised his true calling.He gets two days off a month which he spends reading but, even then, he must forfeit his free time each morning and night for the twice-daily service.
"I'm lucky enough to sit in on the one-and-a-half-hour service the next morning which starts at 6am. I gather in the dimly-lit temple, powered only by lanterns and candles, along with other travellers and Japanese nuns who sit beside me on the red carpet with their prayer beads and sutras.
"The head abbot joins the resident monks, who are already seated around the shrine, including an apprentice and, of course, Hudiji. Their repetitive chanting is like acapella and I'm not sure whether it's the heady scent of incense, in which I've been purified, or the sight of these golden-robed holy men, but the constant hum becomes very comforting and makes me feel incredibly warm and fuzzy inside.
"The monks are worshiping Kobo-Daishi, or Prince Kukai, who they believe entered eternal meditation in 835AD and is now encased in the mausoleum, which can be seen through the small window at the centre of the shrine. Kobo-Daishi was the founder of Shingon Buddhism and is said to live on – therefore part of the monks' daily routine is to prepare fresh food for him which is first offered to the deity 'Jizo' at one of the Shinto shrines in the temple grounds.
"I'm also lucky enough to witness this ritual which occurs twice a day. Monks prepare the food wearing surgical masks to avoid contamination from their breath, which they believe is dirty.
"Once the offering is made to Jizo, the monks carry a wooden box filled with fresh food to the main temple to present to Kobo-Daishi. Only then can they eat themselves.
"Before I leave for the big city again – and, of course, once I've tried a communal bath – Hudiji bids my group farewell and thanks us for making the journey out to Koyasan. It's then that I realise that in this one night it has been quite a journey.
"But Kongobuji is just one of 52 temples in the Koyasan precinct offering night lodging to travellers, although it's one of only eight or nine to remain traditionally Japanese and completely un-Westernised. Guests are welcome at any time and the door is, quite literally, always open.
"Anyone can go and experience a night living with the monks and although the two places are worlds apart, Koyasan is no more than an hour's drive from Osaka. At 9,500 yen (around £70) for sole occupancy per night, the inn at the head temple is quite expensive, but it's the experience that you're paying for. It's a once-in-a-lifetime chance to learn first-hand about esoteric Buddhism in Japan and take part in the monks' daily rituals.
"You can get a reduced rate if you share a room with your fellow travellers and the rooms are easily spacious enough to sleep up to five adults. Rooms are basic but heated and beds are typical Ryokan style on the floor. The communal bath is split into male and female sections and the hot tub is usually welcomed after a day out in Koyasan – although it isn't always so cold. The best time to visit is in summer but try to avoid the Aoba-san festival on June 15, which is Kobo-Daishi's birthday – it gets very busy indeed!
"Many of the buildings in the temple precinct are World Heritage Sites and have existed, untouched, for as much as 500 years. They're set in hundreds of acres of tranquil forest and the entire area is a popular pilgrimage site of the Japanese. Even the vermillion Daimon Gate – through which travellers enter Koyasan from the road – is a sight to behold. The Shinto gate is protected on both sides by wooden Kongo warriors who tower feet above those who enter and really have to be seen to be believed.
"Other must-sees while you're there include the Konpondaito Pagoda, which enshrines five sacred images of Buddha, and the Banryutei Rock Garden at Kongobuji Temple which is the largest in Japan – but they really need no introduction and are pretty hard to miss.
"And of course there's so much more to do in Koyasan besides visiting its temples. There are plenty of hiking and walking trails for you to explore this stunning area of Japan which is home to wild monkeys, mountain hares and even bears. You'll also find plenty of shops, restaurants, coffee, shops and bars – and you'll feel very much like you've escaped off the beaten track."
Lynda's fact file:
Getting there
• The easiest way to travel to Koyasan is by train. It's a 90-minute journey by rail from Osaka's Namba Station to Gokurakubashi on the Nankai Koya line. A cable car will then take you from Gokurakubashi up the mountain to Koyasan. Or, if you're as intrepid as some Japanese tourists, you can climb the mountain yourself – it should only take you five hours or so!
• Koyasan is also within easy travelling distance of other prefectures in the Kansai district, including Nara, Kyoto and Kobe and, again, the easiest route is by train.
• Once you're there – and if you'd prefer – you can hire a local English-speaking guide from the Tourist Information Office although it's advisable to phone ahead and book.
What to expect
• Expect to change your footwear a lot – especially when visiting temples and shrines, dining and going to the bathroom. Japanese land was traditionally very wet and shoes were changed to avoid spreading disease – a ritual that's still upheld today.
• The price of a night's lodgings at Kongobuji Temple includes breakfast, dinner and drinks but bear in mind that the only alcohol available is sake and beer.
• Although the monks occasionally eat meat, all meals served to their guests are strictly vegetarian and many of the restaurants in the area respect the same tradition.
Always Change your GBP into Yen before you travel at MyTravelMoney.co.uk for the best savings on currency.