"Your blog is your voice. Why pretend to be something you're not?" says blogger Neil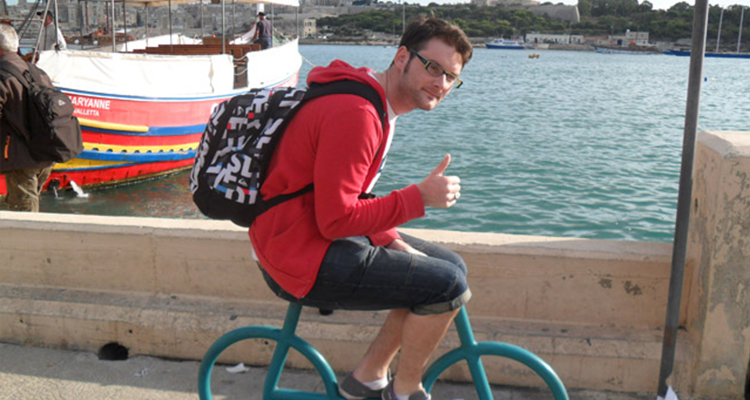 "Your blog is your voice. Why pretend to be something you're not?" That's the message from prolific author of Backpacks and Bunkbeds Neil Barnes, who we've been getting to know a little better.
His brilliant blog landed our silver award in the Best Blog for Backpackers category of our 2012 Travel Blog Awards so we set out to discover more about what makes the financier tick.
Read on to find out how travelling sets him free and why he's terrified of The White Screen of Death.
1) Neil, how does it feel to win a MyTravelMoney.co.uk Travel Blog Award?
I'm in shock, to be honest. I've always believed my blog is a half decent backpacking resource, but I still never thought I'd come second in your awards. I'm over the moon just to be classed in the same bracket as the other travel blogs you picked out.
2) Tell us about any other awards you have won…
Towards the end of last year, Beat The Brochure named my blog as one of its Top 10 Travel Bloggers of 2011. That was a great surprise – especially considering my blogging exploits really only started midway through 2011. I found out at the airport in Marrakech which softened the blow of coming home a little.
3) Is that when did you start travel blogging – 2011?
Backpacks and Bunkbeds was launched in June, 2011, but it evolved from an older blog and my STA travel blog, which I kept while backpacking through Asia and Oceania in 2006 and 2007. When I returned home from my gap year, I went to night school and learnt a bit about web design – not with the idea of starting a backpacking blog, but purely because I liked the thought of knowing how to build websites. I guess it was only a matter of time before the two merged and formed a travel blog.
4) Do you blog full-time or do you have a day job?
I wish it was full-time, but I have a nine-to-five job – in finance of all things. Luckily I get a decent amount of annual leave a year and I can actually buy some more if needed… which it usually is.
5) What makes you passionate about travel?
I love the way travelling makes me feel. Hopefully, it doesn't sound too lame but when I'm on the road, I instantly feel freer, less stressed and am generally a happier person. Maybe it's because of the new opportunities and adventures that travelling affords me. All I know is I love it and I get a great sense of achievement from seeing different parts of the world, meeting loads of new people and learning how they live their lives.
6) What are your future plans for Backpacks and Bunkbeds?
To simply grow. Being just a year old, my blog is still very much in its infancy. I'd like to build up a good readership over the next 12 months while obviously adding posts on each new place I visit. I'd like to try use my web design knowledge to make a few cool, unique features but appreciate that may not be the easiest thing to do as there are lots of other talented bloggers and designers out there. There are so many great travel blogs now, it's hard to keep up with them all.
7) What are the main challenges you face as a travel blogger?
Keeping up with the technology can be quite tough. I like to think I'm quite capable with a computer, but I've come unstuck more than once in the last 12 months. The WHITE SCREEN OF DEATH was particularly nasty (it's real; I haven't just made it up for effect, Google it if you don't believe me). I was up until 3am one morning trying to fix the code but eventually had to bring in a specialist at cost. I wouldn't wish that problem on any blogger!
8) Which destination have you enjoyed blogging about the most and why?
Sri Lanka has played a major role in my blogging exploits. I have so many good memories from my time volunteering there and travelling around the island on the weekends. It was just beautiful and my volunteering placement was perfect. I'm hoping to go back there fairly soon and one of the girls I was volunteering with – named Natalie @girlandtheworld – actually lives there now so it'd be nice to catch up with her. More recently, Croatia has taken a lot of my focus. It's a beautiful place and somewhere I hope to visit more than once over the next year or so. The lakes in Plitvice National Park are something else!
9) Do you have any travel 'heroes'?
Does Dr Who count? He travelled in time! Poor answer – sorry – but I can't really say that any one person inspired me to travel. My first stint of long term travel (eight weeks in South Africa) was just something I booked one evening after becoming a bit bored of the area where I grew up and went to university. It spiralled from there. I admire all the TV travel personalities and love the BBC shows like Blue Planet and Planet Earth – the guys and girls that make those shows do an amazing job!
10) What would you like to be doing in five years time?
If I could be a full time blogger, that would be amazing. But, if not, I'd like to think I'd be more directly involved within the travel industry in one way or another. SEO, copywriting, or design maybe? I'm open to offers… hint, hint.

11) What's your advice to anyone looking for a career in travel writing?
Be yourself and write as you would talk to someone. It may not always seem to be the most professional approach, but your blog is your voice. Why pretend to be someone you're not?
For more insights from Neil, follow him on Twitter @packsandbunks