Campingly: The lifestyle blog that's well on the road to success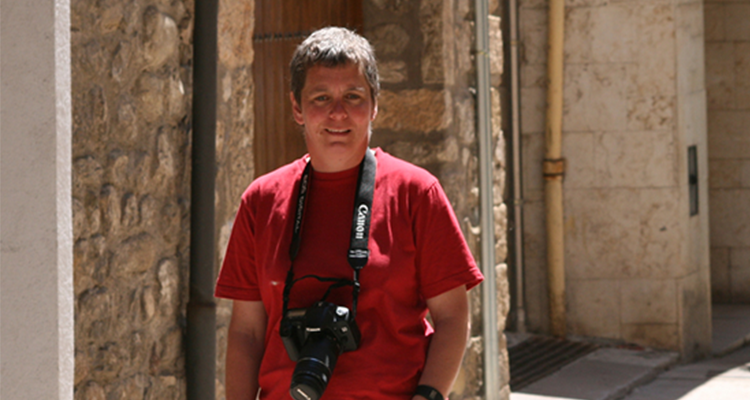 Meet Annette Sharp, author of the UK's foremost travel and lifestyle blog for motor homes, campervans and caravans – and winner of our Top Lifestyle Travel Blog category.
Lucky for us, Annette took time out of her busy schedule to tell us what it's like to write Campingly , what motivates her and where her travels might take her next.
1) How does it feel to win a MyTravelMoney.co.uk Travel Blog Award?
I don't think I've ever won an award before so it was super-exciting when I saw your twitter message saying Campingly had won a MyTravelMoney honour. I'd have been thrilled just to get a mention so actually winning a category award was fabulous.
2) Tell us about any other awards you have won…
Hmmm, I can't honestly say I've won any other awards – I'm guessing school prizes from 25(ish) years ago don't count?
3) When did you start the Campingly travel blog?
Towards the end of 2011, my partner and I made the decision to take an adult gap year in 2012, starting at the end of March. The idea of not working for a year sounded amazing, but I knew myself well enough to know that I'd need a 'project' to keep me busy while we were away. I set up Campingly late last year so that it was all up and running before we set off for our year of travelling. That way, there were no real teething troubles to deal with away from home.
4) Can you explain how it came about?
I wanted to create something that gave me something worthwhile to do while I was away, but that didn't involve an eight-hour working day! The potential to earn even a modest income from the project was a bonus. I decided to set up a blog themed about something I'm really genuinely into so I focused specifically on van travelling (since that's what we do), rather than starting a more generalised travel blog.
Originally, our plan was to take a gap year and divide the time travelling in Europe and the US. But within a month of setting off, we'd already started thinking that we wanted to extend the trip for longer than a year! Then we had some unexpected news from back home. A family member had been diagnosed with a serious illness, so we had to come straight back to the UK. We've been back for a couple of months now, splitting our time between brief travels around the UK and being there for my family. The blog has had to take a back-seat for a few weeks, but I'm gradually getting back into the swing of things so it should be back to regular updates soon.
5) Who does the majority of the blogging?
I do. It's pretty much my baby, although Emma, my partner, sometimes contributes photos and ideas.
6) What makes Campingly stand out above the rest?
Ha ha…I don't think it does! I just try to write in my own voice and about stuff that I like or enjoy. In the past, I've worked in web design and development, so I'm not reliant on a third party for technical stuff or design – which makes running the blog a whole lot easier. If I decide the blog could do with a tweak or a new feature, I can just go ahead and do it myself.
7) What are your future plans for the blog/business?
We plan to hit the road for good again at some point, but at the moment we don't know when that will be. Our unforeseen return to the UK has meant that we've had time to consider our future plans in a bit more detail. We're now planning to travel for the next three years and Campingly will very definitely be part of that. We pick up our new (to us) vehicle in a few days, so expect to see some American RV features on the site too!
In terms of new ideas for the blog, I hope to do some real-world reviews of fellow travellers' vans. I've got more product reviews in the pipeline than you can shake a stick at, and I hope to develop the site's food and wine section a lot more, to include more recipe ideas. We've also got some e-book guides up our sleeve, aimed at motor-homing travellers. Since the blog is a 'project' as much as a business, I'm happy to let it evolve organically over the coming months.
8) What are the main challenges you face in the industry?
As an enthusiastic amateur, I don't spend too much time worrying about industry challenges. Obviously, I would like a blog following in the thousands (or millions) and I guess attracting (and keeping) readers is the biggest challenge all bloggers face. But my mantra is simply to write what I want to write, about things that I like, and hopefully the reader numbers will continue to grow.
9) What do you enjoy blogging about the most and why?
Oh all sorts! I love featuring vans that have caught my eye, but I also like finding new and funky products to write about. It's harder to write about our own travels when we are on a long trip, as it's tough to find something fresh and interesting to say day after day! Mixing it up with product reviews and other stuff means it doesn't get dull (I hope).
10) What excites the brand/blog?
I love finding smart, contemporary products to feature on the blog –
the whole motor home and camper industry is going through something of a revolution as it seeks to attract a younger market, and it's fab to be a tiny part of that. It's great to think that other people might enjoy reading the stuff I write and it's exciting to think I could build the blog into a significant voice in time.
11) What's your advice to anyone looking for a career as a travel blogger?
I'm not sure I'm even remotely qualified to answer that! I'm really just an amateur, but I think the things that have helped me so far have been a good technical background, coupled with a determination to write in my own style, about things I'm genuinely interested in. I think success as a blogger has to be earned over time and can't be rushed. Campingly is really only a youngster in the blogging world, but if people find it helpful or inspiring in some way, then I'm happy!