Top 5 places to get married abroad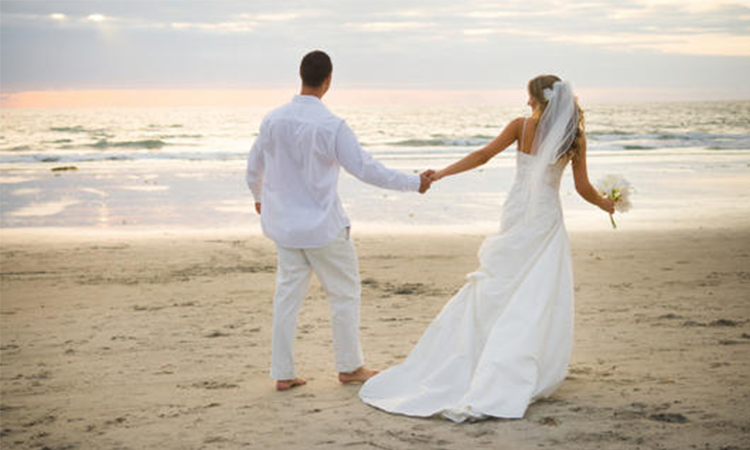 There are lots of reasons to get married abroad – not least because it can help to take the hassle out of pleasing everyone on the day. You might even avoid family rifts, awkward seating arrangements and having to find where to put everyone up for the night, depending on the select few you invite.
You could always elope, of course, and tell no one which distant paradise you've made off to. Therefore the most important day of your life can be as idyll as you like and you'll end up with a wedding album packed full of unique memories to revisit for years to come.
Not only that, but you might just save some money too.
With this in mind – and with wedding season upon us – we thought we'd round up five of our favourite destinations for getting hitched. We hope you'll be inspired.
1) Cyprus
When it comes to informal weddings, there's nowhere quite like Cyprus. It's the perfect location for laid back romance, lazy champagne breakfasts and relaxed evening receptions.
Lots of couples head to Nissi Bay which has one of the most gorgeous beaches on the island and is quiet, clean and safe. But, believe it or not, it's just a few kilometres from the bustling town of Ayia Napa, which is the perfect party hub to live it up after those nerve-inducing vows and speeches.
Some popular places to tie the knot include the stunning gardens of Adams Beach Hotel, just off Nissi Beach, and Paphos Town Hall. The gardens and beach make for stunning wedding photography and the ceremony can be kept as private as you like.
Paphos Town Hall, on the other hand, is a little more low-key although the building itself is really much grander than it sounds. It's around 100 miles from Ayia Napa and there plenty of brilliant restaurants and tavernas nearby for small and intimate receptions.
2) Italy
Italy weddings are the epitome of style and sophistication – with a sumptuous selection of castles, villas, civil wedding halls, and public or private parks to choose from.
Some couples choose a romantic lakeside ceremony in the company of close family and friends by the likes of Lake Garda, which is beautifully picturesque.
Or some prefer a stylish occasion in Venice, Rome or Florence, or head off the beaten track to a more rustic retreat in Tuscany.
Above all, Italy is a great place to honeymoon and is within easy reach of the rest of Europe – perfect for exploring some of its finest cities, beaches or even pistes.

3) Jamaica
Not only is Jamaica a stunning tropical paradise, but it's unbelievably easy to get married there.
Most of the larger resorts have their own wedding co-ordinators to take care of all the finer details, including your marriage license application.
There are some great photo opportunities on the north coast of the island where you'll find waterfalls, palm trees and more exotic flowers and wildlife than in many other parts of the Caribbean.
And need we mention the glorious, white sandy beaches on which you can exchange your vows?
4) Antigua
If you're looking for some privacy, Antigua is a great place to escape to – whether it's for your wedding ceremony, honeymoon or renewal of vows.
You can charter a private yacht on which to enjoy an intimate champagne celebration and many companies will be happy to organise your small but perfectly formed wedding.
This island get-away has so much to offer – not least warm, azure waters; guaranteed year-round sun and calm surf breaks for honeymooners intrepid enough to snorkel, dive and fish.
Another popular place for weddings is the mile-long strip of white sand that is Jolly Beach. It sits at Jolly Harbour on the west coast of the island and is as friendly a destination just as its name suggests.
5) At sea
For a wedding that's completely different and if it's been your life's dream to embark on a luxury cruise, why not combine your ceremony with a five-star honeymoon at sea?
You could tour the Arctic Circle and take in the Norwegian fjords or, if you'd prefer something sunnier, head for the golden coast of Spain, to the likes of Cambrils or Salou in the Costa Dorada – a popular calling point for cruise ships.
You can decide whether to take your vows inland at a port of your fancy – perhaps in a little chapel or registry – or on the ship itself for a marriage that's not only made in but starts in heaven.