Top 10: essential travel items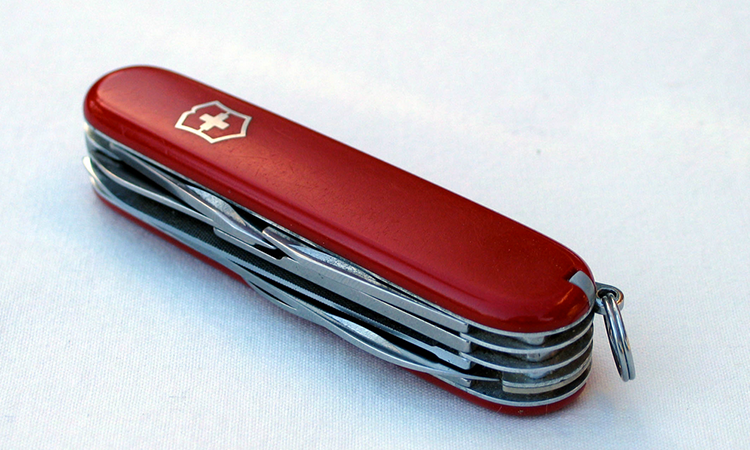 When planning a trip to anywhere other than the most civilised and modern countries, a little thought can go a long way in preventing disasters, avoiding discomforts and ensuring your long awaited trip 'off the beaten track' is not hampered by preventable problems. Here at MyTravelMoney.co.uk we've devised a MacGyver's list of your most valuable items. We're not going to tell you to pack light and not forget your documents and first-aid kit (that's obvious), what we assure you is that the following godsends were invented for one reason, and one reason only…so adventurous travellers like you will never be left thinking… 'I should've thought of that!'
Toilet paper/baby wipes
A must in every pack, these two items go way and beyond their obvious use. Use them to pack blisters, clean fruit and wash EVERYthing when water's not so easily accessible
Swiss army knife
Hail this little genius article! Great for cutting food, mending anything broken, open bottles of beer and wine and to cut your way through the Amazon jungle should the need arise.
Zip-lock bags
Keep everything clean and dry…especially the toilet paper! Best to divide items in your pack and make sure everything is in a zip-lock bag.
Duct tape
To fix shoes, bags, tents and sleeping bags, there's nothing as sturdy and reliable as duct tape.
Head torch
Quite a basic idea, but priceless nonetheless. If you need a torch, then you'll need both hands free, so get one that straps on your head instead.
Peştemals
The biggest mistake you could make is to pack a fluffy towel from home: it'll take up half your pack, weigh a ton when wet and take forever to dry. That's why we love Turkish peştemals… they're like a sarong, only better. The cotton is thicker and very absorbent; they dry in a flash and can be used as a beach towel, evening dress, sleeping bag liner, broken arm sling, head-wrap etc.
Ear plugs
It is often said that it's the small things in life that matter. Whilst traveling, those small angels come in the shape of ear plugs. Trust us; you'll only ever end up with the world's loudest snorer as a dorm mate if you don't have a set of these in your bag. Hostels are renowned for being noisy, as are bus and train rides. Do yourself a favour and buy several pairs.
Course of general antibiotics & painkillers
The last thing we've ever wanted to do whilst in a developing country is to visit the hospitals, or take locally made medications. Luckily we've managed to avoid them by always carrying at least one full course of a general anti-biotic; use it to treat bouts of gastro, bad colds or anything requiring more than a painkiller or two. No matter what your doctor at home says…treating yourself in some countries is better than the alternative.
Personal mosquito net
We cannot stress enough how important this is in areas prone to malaria carrying mosquitoes. While most hotels do have their own nets, they're often old and hole-ridden. Bring your own. End of story.
Travel insurance
This one's rather simple: if you can't afford travel insurance, then you can't afford to travel. Make sure yours includes the option of repatriation; we've seen simple surgeries gone very wrong in quite a few countries. Don't take the risk; if it's bad… go home. There's always next year!
Of course the most important thing to pack is a sunny disposition and a good sense of humour. For all your travel money needs, don't forget to compare travel money options and visit MyTravelMoney.co.uk.