Free information on the Strange Restaurants of the World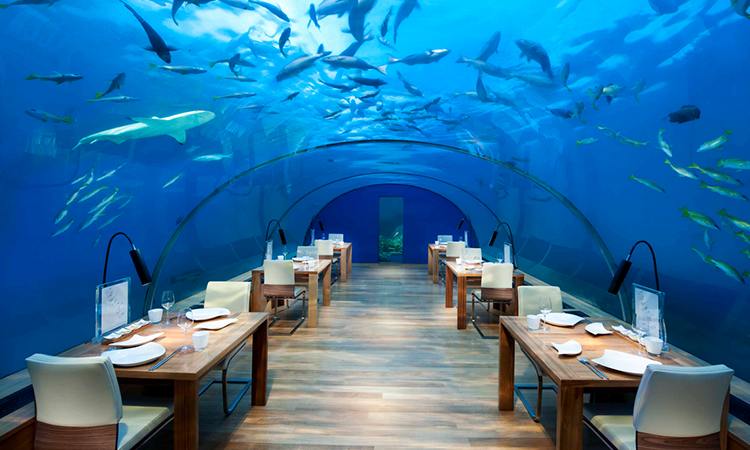 Sometimes you come across a restaurant that makes Heston Blumenthal's restaurant The Fat Duck look normal. This article is to highlight 4 of our favourite wacky restaurants the world has to offer.
O.NOIR – Canada
So the theory is that when one sense is taken away your other senses are heightened. That's the basis of O.NOIR a restaurant in which customers dine in the dark. When I say dark I mean pitch black. Diners cannot even see their hand in front of their face which really makes for an interesting experience. What transforms this restaurant from interesting to superb is the cause. 5% of O.NOIRS's profits are donated to support local associations that serve blind and visually impaired people. On top of this they employ blind and visually impaired people (a part of the population which suffers from a large percentage of unemployment) as waitstaff in an environment they are in tune with. You can also order "surprise" courses which mean you have to figure out what it is without visual aids so you can let your taste buds do the guessing.
Ninja – New York
At Ninja the attention seems to be less on the food and more on the experience. With trained ninjas as your waiters even performing magic tricks to keep you occupied at your table, you are bound to have a laugh. As soon as you step inside you'll feel like you've been transported to another time. The dark and eerie interior complete with mischievous ninjas makes for an interesting and atmospheric night out. I shan't go into much detail of what surprises lay ahead as I'd hate to ruin the mystery. Do keep in mind though that the restaurant is best for the atmosphere and original quirks and theme then necessarily the food.
Ithaa – Maldives
Ithaa is a restaurant situated five metres below sea level in the Maldives. It offers a 180° panoramic view through its transparent cylindrical roof. Ithaa holds just 14 people which makes it perfect for having an intimate meal with those you love whilst in gorgeous surroundings. With exotic fish and stingrays meandering past the glass, I'm sure it'll be difficult to concentrate on your meal whilst staring in awe at the same time. The meals are slightly overpriced but the setting is once in a lifetime.
Vampire Cafe – Tokyo
You walk down a dark corridor with a glowing red floor of blood cells. Red velvet curtains, skulls and candelabras are strewn across the dim interiors. Baroque music makes your hairs stand on end and you've just spotted a coffin. Don't worry, you haven't just stumbled into Draculas lair, you've probably just walked into Vampire Cafe in Tokyo. In one of the secluded booths you'll be given a menu filled with delicious vampire-themed dishes and cocktails. A must-visit for vampire lovers of the world.
For comparing rates to get great deals to buy holiday money visit MyTravelMoney.co.uk