Top 5: world's best adrenalin activities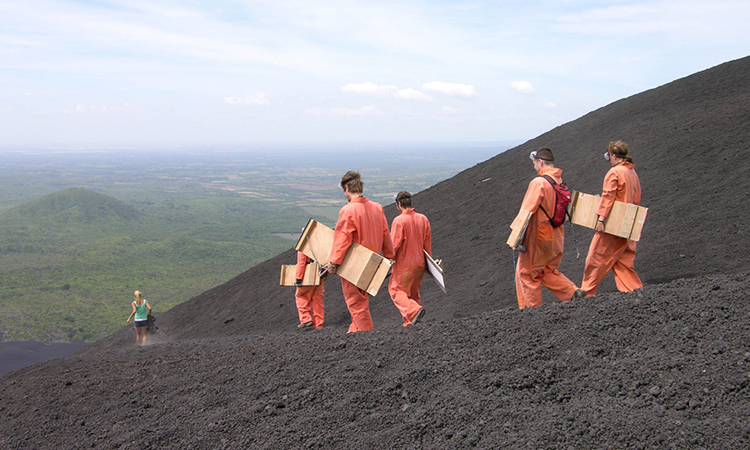 If you, like us here at MyTravelMoney.co.uk, live by the motto 'I'd rather be scared to death than bored to death' then it's safe to say you're always looking for an adrenalin rush during your travels. We've made it even easier for you, compiling a list of the world's top 5 heart-stopping activities. Enjoy at your own risk!
Volcano Boarding – Nicaragua
We absolutely love the guys at Cerro Negro Mountain in Nicaragua! One day, while admiring their very active volcano, they looked at each other thought "How cool would it be to board down that?!" So they did…and you can too. Suited with a specially made board, goggles and (we hope) a fire-retardant jumpsuit, you get to catapult yourself down the side of Cerro Negro at over 70mh/hr. Who wouldn't pay to do that? The initial 45 minute hike up the rim of the volcano may be tough, but the views are spectacular, and so is the slide down. Our only advice? Keep your mouth shut and scream on the inside; your stomach may not appreciate the very excessive intake of lava ash.
Death road cycling – Bolivia
Gravity assisted mountain biking can be incredibly exciting at the best of times; but combine that with the world's most dangerous road and what you have is a recipe for exhilarating fun. A rickety old bus will pick you up from your hotel and drop you off at the starting point in La Cumbre. The 4,700 meters altitude provides a blanket of psychological safety: you're enveloped by thick clouds and cannot see the loooong way down. But that's only until you hop on your bike and start going downhill very, very fast. The road is unpaved, narrow and has no safety barriers! By the time you descend enough to see the stomach-churning drop below, the myriad of wooden crosses on the side of the road are also visible… adding to the allure. Unlike bungee or skydiving, the adrenalin rush lasts for hours, as you ride over 40kms at breakneck speed dodging the edge, other riders and oncoming traffic. Your reward? You get driven back in the same old bus up the same scary road, only this time the one at the wheel is a crazy Bolivian high on ganja. Happy times!
Formula Rossa rollercoaster – United Arab Emirates
Ferrari World, in Abu Dhabi, is home to the fastest roller coaster in the world. If a ride at 240km/hr is not enough to make your heart pump a little faster, the acceleration certainly is. Maximum speed is reached in less than 5 seconds, an effect similar to that of an aircraft carrier steam catapult. Being only 2km in length however, means that the whole thing is over before you can even contemplate dying of fear.
Highest bungee jump – China
Even we can't comprehend why anyone would want to freefall 233 meters with an elastic chord strapped to their ankles. But if you're going to do something, we say do it properly! Head to Macau Tower and test your guts with the world's highest commercial bungee jump. You may want to learn brail before you go however, just in case your eyes pop out of their sockets.
Travel into outer space-Virgin Galactic – New Mexico
We are in complete awe of Sir Richard Branson. Whenever some crazy dude thinks up an extraordinary activity to undertake, Sir Branson goes one better.
OK, so this is technically still not available, but if Dick says it'll happen, we're not going to argue. For a mere $200,000 you can book yourself a seat on Virgin Galactic's first ever commercial ride into outer space. Of all the amazing, enthralling and stimulating activities humans can undertake, we think a trip into outer space would be unbeatable.
Don't forget to feed the cat before you go and leave a nice note for mum. While you're at it, compare tourist exchange rates by checking out MyTravelMoney.co.uk.