Exotic Dining Experiences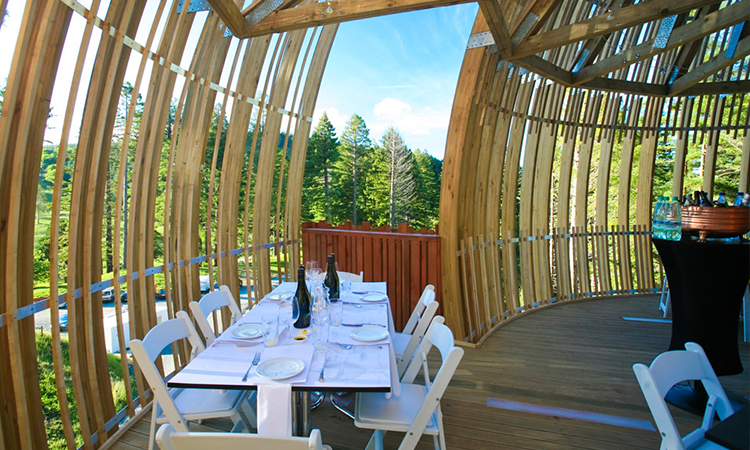 Traveling is the best way to take on new experiences, learn about new cultures, and meet new people. One the things people remember the most about their trips is usually the cuisine. Great dining experiences fulfill all of the senses. The following is a list of the best and most unique dining experiences for those who love travel the world.
Redwood Treehouse Restaurant – Warkworth, New Zealand
Seating up to 30 guests, this restaurant offers a dining room like no other. A pod shaped building is housed at the top of a giant redwood tree. The fashionable, high-class food can be enjoyed while surveying wonderful views of the forest.
Singapore Flyer – Singapore
A fair favorite, the ferris wheel is one of the most popular rides in any amusement park. In Singapore, they have taken the ride to a whole new level. You can enjoy a 360 degree view of Singapore from inside of an air conditioned cabin where you enjoy a 3 course meal served by a personal butler. The experience will take about an hour of your time and you can enjoy it with up to ten friends .
The Jail – Taiwan
Ever wonder what it feels like to eat behind bars? Well, if you are in Taiwan you should definitely not miss this unique dining experience. As it name suggests, The Jail is a prison themed restaurant that looks just like any other prison complete with iron bars and aluminum floors. Customers may even be handcuffed when led to their tables!
Nocti Vagus – Berlin, Germany
If traveling in Germany, you will not want to miss eating at this "dark" restaurant. You will experience dining in complete darkness, which can be a treat to all of your other senses. Many cultural programs are also presented in this completely dark atmosphere.
Ithaa Undersea Restaurant – Rangali Island, Maldives
Experience fine dining with spectacular under water views in the world's first under water restaurant. Spectacular 360 degree views of the ocean life around you are the perfect complement for the restaurant's Maldivian-Western fusion cuisine.
Marvel Picnic – Macaroni Beach, the Grenadines
Mustique island, located in the northern portion of the Grenadines, is a Caribbean paradise. For $55,00o a week visitors can rent villas, complete with a professional kitchen staff. Their specialty? Haute picnics that can be enjoyed on the miles of private beach with spectacular views of the Caribbean sea.
Exotic dining experiences in exotic locales can really make a trip memorable. Although not exhaustive, the above list is filled with must see dining locales. When preparing to attend, make advance reservations, because these places are extremely popular. Additionally, be sure to check out MyTravelMoney.co.uk to compare tourist exchange rates and buy travel money.