Hit the golden trail: Top 10 things to do on the Costa Dorada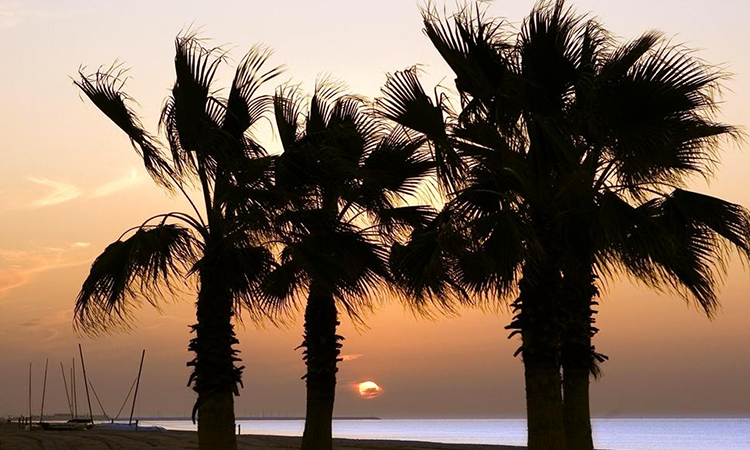 Costa Dorada remains one of Europe's most popular sun, sea and sand destinations for family summer holidays year after year. Dubbed Spain's 'Golden Coast', it boasts miles of golden beaches as far as the eye can see and is a great place to head for a bargain package holiday where there's plenty to do. If you're thinking of heading there for a week or two this summer, we'd say go in June or July when it's hot enough to sunbathe but not overrun with stag weekends and screaming children.
Check out our top 10 favourite things to do on this sunset strip:
1) Glass-bottomed catamaran trip from Salou to Cambrils
As soon as you arrive on the Costa Dorada, take a walk along the waterfront where you'll notice catfish swimming around the yachts. The water is turquoise and amazingly clear for a resort which once attracted a bad reputation for dirty beaches. There are no dirty beaches here anymore, however, and the water is a great feature to base your stay around. To see more marine life, the best way is to take a glass-bottomed boat from Salou to Cambrils, which is absolutely stunning. From Cambrils, you can take a leisurely stroll back to Salou's centre – which is really the hub of the activity – stopping at the odd bar for a glass of vino along the way.
2) Kayaking off the coast of Cambrils
Cambrils is an excellent spot for water sports and it's really easy to hire equipment from the local club which has an excellent couple of kids' pools and a seafood restaurant fitting for more discerning foodies. Kayaking on the open sea off the coast of Cambrils will only set you back a few Euros. If you're a little nervous, instructors are available to partner up with you in these two-seater plastic vessels, which are great fun. Small sailing boats are also available to hire but watch out as you're sharing the waves with some of the larger catamarans and passenger ferries. Even in July, the Mediterranean sea is a little cold to fall in. For the more intrepid, though, wild swimming is a must!
3) PortAventura Theme Park
If you have kids, PortAventura Theme Park and the new, adjoining Cariba Aquatic Park should be the main focus of your stay. The theme park is like the Spanish Disneyworld and is split into different 'worlds' for your exploration – although the main characters you'll find here are the oddly dated Woody Woodpecker and Betty Boop. The park is home to the steepest log flume and tallest rollercoaster – aptly named the Shambhala after a retreat in the Himalaya – in Europe and you'll need at least a couple of days here to cover any sort of ground as the queues can be fairly huge in peak season. Expect to get wet and wild and, most of all have fun, but make sure you buy theme park tickets online before you travel to save as much as £100 for a family of four.
4) Platja dels Llenguadets (aka 'the beach'), Salou
All the beaches on the Costa Dorada are stunning and safe but the best one to avoid the crowds is Platja dels Llenguadets – the beach the locals use, according to some. It's a nice haven for a relaxed day at the beach without having to fight for space on the sand, plug your ears from screaming children or being lampooned in the face by inflatables.
5) Sightseeing in Tarragona
Tarragona is a beautiful town steeped in Roman history – even more so than Rome itself. It's no more than an hour's walk from Salou or a quick taxi ride away which will cost you in the region of 10 to 12 Euros. It's a little more 'Spanish' than Salou, which has an undeniable British quarter, and, set higher up, enjoys gorgeous views of both the Roman amphitheatre and the glistening coast. There are plenty of cultural things to see and do and buses run between the town, Salou and Cambrils regularly.
6) Reus market
Budget airlines have only recently started flying from the UK to Reus in the last couple of years but it's actually closer than Barcelona at just around 15 minutes from Salou. It's a lively market town, the home of the late Gaudi (who has a museum dedicated to his art and architecture just off the main square) and well worth a morning or afternoon's visit. The market is a great way to pick up cheap souvenirs and fruit to take back to your hotel room – particularly if you're self catering.
7) Shopping in Barcelona
Barcelona is much more cosmopolitan than any of these touristy towns and, therefore, is a great shopping destination while you're there – especially if you're into designer labels. It's full of chic brasseries and steak houses with underground parking – great if you plan to hire a car for the trip. Otherwise, the best way is to take the train. It's cheap (around eight Euros one way) and easy and only takes around an hour-and-a-half.
8) Stop-over in Valencia
Valencia is easily accessible from Tarragona – either by car, bus or train and will take around three hours so it's a good idea to set off early in the morning for this trip or plan a one-night stop-over. The third largest metropolitan area in Spain, Valencia is a hive of activity – especially with its port being the fifth busiest container port in Europe. The city was founded as a Roman colony in 138BC and, as such, is one of Europe's most popular visitor destinations with its museums, cathedral and Llotja de la Seda monument, which is now a UNESCO World Heritage Site. It's great for arty, bohemian types who love a spot of culture.
9) Aquapolis Water Park
Aquapolis is the area's foremost water park with dozens of chutes, inflatables and individual pools. It's also home to the Dolfinarium, which puts on daily dolphin and sea lion shows and is just a short walk from the centre of Salou in Platja la Pineda. Tickets are typically between 22 and 25 Euros and a visit will take up no more than a few hours of your day – another MUST for the kids on the trip!
10) Aquum Spa at Platja la Pineda
This indoor pool and spa is great for a bit of rejuvenation but, be warned, as with most Spanish indoor pools, you'll need to wear an unsightly swimming cap! The indoor and outdoor pools enjoy varying temperatures with in-built hydro-massage jets and Jacuzzis for a spot of feel-good lounging. Upstairs is a VIP club for adults only with a series of plunge pools, state-of-the-art sun beds, scented steam room and more.
Some useful resources
Don't forget to compare travel money  before you travel as you'll save up to 10% online when looking for the best euro exchange rates
Expatriating to the Costa Dorada? Check out our international money transfer comparison service
Lynda Hamilton on Google +