Never a dull moment in Eastbourne… as two hoteliers well know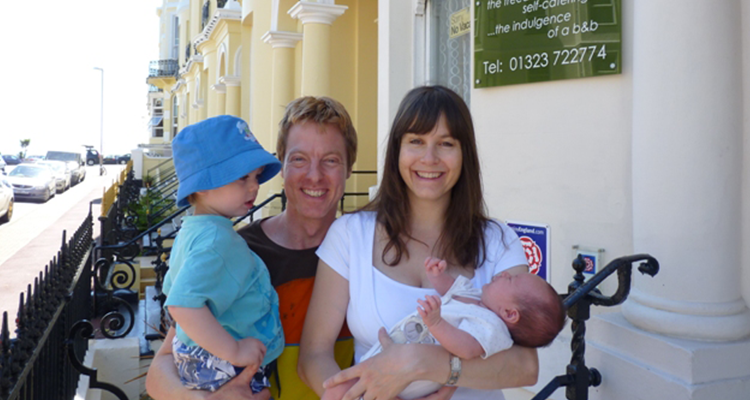 MyTravelMoney.co.uk caught up with Carl and Sarah Stanger of The Guesthouse East, whose blog was shortlisted in our Top 10 Lifestyle Travel Blog Awards category, to find out what it's like to be a finalist and how running a small, boutique tourism business isn't always plain sailing – even if it is set in the UK's sunniest spot and against one of Sussex's most beautiful coastal backdrops.
1) Carl, how does it feel to be listed as a finalist in the MyTravelMoney.co.uk Travel Blog Awards?
It's a bit like winning the 100m at school sports day, aged nine – a complete shock but very rewarding and lovely to get the odd pat on your back from friends.
2) Tell us about any other awards you have won…
Last year we were placed first in The Independent's Top 50 B&Bs which, again, was such a surprise but felt like a huge endorsement for all the efforts we had invested over the previous two years.
3) When did you start travel blogging?
Our accommodation in Eastbourne attracts such a diverse and fascinating range of guests from around the world and is set within a truly beautiful environment, so it would've been a crime not to tell people our stories. From day one of starting the business – back in August 2009 – I just had to start typing.
4) Tell us more about your business and how it started…
My wife and I had lived in London for years working in PR and marketing. But when our first child come along, it triggered a sense-check of what was important in life and made me consider what we enjoyed and where we wanted to be – a mid-life crisis you might say! Thankfully, my wife was supportive.
The Guesthouse East has a perfect location, just off the seafront, in a beautiful Grade II-listed Regency villa and has just six suites (each with a separate kitchen for the freedom of self-catering), and we fell in love with it and wanted to share it with people.
5) What makes you passionate about travel?
I've been extremely fortunate that, from a very early age, I experienced a whole range of travels – from sunny hols in the Med with my mum and childhood fishing trips in Scotland with dad, through to backpacking years around the globe and swanky business trips. I've never lost my sense of adventure and hope it rubs off on my children.
6) What are your future plans for The Guesthouse East?
We want to open people's eyes to Eastbourne. It's the sunniest place in the UK, with the beautiful coastline of Beachy Head and the Seven Sisters – all within the South Downs National Park and yet it is still a bit of a hidden gem. It's the perfect base to explore the wonderful Sussex region and we want to help our guests get the very most out of every precious break – or to simply sit back and relax. We found the demand for quality, contemporary self catering accommodation was so high that we've extended by setting up a holiday homes business, Exclusively Eastbourne, to complement The Guesthouse East and this has really taken off. We now help rent 11 beautiful local properties to guests from around the world.
7) What are the main challenges you face in your line of work?
It's probably that you never know where the next challenge is coming from! Running a small business, it's important to become a complete all-rounder and be just as comfortable with a spanner as you are with a spreadsheet or saucepan. No day is ever the same so there's no chance of boredom kicking in. In fact, if the luxury of boredom creeps into any day, I take it as a green light to get out the kayak and fishing rod!
8) Which destination have you enjoyed blogging about the most and why?
Eastbourne without a doubt – and my guests, who never fail to surprise (and often inspire).
9) Do you have any travel 'heroes'?
Joseph Conrad revealed mysterious travels and heroic adventure to me at school – transporting me far from my Nottingham comprehensive. I've been chasing these dreams ever since.
10) What would you like to be doing in five years time?
I would love to own a surf school in Montañita, Ecuador, and spread the word to entice North American and European travellers to hit the waves and explore the dramatic, but amazingly accessible, country.
11) What's your advice to anyone looking for a career in the travel industry?
I'd say go out and explore before you drop your anchor.