A Traveller's Guide to Visiting New York in Style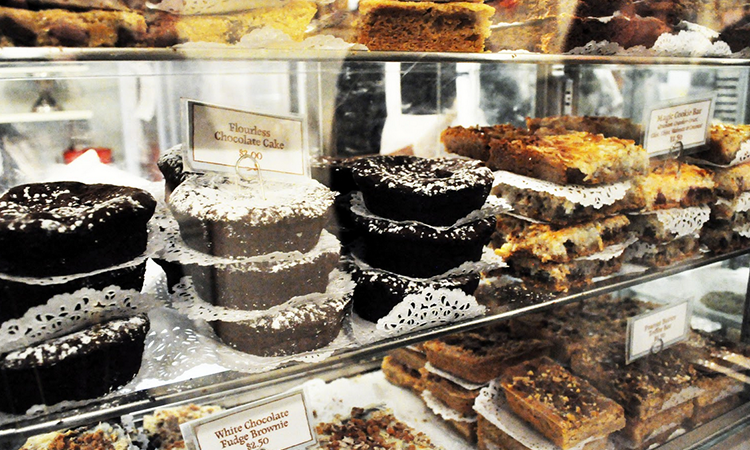 Magnolia bakery
Bleecker Street & W. 11th Street
So remember the cupcake shop that the girls visit in Sex and the City? That would be magnolia bakery. It's also been featured in many other things including the film The Devil Wears Prada and the program Veronica Mars. So why not be like Carrie and head down to Magnolia Bakery and enjoy some delicious cupcakes? Whilst the Magnolia Bakery on Bleecker Street was where they filmed for SATC, it's also often filled with tourists. For this reason it might be worth going to the Magnolia Bakery on 200 Columbus Avenue instead which is quite close and less crowded. Whilst there are mixed reactions to the cupcakes with a lot of people having the opinion "it's a little overrated", the banana pudding seems to be a must try!
Carrie Bradshaw's stoop
66 Perry, between West 4th & Bleecker Street
Ever wanted to prance up and down Carrie's stoop whilst looking pensive, happy or ever-so-fashionable? Well unfortunately you can't. But you can visit it and take a picture from the sidewalk! The thing is, the charming brownstone used for filming is actually a private residence. The people who live there, after many years of tourists crowding their steps, have put a no trespassing barrier across the steps at the bottom. You may not be able to climb the iconic steps but you can take a picture from in front of them. If you visit, please be respectful of the owners of the home and do not jump the barrier. Whilst you're there you might want to visit some shops as around the corner is, among others, Mulberry, Lulu Guinness and of course Magnolia Bakery.
Columbus Circle
W 59th Street at the junction with 8th Avenue and Broadway.
Remember the heartbreaking but beautiful scene where Carrie and Aidan realise it's not going to work out in front of a picturesque fountain. Well that was filmed at Columbus Circle. It's a gorgeous circular plaza which is perfect for a lovely, scenic lunch.
The Boathouse
Park Drive North near E 72nd Street.
In a boathouse looking out over Central Park Lake is The Boathouse. A cute restaurant with beautiful, idyllic views, it's also the place where Carrie and Big met for lunch…and later went for an impromptu swim. A gorgeous restaurant with great food but be sure to book in advance to get the best seats!
New York Public Library
Fifth Avenue at 42nd Street
The place where Carrie and Big got married…well, almost. Who could forget the scene of a distraught Carrie descending the vast stairs of the New York Public Library? Why not visit and maybe pick up a book or two on the SATC girls favourite subject…shopping!
Manolo Blahnik
31 W. 54th Street
It must be said that Sex and the City put "Manolos" on the map. Despite mentioning many different shoe brands including Jimmy Choo and Louboutin, Manolo Blahnik seems to have had the biggest success from the show. It's no wonder why when you set your eyes on the stunning hand-crafted masterpieces! Manolo combines comfort as well as style to make something incredibly wearable and yet incredibly spectacular shoes.
Remember to visit MyTravelMoney.co.uk to buy us dollars before you go so you have more money for shopping!