Top 5: places to go visit near Zurich, Switzerland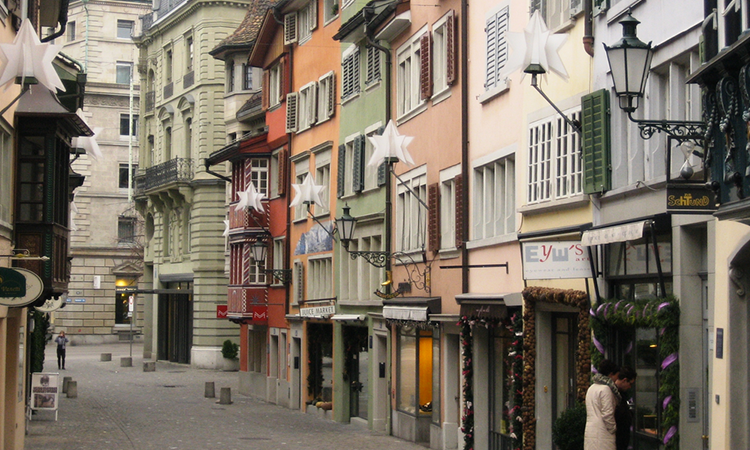 There's many reasons you would want to visit Zurich, Switzerland. From the picturesque landscapes and friendly locals to the fact that it's the home of both cheese and chocolate, Zurich has a lot to offer. However, choosing where you want to go can be difficult. Luckily for you, MyTravelMoney.co.uk has put together this quick guide on interesting and unusual places you should definitely check whilst you're there.
The Maison Cailler and Gruyères castle
The Maison Cailler is a chocolate factory which you can take tours around and see how chocolate is made. You also get to taste lots of chocolate as you go along and children under 16 are free to enter! Chocolate is definitely a good way of keeping children and adults happy! If you do decide to visit it is less than two hours away from Zurich by car. And, while you're there, why not visit Gruyeres castle which was built in the 13th century and is steeped in rich history.
The Zurich Street Parade
How could we possibly mention Zurich without mentioning the street parade? Zurich street parade is one of the largest techno parties in the world and the most attended in Europe, comparable to Berlin's Love Parade. It's filled with floats and music and often welcomes around 1,000,000 partgoers every year. Dubbed as one of the safest mass events in the world, the parade often has an energetic but friendly vibe. Wacky, carnival-like costumes are everywhere and you're sure to be caught up with the swirling colours and sounds of it all. Inhibitions have no place here as people let the music take them as they sway and bounce to the music. Not for the light hearted but if you like techno music and partying then you're in for a treat. This year's festival is on the 13th August 2011 and marks the 20th Zurich street parade!
Swiss National Museum
The Swiss National Museum is incredible even from just the exterior as it is based in a gorgeous 19th Century castle. Forgetting the picturesque settings, the inside is also delightful and the amount of history and information packed into each room is incredible. I'm sure that the favourite amongst many visitors will be the mesmerising collection of stained-glass windows. Most of the pieces are in exceptional condition especially for their age. Whilst the museum is slightly eclectic with no strong theme running through it, this somehow adds to the enjoyment.
Old Town – Aldstadt
Old Town is the kind of labyrinth of narrow pedestrian-only walkways that lets you discover new hidden gems the more time you spend there. It's lively and happy yet relaxed. This little town has lots of charm and with so many cafes and shops you can sit back and find a favourite. The jewellery and design shops are also definitely worth a look-in as you can find some gorgeous, unique pieces here.
Mt Titlis – Fun in the snow
In Engelberg, a little way from Zurich, stands snow-covered Mt Titlis. Famous as the world's first revolving cable car, there is a lot to do at Mt Titlis. To say the views are breathtaking is an understatement. The views are awe-inspiring and there are lots of perfect photo opportunities including the Rotair 360° rotating cable car. With opportunities to ski, snowboard and sled as well as extras such as the "snow tube" you're sure to have fun.
So now you've figured out where you want to visit, make sure you remember to visit MyTravelMoney.co.uk to buy swiss francs. We'll search around to find you the best deal