Free information on castles in Europe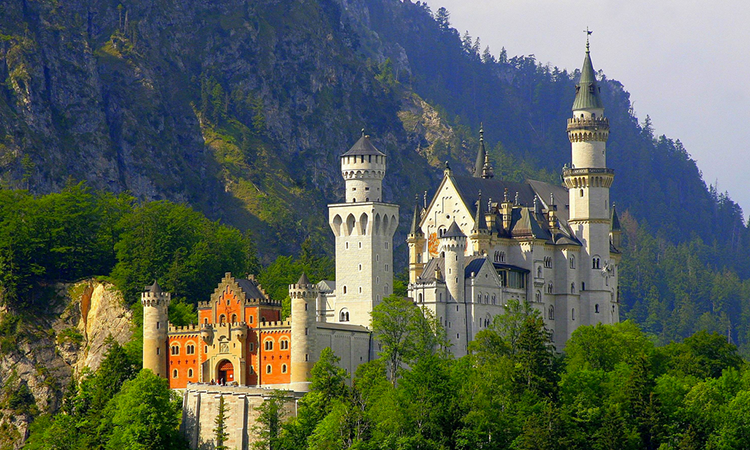 Who doesn't love a good old fashioned castle? The bigger and more obscure the better. We're here to bring you a list of the top 10 most amazing castles in Europe so sit back, put your feet up, your tiara on and read on to find which castles made the cut.
Castell de Pubol, Spain
Originally the house of Salvador Dali's wife Gala, when Gala passed away Dali turned the house into a final resting place for his beloved wife and muse. Not only is it an incredible and quirky building (apparently a stuffed giraffe guards Gala's tomb) it's also charming and beautiful with its gothic, Romanesque appeal. It's a must see for Dali fans but also definitely worth a look for anyone with an eye for stunning and interesting architecture and decor. Castell De Pubol has definitely earned its place on this list.
Pražský hrad, Czech Republic
Pražský hrad, also known as Prague castle, is the largest ancient castle in the world according to the Guinness World Records. What makes Prague castle especially delightful is how each ruler has added their own style to the architecture making giving the castle a baroque, gothic, Romanesque, renaissance charm. The detailing is absolutely astounding and no one would disagree this castle is fit for a fairytale (although, perhaps it's more likely to be a villains castle).
Palácio Nacional de Pena, Portugal
Pena National Palace is unlike any palace I've ever seen. Situated on a hill overlooking Sintra and often surrounded by swirling mists, could this castle be any more like that from a fairytale? Well…yes. It also has been painted bright red and sherbet lemon colours as well as having an eclectic style with its architecture including turrets and domes. But at the same time, its candy colours and wacky montage of styles makes it so different from any other castle or palace you've seen.
Château de Pierrefonds, France
Some of you may know this as "the place where the BBC filmed the TV series Merlin", if you said this then you'd be correct. They chose wisely as you cannot get a more beautiful medieval looking castle than this. Gorgeous and statuesque with turrets and arches, this castle is wonderful to visit although has attracted more tourists since the filming of Merlin.
Buda Castle, Hungary
Buda Castle stands proud on Castle Hill in Budapest and is a recognisable part of their skyline. This medieval/ baroque castle looks even better up lit at night. You can actually visit part of the six miles of underground labyrinth but be warned it has very mixed reviews.
Castel del Monte, Italy
This castle in Italy is possibly the most unique of all due to its shape and design. It is octagonal meaning it has eight sides and there are eight octagonal towers (one at each corner). There have been many debates as to the purpose of the building but it's unlikely we'll ever find out the real reason. Rich in history and culture as well as intrigue, it's slightly out of the way but worth a visit.
Schloss Zwingen burg, Switzerland
The castle is absolutely adorably charming and looks more like an oversized cottage than a castle. In the summer it's surrounded by lush green grass as well as the river it sits on with it's pretty little bridge. It's a peaceful place and has a lovely change of colour throughout the year such as when the leaves turn a vibrant, autumn red.
Peles Castle, Romania
I would definitely say this castle is the most fairytale of all in my opinion although it is mildly similar to Neushwanstein due to its German neo-renaissance architecture. Complete with a secret door behind a bookshelf and large chandeliers, you'll want to stay here forever. With almost everything being gilded and a Louis XIV style being replicated in many of the rooms, this is not a castle that lacks style or class. It's absolutely gorgeous and completely inspiring.
Bojnice Castle, Slovakia
Bojnice castle is not just stunning with its powder blue turrets and intricate architecture but it's also host to The International Festival Of Ghosts And Monsters! There's also a zoo and the castle itself is open to the public as a museum.
Get the best deal when buying your Euros by visiting http://www.mytravelmoney.co.uk/
Castle Neuschwanstein, Germany
This castle may look familiar to you. Why? Because it's, apparently, the castle that inspired Walt Disney when he created the Magic Kingdom castle. Unfortunately the castle was never finished as the castle was opened to the paying public when the king died. Interestingly, the finished building was set to have around two hundred rooms but due to the stop in construction the building only ever had around fifteen finished halls and rooms. The rooms are large and ornate with thrones and chandeliers and everything seems to have been dipped in gold as it seems to be a reoccurring theme throughout. A meteorite that struck in 2002 has been named after this palace.
So there we have it, a list of the top ten castles in Europe. Do you agree? We'd like to hear your thoughts on twitter as to what your favourite castle is. Tweet us @buytravelmoney. We're off to find a castle to live in, now where did we put that tiara…
Oh, and buy travel money online at the best exchange rates through www.mytravelmoney.co.uk