Super-cool reasons to holiday in Cuba this year – plus myth-busting facts!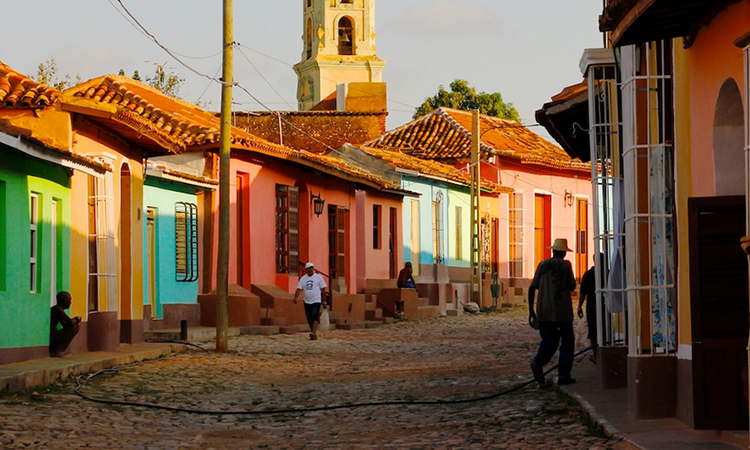 Forget everything you thought you knew about Cuba – including gun toting 'Johnny Tapia' type drug barons wielding fat havanas, Fidel Castro as an out-and-out historical bad guy and residents fleeing bad conditions by boat to Miami – because this Caribbean island is one of the most misconstrued destinations in Latin America.
It's the largest land mass in the Caribbean Sea – and a beautiful location at that – but it's marred by absurd and sinister myths based on what we've seen in the movies and thanks, in part, to the media.
Of course, it's turbulent past plays a part and not everything's rosy but perhaps it's time we woke up and smelled the coffee of the REAL Cuba – the one which makes a super cool, switched on and safe summer holiday destination, which could really do with a huge tourism surge to help its economy and many of its people out of hardship. Trust us, there's nowhere else like it in the world.
Check out our trilogy of super-cool reasons to holiday there this year as we try to banish some of the crazier myths of a country that's home to Bacardi Rum, the cigarillo and some of the friendliest people in the world…
Reason#1 – The very essence of Cuba is its people. Despite prolific hardship in many parts of the country, its residents are incredibly friendly, family orientated and happy – turning to song and dance at every turn as part of their culture. And while it would be ridiculous to suggest there's no crime, reported crime rates are low and incidents tend to be of petty theft borne out of food poverty rather than sexual or violent acts. The Cubans love children so you'll find a whole host of safe and fun venues, activities and foods geared up for them.
Reason #2 – Cuba is home to some of the most beautiful, white sandy beaches in the world but its climate isn't as scorching as you might think. While you'll rarely find it cold, temperatures only really rise between 21 degrees in January to a non-extreme opposite end of the scale at 27 degrees in July – making it comfortable for families with young children and anyone who struggles to sight-see and stay out in extreme heat. It's tropical but with welcome trade winds. One of the highlights of its gorgeous coastline is its portfolio of some of the best dive sites in the world thanks to its unspoilt, warm clear waters in which you can expect to see a wide range of marine wildlife including different species of turtle. This activity, combined with bearable temperatures on the beach, means families can relax and play while mum or dad takes to the waves for a spot of scuba diving, speed boat driving, windsurfing or kayaking. Surprisingly, there are no plants or animals – marine or otherwise – which are poisonous or lethal to humans.
Reason #3 – Cuba is steeped in architectural and archaeological history as well as being home to nine different UNESCO World Heritage Sites so there's no shortage of things to do for a cultured holiday. Dubbed 'El Cocodrilo' by the Cubans as it's said to resemble a crocodile from the air, the country was founded by Christopher Columbus in 1492 after the explorer initially thought he had discovered India. It's now the most populated country in the entire Caribbean – flanked by four other main groups of islands: the Carnaguey, Canarreos, Jardines de la Reina and Colorados – and is just hours from mainland America. It's the 17th largest island in the world and the most inhabited country in the Caribbean. It's possible to fly from Cuba to some of the smaller islands for a day trip to give you a broader picture of the Caribbean's diversity but bear in mind that domestic flights can be few and far between so it pays to plan this in advance.
Some myths and FACTS:
Myth – Financial hardship has given rise to a prolific Cuban sex industry

FACT: There are no red light districts in Cuba but there IS fantastic health care provision, sex education and effective birth control. In fact, Cuba has the lowest number of HIV cases in Latin America with less than 3,000 reported each year. Cubans also have the highest life expectancy in both Latin and North America and are limited to one child per family.
Myth – Cuba is lined by miserable slums
FACT: Very few Cubans live in slums and it's thought that those who do – or at least appear to – do so for the tourists to encourage hand-outs. The majority of Cubans who once lived in shanty towns now reside in Spanish style apartments and are provided for by the state. Old Havana is the only real 'slum' to be found in Cuba, which is actually very pretty and a pleasure to visit.
Myth: Crime is rife in Cuba with police on every corner
FACT: While there is some crime in Cuba, it's not prevalent and where police officers are seen on the beat, it's normally as a precaution and to help tourists feel safe. Perhaps one of the most surprising security measures taken by Cuban authorities is its strict Internet policy. Very few people in Cuba are given permission to use the Internet and offenders are subject to a five-year jail term.
Myth: Cuba is really expensive
FACT: Like anywhere, there are deals to be had and inherent ways to get ripped off. Cuban Pesos, for example, can be ordered online in advance – good practise which will, undoubtedly, save you money. You'll find larger cities, such as the capital, Havana, more expensive than the smaller towns and suburbs and restaurants and bars geared up for tourists will, of course, charge more than those aimed at the locals.
For more myth-busting, check out I Am My Own Reporter – a blog by Glen Roberts, a worldly philosopher au fait with the Americas and who doesn't shy away from telling it like it is when it comes to human rights abuse, Castro, Latin American slums and the fabled Cuban sex industry.
Have you already discovered Cuba's charms? If so, get in touch or pen us a blog if you like. We'd love to hear more. We also love a good tweet so feel free to connect over @MyTravelMoneyUK
Lynda Hamilton on Google +