Top 15 Reasons To Love Cruise Ships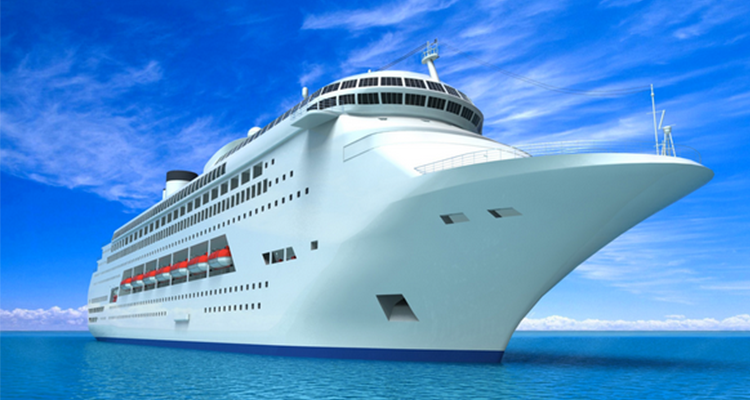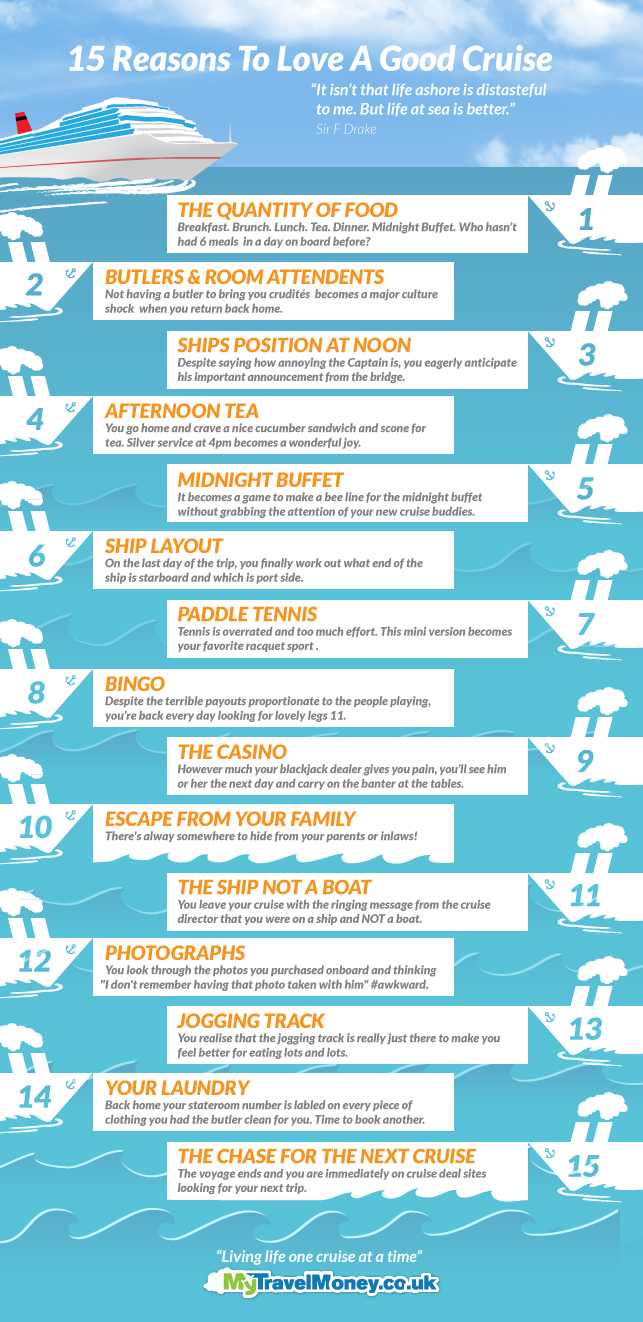 Created by MyTravelMoney
Share
Cruising – 15 Reasons To Love Cruise Ships!
1. THE QUANTITY OF FOOD
Breakfast. Brunch. Lunch. Tea. Dinner. Midnight Buffet. Who hasn't had 6 meals in a day on board before?
2. BUTLERS & ROOM ATTENDENTS
Not having a butler to bring you crudités becomes a major culture shock
3. SHIPS POSITION AT NOON
Despite saying how annoying the Captain is, you eagerly anticipate his important announcement about about the ships position at noon
4. AFTERNOON TEA
You go home and crave a nice cucumber sandwiches and scone for tea.
5. MIDNIGHT BUFFET
It becomes a game to make a bee line for the midnight buffet without grabbing the attention of your new cruise buddies
6. SHIP LAYOUT
On the last day of the trip, you finally work out what end of the ship is starboard and which is port side
7. PADDLE TENNIS
Tennis is overrated and too much effort. This mini version becomes your favorite racquet sport
8. BINGO
Despite the terrible payouts proportionate to the people playing, you're back every day looking for lovely legs 11
9. THE CASINO
However much your blackjack dealer gives you pain, you'll see him or her the next day and carry on the banter at the tables
10. ESCAPE FROM YOUR FAMILY
There's always somewhere to hide from your parents and in-laws!
11. THE SHIP NOT A BOAT
You leave your cruise with the ringing message from the cruise director that you were on a ship and NOT a boat.
12. PHOTOGRAPHS
You decide to look through the photos you purchased onboard and think "I don't remember having that photo taken with him" #awkward
13. JOGGING TRACK
You realise that the jogging track is really just there to make you feel better for eating lots and lots.
14. YOUR LAUNDRY
You're back at home and find your stateroom number on a label on every piece of clothing you had the butler clean for you. Time to book another.
15. THE CHASE FOR THE NEXT CRUISE
The voyage ends and you are immediately on cruise deal sites looking for your next trip
And here's two more!
ENDLESS LUGGAGE
The no flying means you could pack literally everything (including the kitchen sink, and those extra large trousers that now seem to fit!), and you can just keep on buying things in port
AVOIDING THE FITNESS CENTRE
Giving up after day 2 as you realise the 20 minutes on the cross-trainer is just covering the calories for the starter at lunch. Postponing gym routines to your return to land.
Did we miss out on any other reasons to love going on a cruise ship? We'd love to hear more of your suggestions below in the comments section! 
Daniel Abrahams on Google +