Your guide to summer music festivals – and how to survive them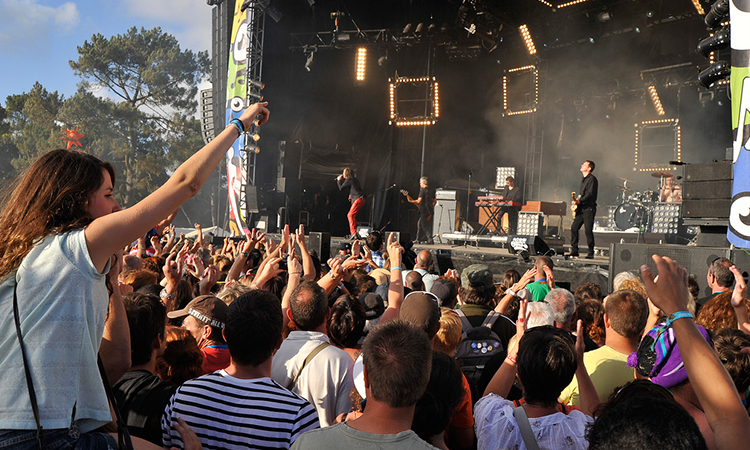 As revellers across Scotland are still trying to get the mud out of their clothing, cars and hair after the weekend's swampfest that was T in the Park, we thought it time to bring you our line-up of remaining British summer festivals – and how to guarantee a great time despite the wet weather.
Take a peek at our favourite festival line-ups still to come:
T in the Park, Balado (Kinross, Scotland) – Sadly, if you weren't there at the weekend then you've missed this year's T in the Park at Balado but the good news is that tickets for 2013 go on sale towards the end of this week. This year saw the likes of Jessie J, Emili Sande, Simple Minds, Keane, Kasabian, Happy Mondays, Rizzle Kicks and Nicky Minaj take to stage so the chances are that next year's line up will be just as fab or even better. Get in quick for the cheapest tickets and keep checking the T in the Park website for updates. But in the meantime, you can catch all the highlights on BBC iPlayer with Greg James and Edith Bowman.
Latitude, Henham Park, Southwold (Sunrise Coast, Suffolk) – If you hunt around hard enough, you'll still be able to get tickets for Latitude Festival which kicks off on Thursday, 12 July. It's set to have more than 10 different arenas spanning all manner of genres, from music and cabaret, to children's, theatre and comedy so not just your average music festival. Some of the artists lined up for this weekend include legendary Mod Father Paul Weller, Elbow, Simple Minds, Alabama Shakes and Rufus Wainwright and his Band.
Bestival, Robin Hill Country Park, Isle of Wight – Bestival was awarded the Best Major Festival Award in 2010 and continues to be one of the highlights of the UK social calendar between 6 and 9 September. It promises a whole host of treats, including music from Florence and the Machine, Orbital, New Order, Hot Chip and the Friendly Fires. Not only that, but there will be Ballroom and Bollywood Fields – and you can still get tickets! Sounds great, doesn't it? Now read on for our top 10 tips to having a good time despite the British weather…
Top 10 Tips for Surviving Summer Festivals
1) Invest in a good pair of wellies or walking boots – and don't leave home without them! 2012 will probably go down in history as having of the wettest British summers in history so forget nice shoes, flip-flops or even trainers. Only knee-high boots will do!
2) Ditch the bikini or vest top for something more practical like wet weather gear. We're serious – if you have waders or any sort of fishing get-up like waterproof trousers then wear them because no matter how ridiculous you might look, you'll be the one that's laughing in the end. Layer up inside too – you'll find it's so much easier to take clothes off and cool down than it is to heat up once you're soaked through. You don't want to end up one of the ones lying ill in a muddy field covered in a foil, hypothermic blanket from the A&E tent.
3) Don't even think about taking bottles, cans or illegal substances because security and sniffer dogs will be on patrol and you'll have wasted time and money only to watch your contraband being dumped in the last-minute bin. In some cases, you might even be refused entry or, even worse, arrested.
4) Take any essential medicines and, if you're prone to headaches or migraines, make sure you pack your Paracetamol or Imigran as they won't be available on-site. You don't want to have to make a trip to the emergency tent to see the paramedics after forgetting your inhaler, Epiphen or Insulin either.
5) Save the make-up and false eyelashes for the clubs – unless, like some T in the Parkers, you're working the Barb look, intent on seeing Nicky Minaj. Trust us, the make-up will end up dripping off your nose and chin and you'll look a sorry sight in the rain. Leave the sun cream at home too.
6) Ladies, load your pockets with baby wipes and hand sanitiser because, let's face it, there sure as heck won't be any left in the loos by the time you've stood in the hour-long queue. They're always great for a quick freshen up before your chips and curry sauce anyway.
7) Make sure you take lots of cash and hide it in an inside pocket along with your mobile phone – away from the rain and wandering hands. Festivals are never cheap and you can expect to pay around £8 for a ride or attraction, £9 for Nachos and around £4 for a drink. Lads, once you get there, stock up on beer tokens to help beat the queues as you go.
8) If you're travelling with a group of people, make sure you pre-arrange a meeting point in case you get split up in the crowds – especially if you're travelling home together. Another idea is to get a big, easily identifiable flag which your companions can spot from a distance.
9) Don't forget to buy a programme early on. They might be expensive but they're great souvenirs and you don't want to miss a trick by wandering around aimlessly trying to find the right music tent.
10) Probably the best piece of advice we can give you is – don't camp, particularly in the rain. Yes, it's fun if you're young and the weather's great but, by pitching up in the mud and rain, you're just asking for a chill – not to mention inviting the likelihood of someone defecating in your tent, stealing your belongings and urinating on it in the middle of the night. What can we say? You've been warned!
Above all, enjoy your festival experience – it's what the British summer is all about. For more festivals, dates and confirmed acts, visit The Festival Calendar.