Your guide to visiting the Grand Canyon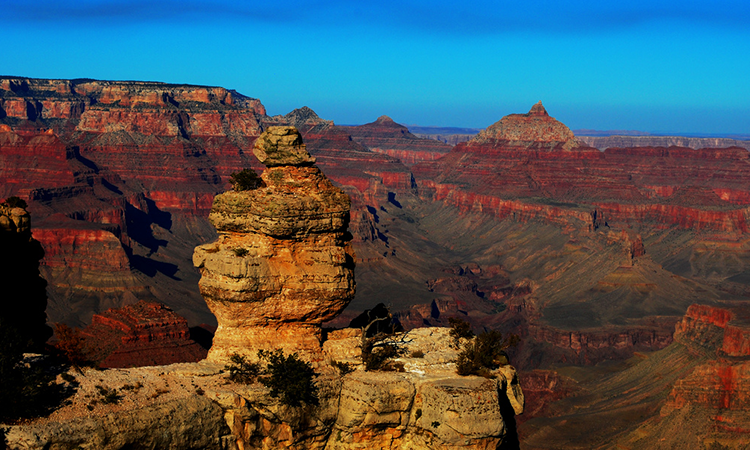 If you think the Grand Canyon is just a big pile of red rock, think again! It's listed as one of the seven natural wonders of the world and is certainly a sight to behold. There are also plenty of other things to see along the way so make sure you book the right tour so you can take in this natural wonder from all the top vantage points. Follow our fail-safe, three-step guide to make sure you don't miss a thing:
1) Head for the North Rim
First of all, check out the North Rim. You'll find lots of tour operators laying on excursions to the North Rim, from which you can get a fantastic view of the expanse of the Canyon and won't feel you're simply looking down into a big, rocky pit. At its highest point – otherwise known as Point Imperial at more than 8,800ft – you can clearly see the Painted Desert and Grand Canyon Park's most easterly end. You can get there easily by driving up the long and winding road but most tour buses will do the hard work for you.
2) Check out the South Rim
There's a free shuttle bus from Mather Point but it's pretty easy to either walk, cycle or drive the short trail yourself – or you could even take a donkey ride! If you like walking, you can easily join other hikers on the Rim Trail which follows the rim round from Pipe Creek Vista to Hermits Rest and some parts are even accessible by wheelchair. The best view can be found from the observation station at Yavapai Point from which you'll get panoramic views of the Canyon and the Colorado River. Once you're done, take the Havasupai Heli-Hiking Tour over some of the most breathtaking views of the village of Supai and its idyll waterfalls.
3) Choose a themed hotel
As if a trip to visit the Grand Canyon wasn't exciting enough, you can really add to your US adventure by staying in a Western-themed hotel that's just a stone's throw from the natural wonder itself. A trip to the Grand Canyon should conjure up images of cowboys, Indians and the OK Corral.
A stay in the Grand Hotel will put you firmly at the heart of the action, for example. It's no more than a mile from the entrance of the Grand Canyon National Park and around nine miles of the Rim Trail. The hotel has a Wild West theme which extends to all of its rooms – complete with timber beams and moose heads. There's even a saloon bar, swimming pool – although it's much more modern – and shop. You'll find bar tenders wearing Stetsons and evening entertainment with performers re-enacting rain dances, show-downs and stints on the bucking bronco.
But if The Grand Hotel is a little too close for comfort, try the Grand Canyon Hotel, Lodge & RV Park on for size – it's just as authentic, if not more so, and is still within 30 minutes driving distance from the main entrance and Park. The Grand Canyon Hotel features only the best in South-western decor and hand-carved Native Indian furnishings. Some of its best selling points include being able to watch the sunset over the river gorge from your room balcony and its surprisingly lush and secluded gardens.
So what are you waiting for? Dig out your ten-gallon hat and don your holster because you're now ready for an authentic country and western experience Grand Canyon style.
Enjoy – and don't forget to change your British Pounds into US Dollars before you travel to get the most bang for your buck.