Another 48 hours: Long haul that's really worth the coach trip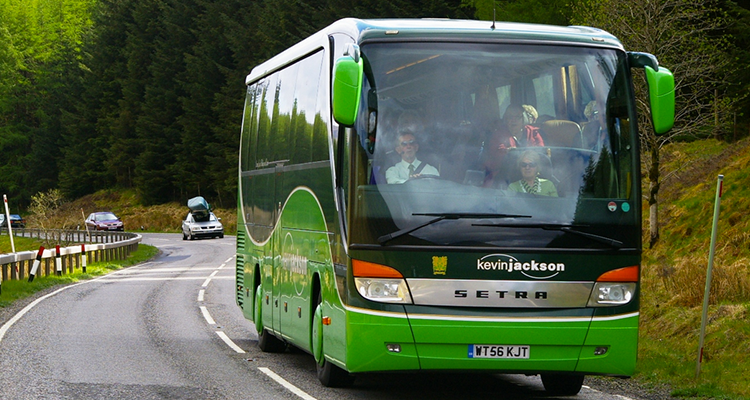 "Another 48 hours on a coach? In a heartbeat!" says our chief travel editor, Lynda Hamilton, who endured a two-day journey to Italy with her daughter by Silver Service coach from Scotland.
Here's her account of travelling by coach with Leger Holidays to Fiuggi and beyond.…
"Mention 48 hours on a coach and most people want to run for the hills – but not us. My daughter, Hannah, and I are always up for anything and, recently, this included a bum-numbing ride from Dundee to Rome. In fact, we went 65km further than Rome to the spa town of Fiuggi.
"But our adventure started long before we reached our destination and I still can't think of another way we could've enjoyed supper in France, breakfast in Switzerland and dinner in Italy within the same 24 hours. I'll never forget cappuccino and pastries against the backdrop of the Swiss Alps in Bellinzona – an unforgettable experience.
"Only Fools and Horses, along with the pay-bar facility (just for me, of course), saw us the rest of the way to Fiuggi, via Reims and the Gotthard Tunnel. But this was no ordinary coach. This was Silver Service, with reclining seats and a leather-clad lounge at the rear. Not only that, but the cabaret act (provided by our drivers) was first class.
"That said, we were glad to arrive in Fiuggi and wasted no time finding a pizzeria, sampling the gelato and settling ourselves into the main piazza to watch the evening's comings and goings, which included open-air ballroom dancing from the elderly locals.
"Our first excursion, the very next day, was to Pompeii which, of course, was amazing. It wasn't quite what we expected and we were surprised to find that, after admiring some basic ruins, the amphitheatre, and some native grey lizards, we were disappointed with Old Pompeii because once you've seen a few piles of old bricks, you've seen them all. But it's still one to tick off your bucket list.
"Luckily, we faired better in Rome, admiring the Vatican, Trevi Fountain and Spanish Steps – not to mention the tacky souvenir shops and fantastic Latin restaurants serving Argentinian steak which, according to the locals, are among the best you can find in the Italian capital.
"We chased Catholic priests (only for a photo, you understand) and caught up with Italian tenor Gianluca Paginelli after a cat and mouse chase through Rome, only to find that he was waiting outside the one McDonalds in Rome we hadn't visited yet.
"The next day, we journeyed to Sorrento, where we spent the day browsing the shops and sampling the lemon slush and, of course, for me – limoncello. And I have to say that, if you want shopping, Sorrento is the place to be. We shopped till we dropped, visited haunts of famous folk and snapped up Sorrento football strips – don't ask me why.
"Fellow coach travellers had paid the extra and opted for a tour of Capri – favoured island of the rich and famous. But, for us, Sorrento really cut the mustard. We took a tram ride up into the hills and admired the stunning view of the Bay of Naples and shopped for authentic olive oil and lemons in the most rustic of stores.
"Evenings were spent on the veranda sipping drinks and soaking up the atmosphere before retiring to our typically Italian rooms – bugs in the shower and great, big, day-light forbidding shutters on the windows.
"But all too soon, it was time for our return trip – another 48 hours home to Scotland. It was a long haul to gear up for but, if the question is, 'would I do it again?' then the answer is 'yes' – without a moment's hesitation!
"This coach trip had made an impression on me – not least because of the friends we met and camaraderie we enjoyed along the way. The journey was filled with adventure, from start to finish, but I'm saving that for the book 😉
"So my message to avid fellow travellers is… try something different, something out of your comfort zone, and you might just be surprised – even with kids in tow. Even the most bum-numbing of rides can be a dream."
Lynda's fact file:
1) Silver Service coach travel between Dundee and Fiuggi was courtesy of  Leger Holidays– one of the few UK operators to provide luxury coach travel between the UK and Europe.
2) The seven-day package included return travel between Scotland and Italy, four nights' accommodation in Fiuggi on a B&B basis, and excursions to Pompeii, Rome and Sorrento.
3) Montecassino Abbey is included as an extra excursion en route to Pompeii.
4) Pick up points for the same trip are available throughout Scotland, England and Wales and an excursion to the island of Capri can be added to your itinerary for around an extra 200 Euros.
But don't forget to change your currency before you travel. MyTravelMoney.co.uk has the best rates.
For more information, visit Leger Holidays or call 0844 504 6251.