MyTravelMoney.co.uk Travel Blog Awards: Best Budget/Money Saving Travel Blog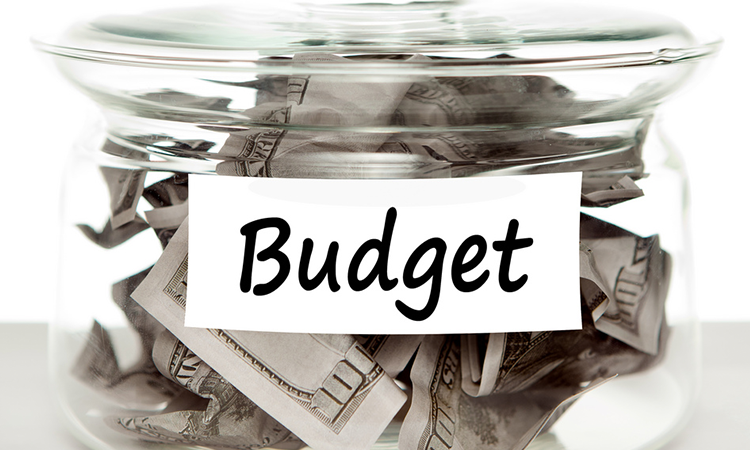 Our very first round-up of top Twittersphere travel bloggers was a challenge in itself – not least because their Twitter handles are so similar; it's easy to get confused!
But we've tried to demystify these cash conscious blogs for you and are delighted that they've made it into our top 10 of Best Budget/Money Saving Travel Blogs in the first heat of our MyTravelMoney.co.uk Travel Blog Awards.
Find our first winner, who'll be honoured with a Gold MyTravelMoney.co.uk Travel Blog Awards badge, at number one – the fantastic @BudgetTraveller blog: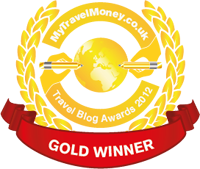 Europe Budget Guide – found tweeting @BudgetTraveller
Kash Bhattacharaya, who's based in Edinburgh, blogs on all things frugal when it comes to travel. His microblogging on Twitter has earned him 9,075 followers – and we can see why. Still in-keeping with the budget theme, Kash has recently launched a 'Luxury Hostels of Europe' section – although it's still to be populated. And, although his new animated website is still under construction, we've been following his blog and tweets in the past and know this is certainly one to watch. Bear with him during this time of diversification and you'll soon find it's the place to discover Cheap Eats; Travel Photos; Budget Tips; Budget Places, and Stories on the Road. We hope Kash's new Gold MyTravelMoney.co.uk Travel Blog Awards badge will serve him well on his new all-singing, all-dancing website.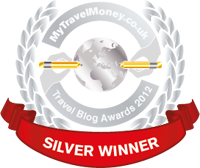 Happy Time Blog – found tweeting @HappyTimeBlog
This might be a backpacker's travel experience, but it's one of the best put together blogs we've come across. The editorial is great, pictures are ace and there are some fantastic tips to be had. But don't just take our word for it, check it out for yourself.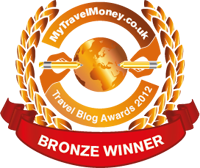 Help Me To Save – found tweeting @HelpMeToSave
Not strictly a travel blog, Help Me To Save is still well worth a watch as it's run by Karen Bryan, founder of Europe a la Carte (www.europealacarte.co.uk), a leading UK travel blog, and occasionally the two subjects overlap.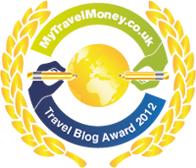 The New York Times Frugal Traveler – found tweeting @frugaltraveler
The Frugal Traveler cites his domain as 'everywhere' – and he's not wrong. A writer for the New York Times, this mysterious travel blogger pens all things Europe and America – and everything in between. We love his photos and his strapline: 'Seeing the World on a Budget'.
Reclaiming My Future – found tweeting at @toniwonitravels
This solo female travel blog is one of the best around and editor Toni is no less than intrepid. She's frank, funny and has a great blog that's pleasing on the eye.
Frugal Travel Guy – found tweeting @FrugalTravelGuy
'See the world at prices you can afford,' – that's the message from Rick at @FrugalTravelGuy, who is exactly that. For credit card tips, how to travel frugally and top travel deals, he's your man.
One Step 4ward – found tweeting @onestep4ward
Follow Johnny Ward on his backpacking adventures, which started way back in 2006, for a unique, eclectic look at travel. The website is expertly designed and never short of a great tale or two.
The Working Traveller – found tweeting @WorkingTravllr
For great photos of famous landmarks and wildlife, this is your blog. The Working Traveller is a pictorial journey around the world – with more colour than you can shake a paint brush at.
The Travelling Editor – found tweeting @travelingeditor
Dylan Lowe has created a great travel hub over at The Travelling Editor – which is really user friendly. We challenge you to find something there you don't like.
Travel Crunch – found tweeting @travelcrunch
Travel Crunch poses the question: 'Is budget travel the answer?' and has earned the official VisitBritain Super Blogger hallmark. The blog challenges you to think more about travel and what the implications are. We'll let you be the judge on this one although we love it; it's fab!
Well done to the travel bloggers whose blogs were shortlisted and who will receive a MyTravelMoney.co.uk Travel Blog Awards Finalist badge.
We hope to publish an interview with our winning @BudgetTraveller blogger shortly so watch this space!