Queen Mary 2 Queens Grill versus MSC Preziosa Yacht Club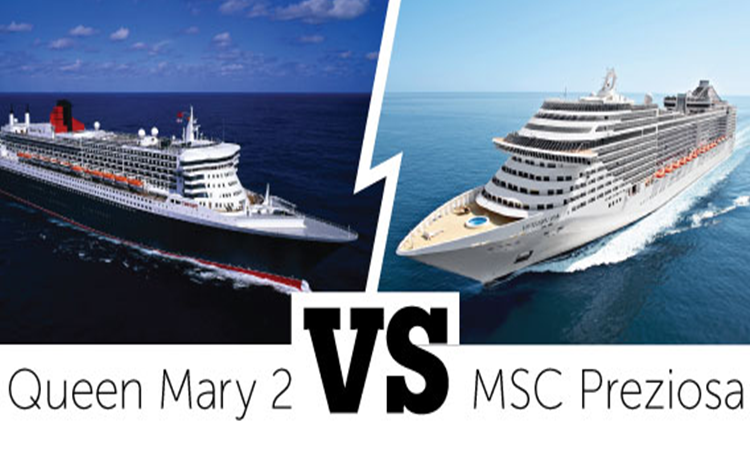 This article is a challenge given to me by the crew at MyTravelMoney.co.uk. I have been asked to compare one of my most favourite, and frequently travelled, cruise lines with a new up-start that I recently travelled on. Anyone that follows my travels at TipsforTravellers.com knows that I am a Cunard fan, and love the premium Queens Grill experience. I especially love the flagship Queen Mary 2. Recently I was one invited to be one of the "Official Bloggers" on the Maiden Voyage of the MSC Preziosa travelling in their premium Yacht Club "ship-within-ship" concept.
The results of the challenge surprised even me. Here are my thoughts:
1. Food
• MSC Yacht Club: Amazing food in both the main Yacht Club restaurant (La Palmeraie), and the speciality restaurants with the Eataly chain restaurants being of special note. The food in La Palmeraie is very fresh, Italian inspired with very varied menus in the restaurant each night.
• QM2 Queen Grill: The huge set menu in Queens Grill is also supplemented by an a'la carte menu, and then the ability to order off menu if you want. The range of dishes is huge, including dishes cooked at your table. Service is exceptional.
• Overall Winner: A tough call but I will give it to QM2 Queens Grill. The thing that swings it is the vast choice, which is always high quality. The service and attention to detail in the restaurant, including at table cooking, makes it feel even more special.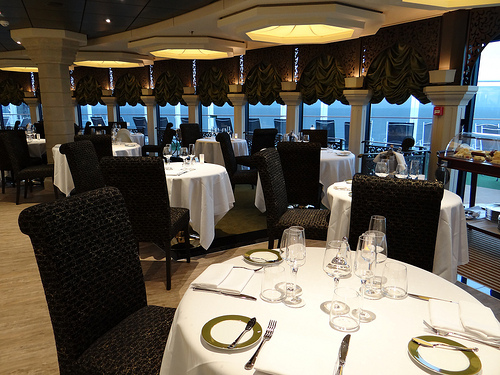 Msc Preziosa Restaurant
2. Entertainment

• MSC: Excellent and modern. The entertainment is geared for a young audience, including families. It ranges from modern production shows with acrobatics and slick dance scenes, through to high technology rides like 4-D cinema and Formula 1 racing and onto Waterslides on the ship. It is modern and in touch with a diverse audience. They have a massive casino and huge club for those that like dancing.
• QM2 : I have always found Cunard entertainment disappointing. It is very dated. The production shows are predictable and rely heavily on safe routines of songs through the ages and they pull in UK based guest entertainers that are past their prime. It is unadventurous and is (in my view) unexciting. I usually avoid or end up leaving most shows. They are trying to attract a younger crowd on the ships, but their entertainment has not yet got that memo!
• Overall Winner: MSC by a mile. Cunard does not come that close on entertainment. The only bright light is the Cunard lecture program is something that MSC does not include on most cruise regions.
3. Crew

• MSC: The MSC crew are unbelievably passionate about the cruise line. The cruise line is just 10 years old, and in that time has just become the 3rd largest cruise line in the world. Everyone I spoke to, from the Captain through to the stateroom attendant, shares one vision of making sure that a guest is not made to feel like they are a number. The friendliness and service attitude is impressive. Admittedly this was a Maiden Voyage and they had a lot of their best crew on board. However, I had no idea or hint this was a Maiden Voyage as service was so slick. The Captain was very visible and always around the ship talking to people, and even was seen helping passengers to carry cots up and down stairs and showing people to where they wanted to go. This attitude set a clear direction for the crew. Impressive.
• QM2 : This is more mixed. The Cunard White Star Service and training is clearly very efficient and service is very good. It is a more formal, British and reserved style of service. Though I think, having experienced MSC, that it lacks some of the warmth though that I found on my MSC Cruise. The Captain, and senior crew, in all my experiences have been more distant and formal and stayed at arms length from the passengers. On recent trips there also has been more of an underlying tension about the changes that Cunard is going through to grow and become more modern that on-board seem less welcome of, and this seeps through the crew.
• Overall Winner: A stand off. I like the warmth and attention to passengers by everyone from the Captain through all the crew on MSC. The slickness and professionalism of Cunard, through its White Star Service credo, compensates for the less warm approach. I think both crews are very impressive. I had expected Cunard to win this one by a mile before I had been on MSC. It may be that the Maiden Voyage was different from regular cruises. I will try another MSC cruise in the future and let you know!
4. Exclusivity

• MSC: The MSC Yacht Club is a totally contained space within the ship at the front of the ship. You need your Cruise Card to access it. All the suites, main lounge, Concierge and the large exclusive pool deck are in the area. I have a video tour of it: http://www.youtube.com/watch?v=dW28I4n91Dw. You can retreat from the busy main part of the ship into a calm oasis that is the Yacht Club. This felt very special
• QM2 : The Grills suites are not in a dedicated section of the ship, and spread around various decks and areas. The Concierge lounge, dining rooms and lounge are also not in a set dedicated space. The deck for use by Grills Passengers is not really access controlled and a passageway through to the pool on lower decks. So travelling in Queens or Princess Grills is not a dedicated and exclusive space.
• Overall Winner: The MSC Yacht Club concept wins. Having an exclusive space felt very special. I really liked it. You did feel you were withdrawing into a "club".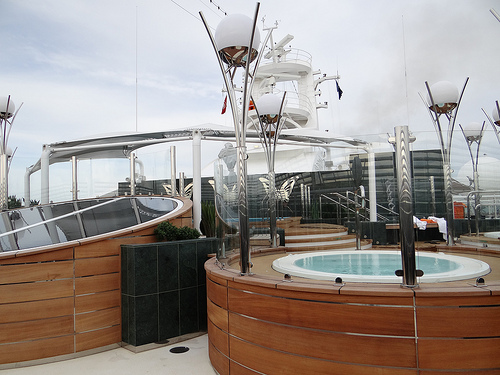 MSC Preziosa Yacht Club Pool Deck
5. Cabins

• MSC: The MSC Yacht Club cabins were plush, comfortable and felt like staying in an up-market hotel. See a video of them: http://www.youtube.com/watch?v=8R36XEE4BnU
• QM2 : The Grills suites are much bigger than the MSC Cruises cabins, even the "lower grade" Q6. They are about double the size, have more storage space, much larger bathroom and much bigger balcony with full loungers. There are also more options on sizes and scale.
• Overall Winner: QM2 Queens Grill cabins for being much larger and more spacious. Though the MSC Cruises cabins were more plush and rich in styling. I think though that the Queens Grill win out for scale and size.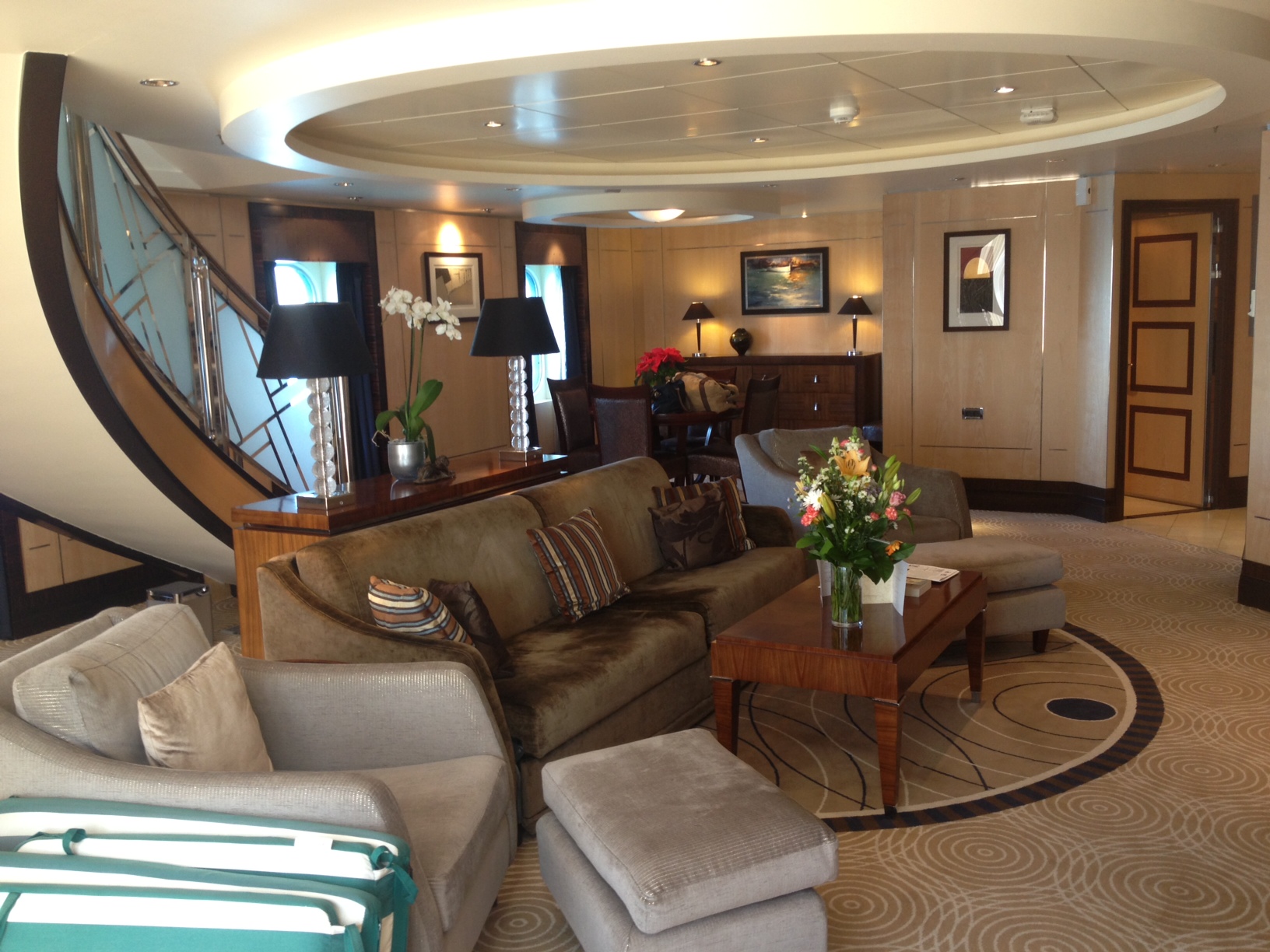 Queen Mary 2 Q1 Queens Grill Cabin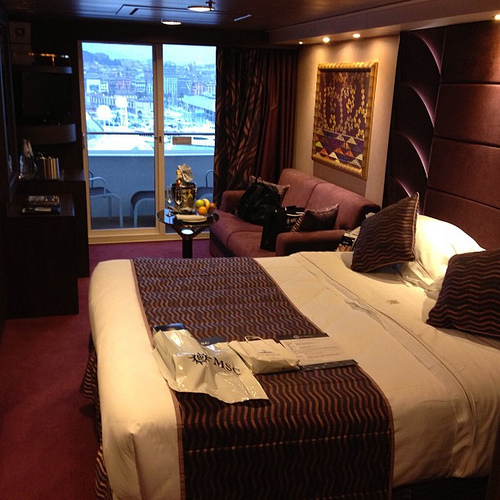 MSC Preziosa Yacht Club Suite
Overall Winner
Based on the 5 criteria above they scored equally. This surprised me as I had thought that Cunard would have an edge. I think I learnt that Cunard, while offering a professional service and offering, and have an incredible heritage and ship in the Queen Mary 2 that the new up-start in the form on MSC Cruises is bringing a freshness, personal and trying to re-invent what exclusivity means even within a mass market cruise ship offer. Room for me as a passenger to ponder – and Cunard too?
About Gary Bembridge
Gary Bembridge on Google + has been writing, podcasting and making video travel content since 2005 at Tips for Travellers focusing on luxurious travel experiences on land and at sea.