Beat the Winter Blues with a Dog-Sledding Adventure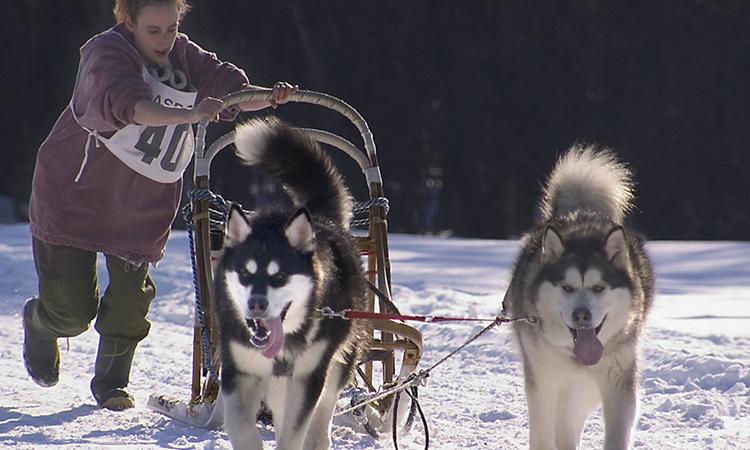 Those that don't ski and snowboard are often left out of winter fun. Sitting in the lodge while others enjoy outdoor sports is a waste of snowy weather. This year, skip strapping boards to your boots and learn to mush at one of these dogsled resorts. The whole family will join in the adventure as you explore dog friendly trails, dine in cozy cottages, and find out more about the care and training of these magnificent working dogs.
Only four hours north of Boston, Eden Dog Sledding in Eden Mills, Vermont, offers pet-friendly lodging and unlimited interaction with what they refer to as their "Un-Chained Gang". The sled dogs are never caged, and they roam the 75-acre property freely. Owner Jim Blair is an International and National champion sprint sled dog and skijor champion, and he is dedicated to ensuring that you have a fun while staying safe.
Lake Tahoe, California's Wilderness Adventures Dog Sled Tours offers one hour mushing trips through the stunning scenery of the Sierra Nevada Mountains. Guides handle the reins while you enjoy the ride, with hands free to try and capture the beauty on film. For those that want to learn the art and skill of mushing their own sled, 2 ½ hour lessons are available on weekdays.
New England's wildest, snowiest mountains are in Maine, setting the stage for dogsleds to explore the lovely Nahmakanta Wilderness. Maine Dogsledding Adventures at Nahmakanta Lake Camps offer mushing day trips for every level of experience. Award winning dogs and their caretakers offer guests exhilarating adventures by day, while evenings are spent in cozy cabins, enjoy home cooked meals.
Visitors to Bonsecours, Quebec, Canada, can learn the French mushing commands at Nordik Adventures, where 45 dogs are anxious to take explorers out. The snow is set off by elegant maple trees to combine scenic beauty with the excitement of sliding over the snow.
When the same old winter sports fail to beat away the blues, discovering dog sledding will cure even the gloomiest mood. Undeveloped wilderness covered in snow offers beauty as far as the eye can see, and the enthusiasm of your four-footed furry team will keep you smiling, long after the day is done.
The best way to beat the winter blues is with a dog sledding adventure. Make sure to compare travel money at MyTravelMoney.co.uk before the journey begins.