Visitors will Never Forget Mardi Gras, New Orleans Style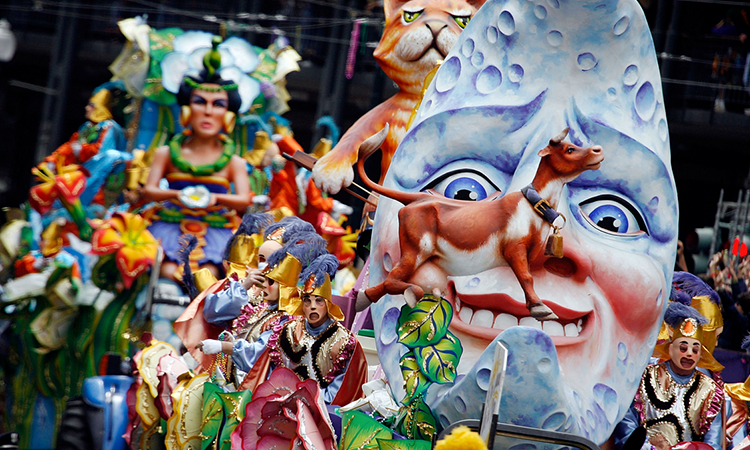 Fat Tuesday or Mardi Gras is the last day before the beginning of Lent, which marks the Catholic tradition of self-denial for the forty days that lead up to Easter. There is nothing like ushering austerity in with a city-wide party that lasts more than two weeks.
Devotees spend months creating their masterpiece floats, sometimes three stories high, for participation in one of the fifty or more parades. Theme based costumes complete the designs, which can range in focus from mythological creatures to modern day celebrations – and everything in between.
Tradition has spectators chanting "Throw me something!", and those atop the floats comply. Heaps of trinkets go out to eager hands, including the iconic plastic bead necklaces. This practice goes back to the early 1870s, when the Twelfth Night Revelers tossed "throws" to the waiting crowds. Several years later, medallions became the giveaway of choice, represented today by multi-colored aluminum doubloons. These are collector's items, so hold tight if you manage to get your hands on one.
If you have any time between carnival exhibits, stop into the Germaine Cazenave Wells Mardi Gras Museum. It is located in the famous French Quarter, just off Bourbon Street, above the world renowned Arnaud's Restaurant. If you sample the classic Creole Cuisine, admission to the museum is free. See more than two dozen of the most remarkable Mardi Gras costumes, and admire the collection of Carnival masks. The museum features 70+ vintage photos, and it is decorated in the traditional Mardi Gras colors – purple for justice, green for faith, and gold for power.
Most important of all, you must have King Cake to complete your New Orleans Carnival experience. Sweet oblong twists decorated with Mardi Gras themed icing hide a lucky surprise inside. If your piece has the prized plastic baby, you are entitled to a number of privileges – but also the significant responsibility of buying the King Cake for the next party.
Plan now for a New Orleans-style Mardi Gras in 2012, which will fall on February 21st this year. Months of preparation go into the party of the year at the Mardi Gras celebration in New Orleans, so make your travel arrangements today.
Include MyTravelMoney.co.uk in your plans and compare holiday money options before you plan your trip across the pond.