Extraordinary New York City Attractions Steps Away from Port Authority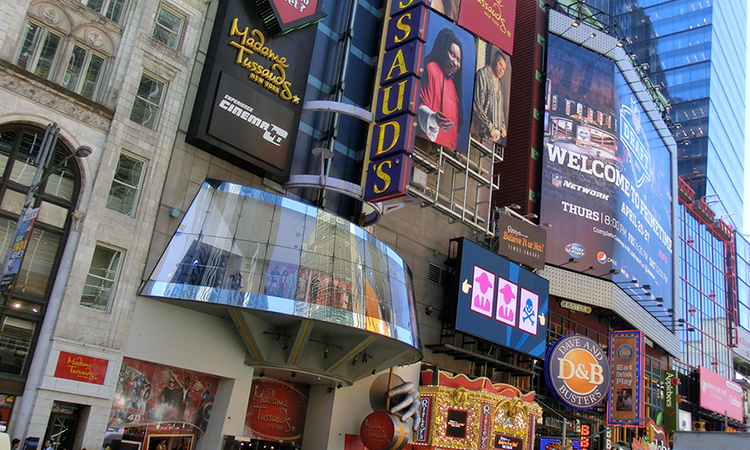 New York is a walking city, but not everyone appreciates the whipping winds and slippery streets that come with cold weather. Fortunately, those arriving at the Port Authority Bus Terminal have excellent options for entertainment just outside the door.
Madame Tussauds Wax Museum
Home to lifelike replicas of every major historical figure, sports personality, and movie star in living memory, Madame Tussauds has something for everyone in your family. Have your picture taken with Barack Obama, sing a duet with Alicia Keys, or discuss the tides with Captain Jack Sparrow, who recently arrived via the Staten Island Ferry. A 4D cinema offers the opportunity to be a part of the show, with multi-sensory effects complementing the 3D on-screen action. Madame Tussauds now features a Behind the Scenes exhibit, explaining the magic behind the realistic sculptures to life.
Not Enough Weirdness? Ripley's Believe It or Not!
If Madame Tussauds didn't quench your thirst for the bizarre, try next door at the world-famous Ripley's Believe It or Not! Times Square Odditorium engages visitors of all ages with strange and wonderful interactive exhibits and displays of oddities. Once only seen in circus sideshows, performers demonstrate rare talents, such as sword swallowing and fire eating. The Lizardman, who has had more than 650 hours of tattooing, has mastered all of the great sideshow skills, with 36 unique acts to awe and amaze.
Broadway
Complete the evening with offbeat family-friendly favorites on nearby Broadway. Blue Man Group delights as three bald blue men keep you guessing with rhythm, music, and a little science thrown in for good measure. New to the scene, the Addams Family looks at the effect eccentric influences can have on otherwise civilized society. Wicked gives the other side of the story, or what really happened when Dorothy arrived in Oz, and many walk away with an entirely new take on the Wicked Witch of the West. Spiderman is a well-loved story, but it has never been seen like this. The audience is part of the show when Peter Parker's alter-ego fights the bad guys overhead.
Visitors of all ages will gasp and giggle as they enjoy these extraordinary New York City attractions, only steps away from Port Authority. Getting great value is easy and make your currency go further by checking out MyTravelMoney.co.uk and compare holiday money.