Examine the Evidence at the Lizzie Borden Bed & Breakfast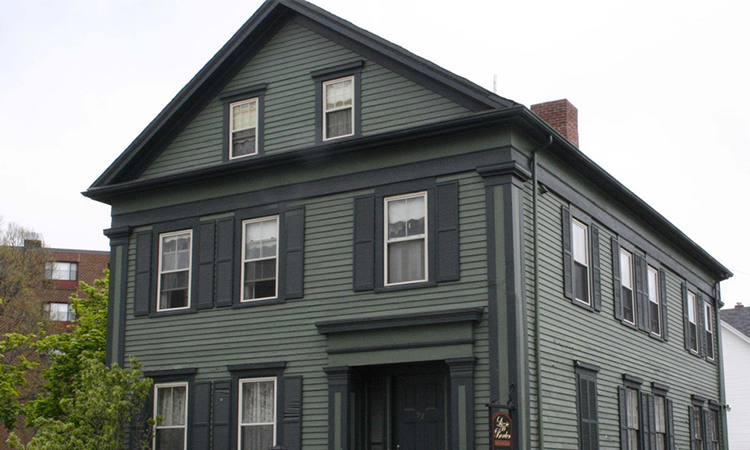 Only one place in the world offers a gift shop that carries hatchet shaped earrings and Lizzie Borden bobble-heads – the Lizzie Borden House in Fall River, Massachusetts. Site of the August 4, 1892, ax murders of Andrew and Abby Borden, this private home has been restored to its 1892 appearance and features displays of memorabilia dating back to the home's most famous residents. Accounts of the scene, witness statements, and details of the trial and acquittal are available for visitors to peruse. Myths and legends offer countless theories, some convinced Lizzie committed the crimes, and others suggesting alternative hypotheses. An overnight at the bed & breakfast in the original Borden home might shed some light, as Andrew and Abby are said to still walk the halls.
Visitors to the home often report the sound of footsteps in the halls and on the stairs, and several assert that they have seen ghostly figures. Most descriptions are of female spirits, including one who cries softly throughout the house, and one who cleans, makes beds, and dusts.
Visitors are invited to choose from the rooms formerly inhabited by the family. Some brave souls stay in Lizzie's bedroom, while others want to see Abby and Andrew's perspective. Those few who are determined to get to the bottom of the mystery sleep in the room where Abby was murdered, the highlight of which is a model of Lizzie herself, along with gruesome crime scene photos. Those who make it through the night are rewarded with a hot cooked breakfast, including many of the same items, bananas, jonnie-cakes, and sugar cookies, which Andrew and Abby enjoyed on their last morning alive.
Ghost hunters bring their gear for the building tour included in the price of the room, and some make repeated visits in hopes of catching a glimpse of the famed apparitions. True devotees will soon be able to subscribe to online webcams, so they can conduct their investigations from the privacy of their own homes.
Examining the evidence at the Lizzie Borden Bed & Breakfast is an exciting alternative to traditional hotel rooms. Adding some history, mystery, and maybe even a ghost or two is a thrilling way to spice up a weekend getaway. Before booking your stay, visit MyTravelMoney.co.uk and compare travel money.