The top sites to see on Easter Island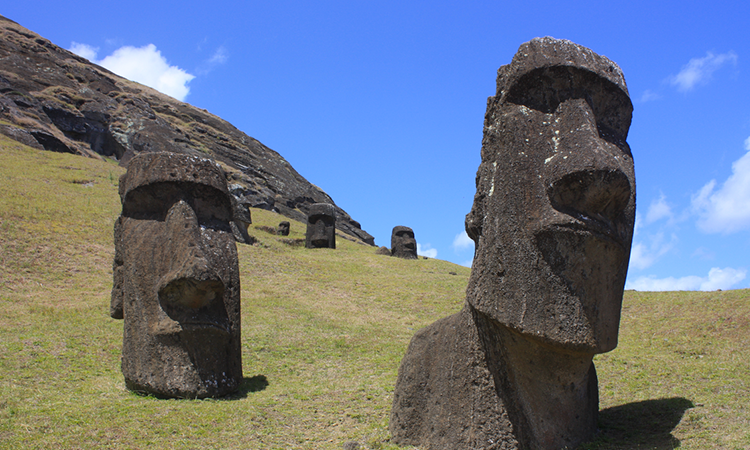 As the inhabitants of tiny Easter Island know, you can't find any location further from civilisation. This spot is 1,200 miles from its closest neighbour, and 2,350 miles from Santiago, Chile. What draws travellers and explorers is the mystery. How did some of the world's most valuable archaeological artefacts come to be there?
Visitors are awed by the iconic sight of the more than 800 moai found throughout the island. Those that were installed stand between 30-50 feet tall. Made of solidified volcanic ash, the figures fix their eyeless gazes on the horizon. These massive statues were created as representations of the ancestors of earliest island inhabitants. The culture paid tribute to their dead, with the belief that they cared and provided for the living. Because most settled near the sea coast, the moai were created as sentries. They have their backs to the spirit world residing in the ocean, instead facing the settlements and watching over their descendants.
Easter Island has experienced significant rising and falling of its population. While it was believed that 15,000 individuals resided on the island in the early 1600s, a mere 111 lived there by the end of the 1800s. As a result, the culture's history and knowledge has been hard to trace, with only carvings and drawings to go by.
Travellers drawn by the adventure of this isolated treasure of historical and natural history can get there on some cruise ships. Alternatively, there are limited flights that will stop on their way to Tahiti. Four day trips are available from Maxim Tours, which leave weekly from Santiago year-round. Those that want an in-depth look at the island can participate in a two-week comprehensive study experience through TCS Expeditions. Guest lecturers and expert guides will lead you through deep background history and detailed examination of the artefacts and culture.
Easter Island is best visited from November to March, which is probably how it came to be "discovered" on Easter Sunday, 1722. Prime weather and conditions at this time of year will guarantee a once in a lifetime experience.
If you are looking to get away and you want to take in the awe inspiriting sights of remote Easter Island, stop at MyTravelMoney.co.uk and consider taking out a US dollar currency card. It can be a fantastic way to budget your trip and works by pre-loading foreign currency onto the card.