The top attractions in the US Virgin Islands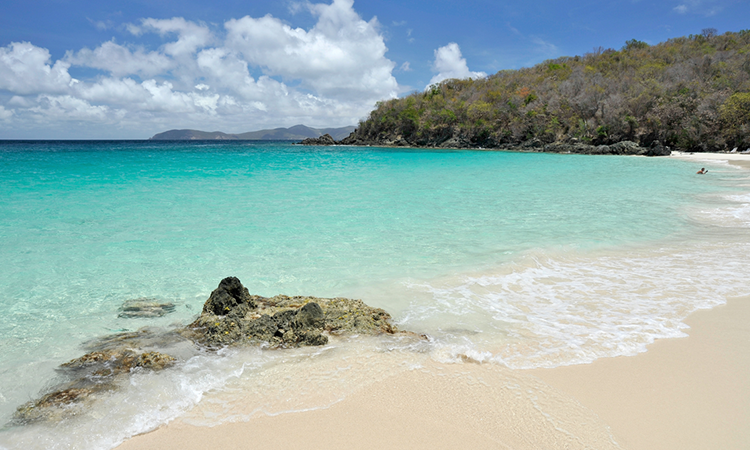 When planning your Caribbean vacation this winter, there are a few prime sights you can't afford to miss. See the underwater national parks on St. Croix and St. John, where beaches are second to none. Spectacular sights await you, both above sea level and below the ocean's surface. Beating the winter blues is easy, as visitors between November and March get the best look for the most affordable price.
Buck Island
Coral reefs await your exploration and more than 250 species of fish will greet you in the crystal clear waters of tiny Buck Island. This uncrowded, uninhabited island off the coast of St. Croix offers a variety of viewing options. The friendly staff of guided snorkeling expeditions and glass-bottom boat tours presents something for everyone.
Caneel Bay
St. John boasts the least developed and the most natural wonderland of all the U.S. Virgin Islands. Out of the wide variety of Caribbean destinations, this is a can't-miss, with 9,000 acres of national park, private beaches, and 5,600 acres of underwater adventure. The Caneel Bay resort has 166 rooms appointed with unpretentious luxury. Enjoy an ocean view, or stay garden-side, and relax as you disconnect. None of the quarters have telephones or televisions, protecting you from distractions.
Harmony Studios and the Reef Bay Trail
Environmental advocates or those looking for something a little different on St. John find that Harmony Studios Resort fits the bill. Drawing its energy exclusively from the sun and the wind, it is made entirely of recycled waste. As you admire the paradise that surrounds you, you won't even notice the structure consists of former tires, plastic packaging, glass bottles, and newsprint. Even repurposed light bulbs play a part in the construction!
A short distance away is the Reef Bay Trail, which is a delightfully downhill trek. Stop at spectacular lookout points and admire ancient petroglyphs on your way to the seaside where the trail ends.
A long, cold winter can bring on the blues. Let the Caribbean bring back your spirit! Before taking off for the top four attractions in the U.S. Virgin Islands, visit MyTravelMoney.co.uk and buy travel money.