A Brit's guide to Bondi Beach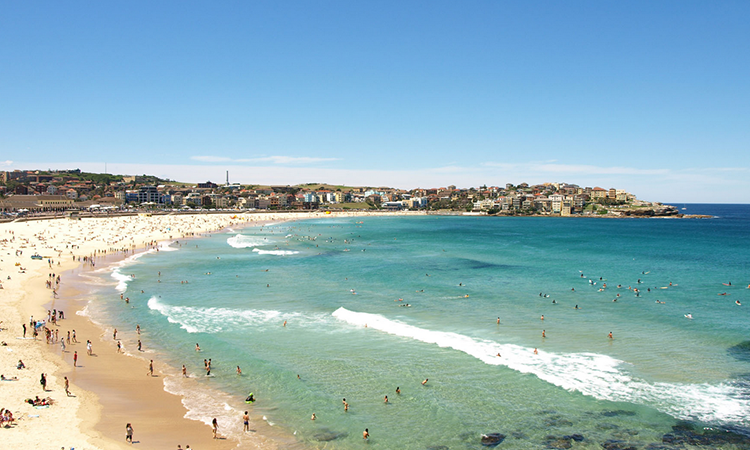 I think it's fair to say that most people have heard of Bondi Beach, but, for those of you who haven't or just want to learn more, MyTravelMoney.co.uk have made this quick guide to help.
Bondi Beach is located in Sydney, New South Wales. Bondi Beach is actually the name of the beach AND surrounding suburb. The beach itself is around a kilometre long filled with visitors from many different countries throughout the year. It has a very relaxed, friendly atmosphere and more often than not has dazzling sunshine and hot weather. Here's a quick list of where to go and what to do.
Scuba diving
What could be better than grabbing an underwater camera and plunging into an exciting underwater world? Scuba diving is enjoyed by many for many different reasons. But, for me, scuba diving is a door to a world we never get to see. The beauty of the reef and its strange inhabitants leaves me awestruck and captivated. The lack of ringing phones and chattering tourists is a nice change and floating about on the undercurrent is more relaxing then any CD of rushing water and whale sounds ever could be. To be honest, I might even say it's better than land…now all I have to do is develop gills and I can flounder around like a mermaid all day whilst marvelling at the magnificence of the seabed. If this sounds good to you (or you're still trying to find Nemo) then go book yourself in for a lesson of scuba diving.
Surfing
Surfing and Australia practically go hand in hand and there's definitely not a lack of it at Bondi Beach. Whilst no surfer will say that Bondi has the best currents to surf, they still seem to have a soft spot for it in their hearts. You'll see surfers here in all weather conditions and, from amateur to incredible, there'll be a wide variety of skill levels on show. The south side of the beach is reserved for surfer and you can rent surfboards, wetsuits and body boards from places around the beach. There are also surf schools where you can go to get a lesson. Remember, the further south you go the stronger the current.
Sunbathing
A perfect place for baking in the sun, relaxing and people watching. Remember to wear sunscreen and if you haven't already got a tan then your limit should be about 20mins. Be responsible and make sure to drink lots of water so you don't get dehydrated. A hat or cap of some sort is also a good idea- especially for those prone to sunstroke.
Eating
The promenade, known as Campbell Parade, is filled with eateries. Australia's culinary finesse shows through especially in their gorgeous gelato (like ice cream but creamier, thick, often fresh and always delicious), seafood and fish and chips (which makes good use of it's prime location next to the sea) and Italian restaurants. I'm not sure why it's filled with so many Italian restaurants but they are pretty good nonetheless! Although, if there is only one thing I can urge you to eat it would be the gelato. There are some other great cafes and some with especially good coffee so look around and find your own favourite.
If there's one thing that would make me sit on a plain for 23hours amongst crying babies and being served ambiguous looking mush, it has most definitely got to be Australia. Don't forget to go to MyTravelMoney.co.uk to buy Australian dollars. Get the best price on currency before you set off!