Top 5: places to visit in Barcelona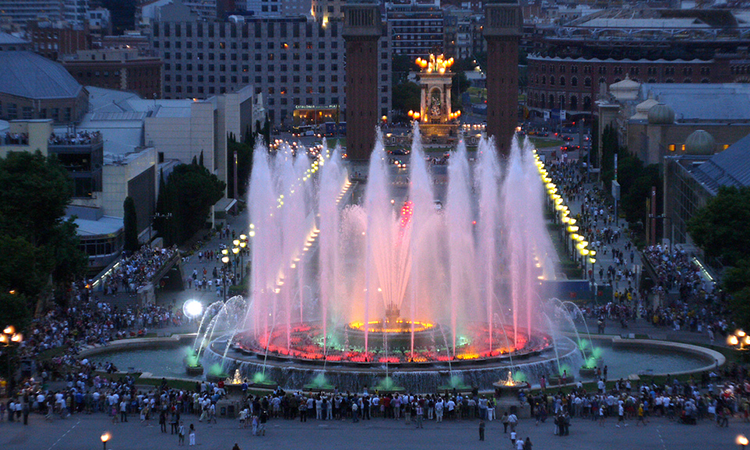 Barcelona (Catalonia) in Spain is a city with a rich and fascinating history. The weathers hot and the locals are friendly. There are not many reasons we can think of why you wouldn't want to go to Barcelona but MyTravelMoney.co.uk have thought of 5 especially good reasons of why you would!
The Magic Fountain of Montjuic
Okay, technically it might be "just a water fountain" but I defy you to find a more stunning and amazing fountain than this! The magic fountain is lit with dazzling multicoloured lights and even plays music! The lights dance and flicker in the night to the rhythm of the music which plays everything from Mozart and the music, The Godfather to "Barcelona" by Freddie Mercury! The jets of water also leap and spray in time with the music and lights and the visual effect is absolutely mesmerizing! Everything is perfectly timed like that of a brilliant fireworks show and it is an altogether aesthetic masterpiece.
La Sagrada Familia Basilica by Antonio Gaudi
The Sagrada Familia is a huge church in Barcelona which has been under construction since 1882 and still isn't finished! Known throughout as Gaudi's greatest work, the Sagrada Familia is visually and architecturally stunning (think gothic fairytale castle). Not only does it have an interesting past, it's a piece of the architectural legacy left behind by Gaudi. It has a museum inside where you can see stonemasons carving the stones to be used in the construction. I cannot explain to you how breathtaking it is to look at so I suggest you go visit it yourself.
El Born district
You cannot get cooler than the El Born district in Barcelona, it's achingly fashionable. Despite the old architecture there's definitely a "new" vibe. Due to the combination of old and new it has a surreal yet relaxed atmosphere to it. Like most of Barcelona it also has an intriguing past as, in medieval times, it was the place of many witch trials and jousting competitions! El Born is also home to the Picasso museum and definitely isn't lacking in nightlife or restaurants. It's also slightly quieter and is more localised, instead of being a tourist hotspot. El Born is a gem in the districts of Barcelona.
Montserrat royal basilica
Montserrat is around 35 kilometres from Barcelona. It's one of Spain's most important pilgrimage sites. It's located in a beautiful setting giving you idyllic views and great photo opportunities. You might also be able to hear the one of Europe's oldest children's choirs depending on when you go. A gorgeous and perfect location to sit back and reflect on the world.
Gothic Quarter
Also known as Barri Gotic, the Gothic Quarter is a labyrinth of quaint winding roads and picturesque, imposing architecture. The architecture is astounding! The only trouble is you will have to make sure to have enough room for the billions of pictures you're likely to be taking as everything is so aesthetically pleasing! Every grate and arch seems to be a masterpiece in itself and the layout of the city has been retained so that the narrow crisscrossing paths open out into squares. The Gothic Quarter almost makes you feel as if you've travelled back in time and found a gorgeous secret.
Right, well I know you'll be in a hurry to get to Barcelona now but before you go remember to visit MyTravelMoney.co.uk and compare travel money prices. We can help you buy euros online at the best exchange rates.