50 Places of a Lifetime: Travel app of the week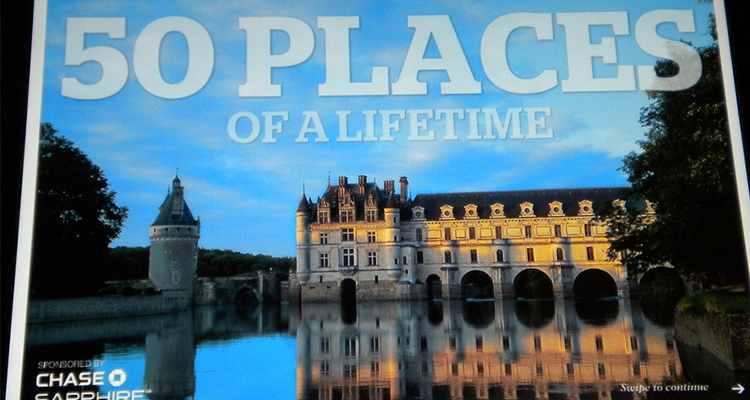 This week we have chosen 50 Places of a Lifetime: The World's Greatest Destinations for iPad as our travel app of the week – the reason being that these destinations, images and reviews have been hand-picked by globetrotting contributors of the world's most read travel magazine, National Geographic and the images are absolutely stunning, giving you the impression that you're actually experiencing the destinations, famous landmarks and scenery first-hand.
The app, which will set you back £1.49, has had mixed reviews so far, with some subscribers citing difficulties with the 360-degree panoramic view feature, but we checked it out and think it's well worth the money.
While not all destinations are featured, the ones which are, such as India, are truly brought to life via personal experiences from experienced travel writers, amazing photo galleries, 360-degree panoramas, videos, maps and insider facts. Not only that, but it gives you the chance to create your own bucket list with an interactive checklist in which to document your own places of a lifetime.
Here you'll find coverage of the globe's most iconic destinations – available in a number of languages, including English, Norwegian, French, German, Italian, Japanese, Korean, Polish, Russian, Spanish, Turkish, Ukrainian and many more.
The app's key features and functionalities are:
● Photo galleries which take you to the world's most picturesque places
●Videos and 360-degree panoramic footage which brings destinations to life
● An interactive fact file which offers fascinating details about the places featured
●A personal checklist which allows you to tick off "Places I've Been" or "Places I Want to Visit"
● Short personal essays which reveal the essence of each place from well-known writers
● Five themed sections entitled Urban Spaces, Wild Places, Country Unbound, Paradise Found, and World Wonders.
If you haven't already, we urge you to go and check it out.