Tourists Travelling by Bike Get Up Close to Bali's Attractions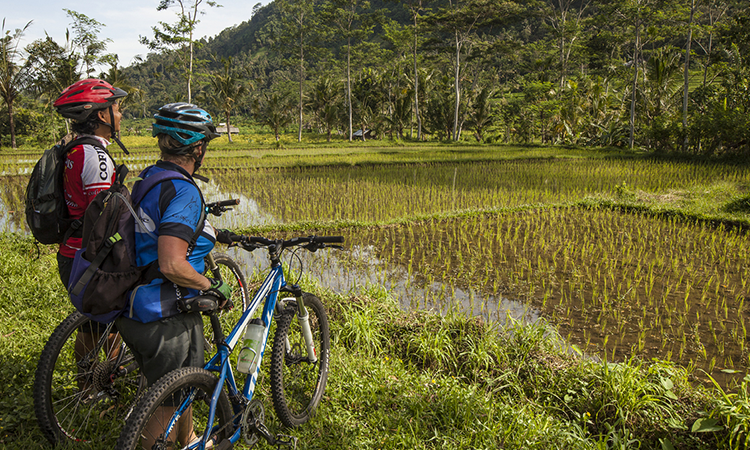 Bali, known as the Island of the Gods, offers a paradise for bikers of all experience levels. Enjoy the best of Bali with this bicycle travel guide.
Famous for its idyllic climate and stunning scenery, Bali is the ideal place to explore by bicycle. With miles of coastline, visitors can travel next to the ocean, with a backdrop of volcanoes, rice fields, and forests lending a collection of breathtaking views unique to this tiny country. Stop into ancient Hindu temples, join one of the nearly constant cultural ceremonies, and examine early statues sitting just beside the road, untouched by the passage of time. Possible routes can take you over the volcano ridges or through the back roads of the lush tropical greenery, and there are options for every level of experience. The loveliest parts of Bali are often overlooked by traditional tours – bikers can enjoy avoiding crowds and meeting ever-gracious Balinese friends with these tips:
Many bicycles are available for rent or can be purchased inexpensively. Come prepared with a good idea of your individual needs and preferences for the most successful journey.
Though the Balinese will certainly approach anyone who appears in need of assistance, a good map will ensure that you reach your intended destination on roads commensurate with your riding experience.
No need to worry about learning the ins and outs of the intricate Balinese language. Most natives speak English, and will be delighted with the opportunity to share their skills.
Always carry a spare tube for your tire. If you are biking primarily by day, you will not need an air pump, as there are many options for tire patching throughout the island.
The climate lends itself to quick dehydration, so keep a water bottle on hand at all times. Choose to refill with bottled water, which is budget-friendly nearly everywhere.
City traffic is chaotic, and bikes are well-advised to travel in more rural areas.
Small hotels are widely available, and hardly ever full. Low cost, coupled with excellent service allows you to plan a flexible itinerary.
Most important, embrace the culture of Bali by taking a leisurely approach to your travel. Whether you are waiting for a meal or a repair to your bicycle, the Balinese won't be rushed. Relax and enjoy the opportunity to take some time out – take in the sights, or enjoy the company of your new Balinese friends.
Before you explore the sights of Bali by bicycle, go to MyTravelMoney.co.uk and buy travel money.