Newport's Cliff Walk Lets Visitors See a Whole New Side of the City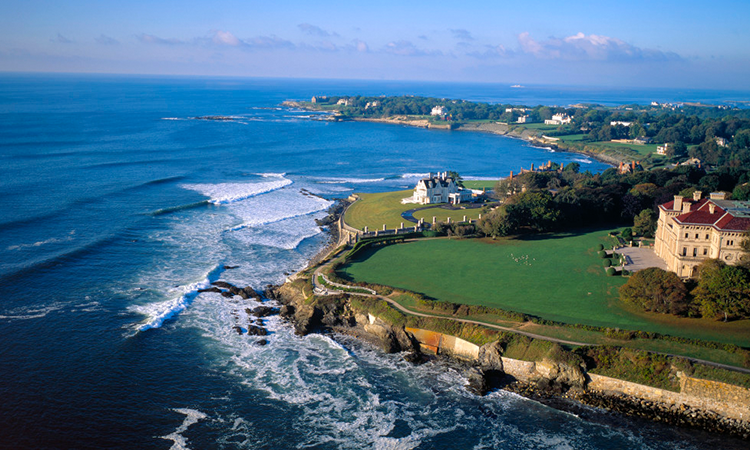 Newport is known for its beaches and restaurants, and in fact, was the first American vacation destination. Take a break from shopping to enjoy the view from Newport's one-of-a-kind Cliff Walk.
Newport is known as the first vacation destination for the richest of early American settlers. The stunning mansions that line the coast awe thousands of visitors each year. Whether you are in Newport for shopping, fine dining, or a day of relaxation at the beach, take some time to explore the world famous Cliff Walk that winds along the edge of the shoreline.
The Cliff Walk was originally planned by deer that created paths long before the continent was settled. Native Americans later used the game trails to scout the waterfront and collect food. The first scavenged from shipwrecks by way of what is now the Cliff Walk, and vacationers throughout the ages have taken romantic strolls along the Oceanside route.
A full two-thirds of the 3.5 mile walk is accessible to visitors of any physical condition. The path takes you behind the magnificent mansions, for a view of seldom seen gardens and architecture. The Cliff Walk is open from sunrise to sunset every day, and there is no fee to enter. Most start at Easton Beach, where there is ample parking, then take the trolley back when they reach the end. Dogs are permitted on the paths, but must be leashed, and owners are expected to dispose of any waste. Bear in mind that there is no easy access to restroom facilities. Cliff Walk is not appropriate for biking or baby carriages, and the average time for walkers in good condition is 2.5 hours to complete the entire journey.
Attention to safety is critical, as the Cliff Walk is not fenced. The attraction is traveled at your own risk, and you must be wary of sudden and dangerous drops to the side of the path in some areas. Wear good walking shoes, and stay within the limits of your own abilities. Keep an eye out for slippery conditions, and avoid the occasional patches of poison ivy that can be found on either side during the summer months.
Countless families have enjoyed the magnificent views from these Newport cliffs. When you are ready to see Historic Newport from a new angle, use this guide to the Cliff Walk to plan your trip, and visit MyTravelMoney.co.uk, where you can compare travel money.