How to survive and have fun at Oktoberfest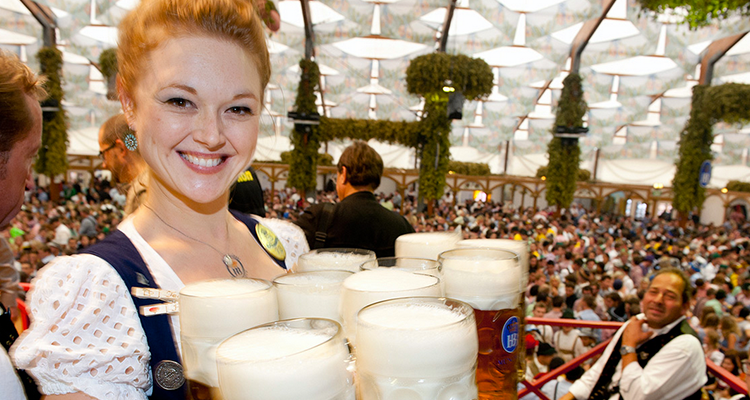 The world's most celebrated beer festival attracts millions of visitors every year. While the experience is loved by most, and forgotten by a few, attending the Oktoberfest in Munich is not an activity to be taken lightly. Preparations must be made, and contingency plans organized. That's where MyTravelMoney.co.uk comes in! We've devised a simple survival guide to make sure you, and your liver, enjoy Oktoberfesting without any permanent physical, or psychological, scarring.
Check out the dates:
For reasons unknown, the Oktoberfest is actually held in September. Check the dates before you book. All the planning in the world won't help you if you miss it!
Be friendly:
If you want to be a quiet observer you should have gone to the museum down the road. Now's not the time to play the shrinking violet. You may not know the guy next to you but you soon will, and when he expresses his undying love and devotion to you (which he will) smile, nod…and share a glass of wine if you feel the inclination to.
Take it easy:
The sun, the singing and the socializing may see you down a liter of beer in 10 minutes. Be aware of how quickly that glass is emptying! Be smart and order a radler instead, it may still be in a liter mug but at least half of it is lemonade.
Precious little:
Leave the designer dress for your next night out at the opera. A day out at the Oktoberfest necessitates comfortable clothes you don't mind getting dirty. Leave your valuables at home and only carry enough cash on you to last you for the day.
Tip the waitresses:
If you ever plan on getting served a second time. Remember that you're competing with 10,000 people; dropping your pants won't impress the fraus, but a good tip certainly will.
Keep it close:
Book your accommodation in advance and make sure it's close to the venue; 8 blocks can seem like 80 at 3 o clock in the morning. Especially in the wrong direction.
Have fun:
Believe it or not, it's not all about the beer! The Oktoberfest can be a great family day out too; there are plenty of rides, food stalls galore and animal shows.
Grab yourself a pocket German dictionary and head to Munich. Before you leave, buy euros online at the best foreign currency exchange rates by comparing choices at MyTravelMoney.co.uk.