A guide to Oktoberfest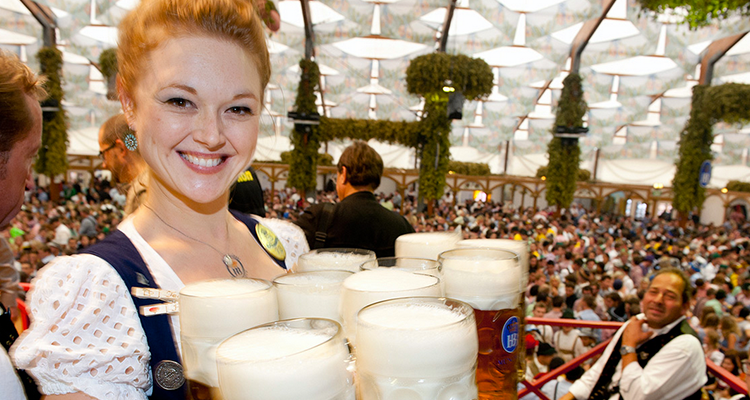 Oktoberfest is the largest beer festival in the world. Be sure to visit Germany during the festivities. This is one trip you don't want to miss out on.
Oktoberfest
Oktoberfest is the largest beer festival in the world. This festival spans over sixteen days long, and it is the world's largest festival with almost five million people in attendance yearly. The beer festival is hosted in Munich, Germany every year. The festival was first held in 1810. The event has only been canceled 24 times in this long span of time because of epidemics or because Germany was in wartime. The event begins with a gun salute and the annual tapping of the first keg of beer.
The Beer
There are strict rules as to what beers may be served. You will not be attending this festival and getting store brand beer for just a Euro. In order to be allowed to be served, a Munich based company must brew the beer. The beer must also have been brewed within the city limits of Munich. The price of a beer at Oktoberfest is about eight euros for a liter stein. The beer at Oktoberfest is also of higher alcohol content than most beers. The beers are 2% higher in alcohol then a regular beer.
More than Beer
Oktoberfest celebrates more than beer. The festival is a celebration of German culture. Visitors can feast on traditional German food, like grilled ham hock, pretzels, and red cabbage sauerkraut. Visitors can also dress in traditional German clothing. Women wear traditional three-piece dresses (including an apron), while men wear lederhosen pants. This adds to the fun of the festivities and does not need to be taken too seriously- it's more costume than custom.
Tours
In addition to the festival, visitors can join tours that will take them throughout the city of Munich. You will begin in the beer tents of Oktoberfest, but will roam the city for food and other pub crawls. Transportation will be provided, typical through a coach bus. These tours usually involve an entirely planned schedule and package, including hotel accommodations and stops along the way for other sightseeing opportunities.
Before booking your Oktoberfest tickets, buy euros online and make sure you are getting the best deal.